Mr. Ice Guy
Prize-winning perch advice from a lifelong ice angler
Having grown up in Keswick on the shores of Ontario's Lake Simcoe, 37-year-old Tim Everson has been ice fishing his entire life. Now living in Port Bolster at the southeast end of the lake, the multispecies angler continues hits the hardwater two or three times a week throughout the winter, as long as the ice is safe.
And all that ice time is clearly paying dividends. Everson and his fishing partner, Brad Dietrich, have been competing in the Lake Simcoe Championship Ice Fishing Derby since it began five years ago, and last year they took home the top prize of $10,000 for the heaviest bag of perch. How did they do it? We asked Everson to share their podium-worthy perch secrets.
[easy-tweet tweet="Tim Everson won the Lake Simcoe Championship Ice Fishing Derby. Here are his top tips for jumbo perch" user="OutdoorCanada" hashtags="IceFishingFriday, icefishing, winteradventure, lakesimcoe"]
TIME IT RIGHT
Everson favours early mornings on cloudy days for his perch-fishing excursions. "I'm usually walking out as the sun's coming up, and I'll fish until 10 or 11 a.m., depending on how the fish are acting."
KEEP IT SIMPLE
For baits, Everson sticks with the classics. His go-to perch combo for the last few years has been an unpainted ball-head jig with a three-inch XZone Lures Mini Slammer. If that doesn't produce, he ties on a Swedish Pimple or other spoon, with a minnow. The key is to fish near the bottom, he says, only periodically lifting the lure to attract the perch.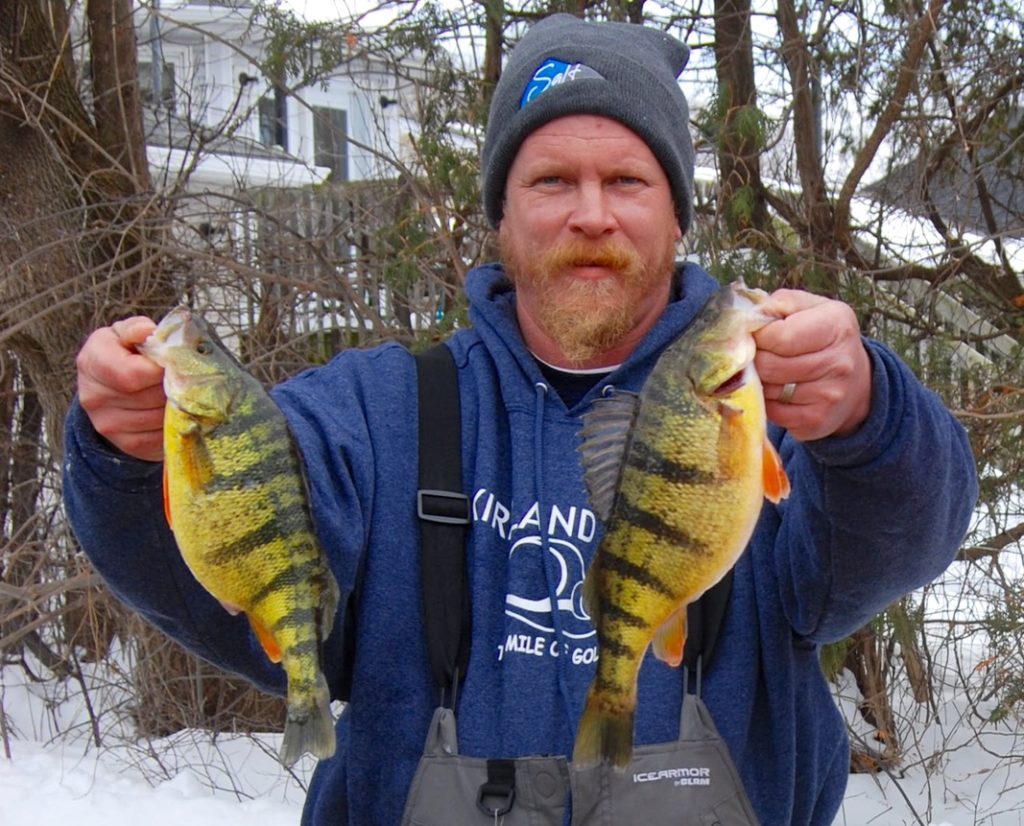 KNOW YOUR ELECTRONICS
Everson says he was a bit of a late starter when it comes to electronics, but now values what he sees on his graphs. "It may take a season or two to figure it out, but once you get used to it, you can predict a bite before the fish actually hit."
STAY MOBILE
If Everson goes more than 20 minutes without catching a fish, he changes location. Since he travels on foot pulling his gear in a toboggan, however, he typically only moves about 500 yards. "I'll create a grid area and move maybe four times in an hour if I'm not catching fish or seeing what I like." To run-and-gun efficiently, Everson says he relies on a quality auger to drill a lot of holes. In his case, that's an 18-volt Milwaukee cordless drill attached to a handy Clam Auger Conversion Kit. And while Everson has a portable shelter, he prefers to be out in the open, ready to switch spots at a moment's notice.
Go to www.icefishinglakesimcoe.com to learn more about the Lake Simcoe Championship Ice Fishing Derby.
Every Friday this winter we'll be sharing Outdoor Canada's top ice fishing tips for 2020. Check back regularly to learn about the latest tackle, tips and techniques for icing more walleye, perch, northern pike, lake trout, crappies and whitefish. And you can see all of this year's ice-fishing secrets at www.outdoorcanada.ca/2020icefishing.