Bass brain
Winning secrets from a lifelong fishing pro
Tournament fishing is in Cory Johnston's blood. Way back in 2003, we profiled the then 17-year-old when he'd already been lighting up the pro circuit for three years with his father, Lynn. Now 32, he's one of a handful of Canadians on the elite Fishing League Worldwide Tour in the U.S., along with his younger brother, Chris. Closer to his home in Cavan, Ontario, Johnston won the Competitive Sport Fishing League's Canadian Open on Lake Simcoe last July, catching an eye-popping 73.65 pounds of bass over three days. We recently tapped him for tips on how to make it to the podium.
Pre-fishing
To win a tournament, Johnston says you must pre-fish properly. "When we cruise around the lake, we very rarely make a cast, because we'd only sting fish we could catch in the tournament." Instead, he closely watches his sonar looking for the right kind of bottom. "You can find smallmouth on rock, you can find them on sand," he says. "It doesn't really seem to matter as long as the bottom's not covered in moss or weeds."
Pressure
Where there's a lot of angling pressure, Johnston downsizes his line and hooks, and tries to get off the beaten path. To find coveted spots on the spot, he says you need to look for anything different, such as a spot with rock and weed mixed in, or a spot in the grass with bigger pockets. "It's something small or isolated," he says, "where people aren't all over it. It's not a community spot."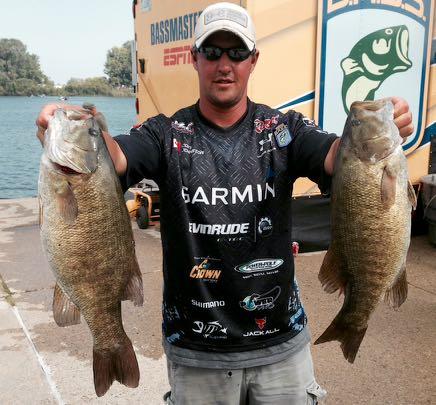 Tackle
For smallmouths, Johnston uses a seven-foot six-inch rod that doesn't have a lot of backbone, allowing him to make long casts with small baits on light line. That's especially important in clear water, he says. As for presentations, he typically drop-shots Jackall Cross Tail Shads, then switches to a tube jig when he finds the right kind of bottom. "You can't beat a tube jig if the bottom's clean," he says. "It imitates a crayfish or a goby."
Improvement
Since the Canadian Open is a pro-am tournament, Johnston was paired with a different amateur on each of the three days. While his co-anglers didn't catch a lot of fish, he says he's sure they learned plenty. "I can guarantee that the next time they went out on a lake, they did things differently." Indeed, Johnston says one of the best ways to become a better angler is to sign up for a pro-am tournament. "Why hire a guide for $400 or $500 for four to six hours when you can spend $100 or $200 to enter a pro-am and get eight hours?" he says. "And the pro is not going to hide anything from you, because he wants to win."
Learn more about the Competitive Sport Fishing League at www.csfl.ca.