Making the cut
How to properly use a chainsaw for your outdoor chores
Chainsaws are powerful, efficient and versatile, letting you clear trails, cut firewood and build shelters in a fraction of the time it would take with a handsaw—and with considerably less effort.
A poorly maintained or operated chainsaw can also be downright dangerous, however. Here are a few basics of proper chainsaw care and use.
UPKEEP
A poorly maintained chainsaw is an accident waiting to happen, so make it a rule to always ensure your saw is in good working condition before using it. Check that the fluids are topped up, and that the chain is sharp, properly tensioned and lubricated. Also make sure the chain brake and front hand guard are functioning properly, and that the throttle trigger moves freely. The master control on/off kill switch should also be in good working order, and the spark plug boot must be secure to prevent arcing and a potential fire.
SAFETY
Before even starting your chainsaw, assess the situation. Slippery logs, uneven ground and thick foliage can be difficult to work around, so always make sure you have a firm footing. Never proceed in high winds, rain or snow, which can impose added risks. To further help prevent serious injury when cutting, always wear safety glasses, leather gloves, steel-toed boots and a hard hat. And never use a chainsaw while impaired—this tool demands your full attention—and never refuel when the engine is running.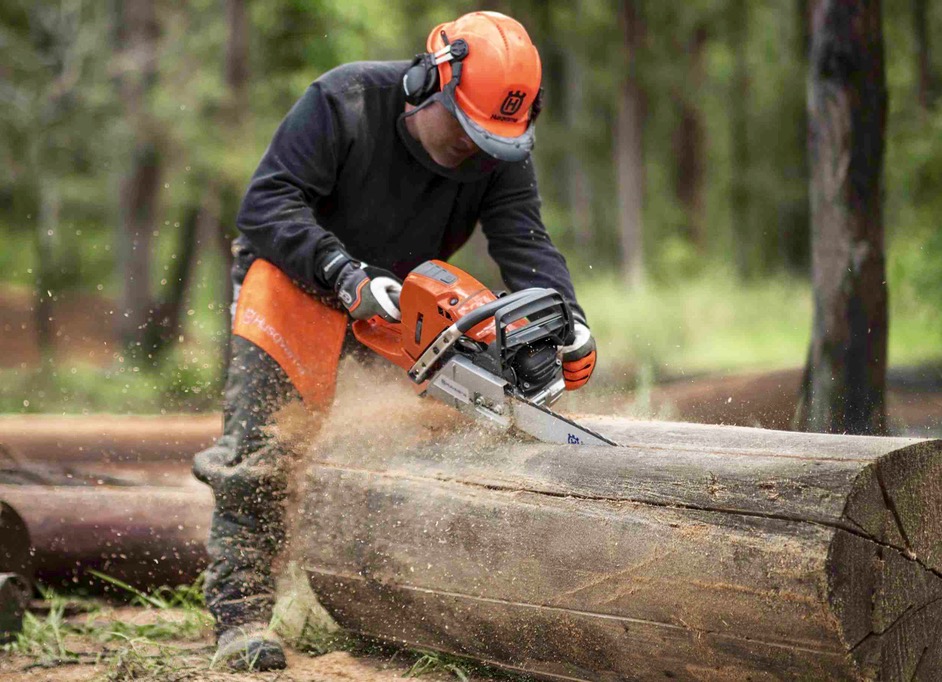 Before starting your chainsaw, make sure the chain is locked in place by the chain brake. Hold the saw firmly with both hands while cutting, and stand alongside it so your body is clear of the business end. Also try not to cut above your shoulder height or overextend your reach, both of which can lessen your control over the saw.
One of the most common causes of chainsaw accidents is kickback, when the saw suddenly and controllably jumps upward. To prevent this, avoid starting a cut with the nose of the guide bar. Also make sure not to twist the guide bar while cutting, which can cause the wood to close in and pinch the chain. Finally, if your chainsaw has a spiked bumper, use it to brace the saw securely against the log, tree or limb you are cutting. Always remember, your job is to control the saw—and to never force a cut.
For even more chainsaw safety tips, go to www.outdoorcanada.ca/sawsafe.