Caribbean Trout
Make these sassy skewers… while you're on the ice!
Everyone appreciates good food any time, anywhere, and that includes anglers out on the ice. And just a little preparation can turn any boring meal into a delectable experience. To prepare this ice-fishing feast, simply do your prep before you leave home, then once you're out on the ice cook up your fresh catch with your at-the-ready ingredients. Just a word of warning: This recipe only feeds four anglers, but the aroma is sure to tantalize many others from afar!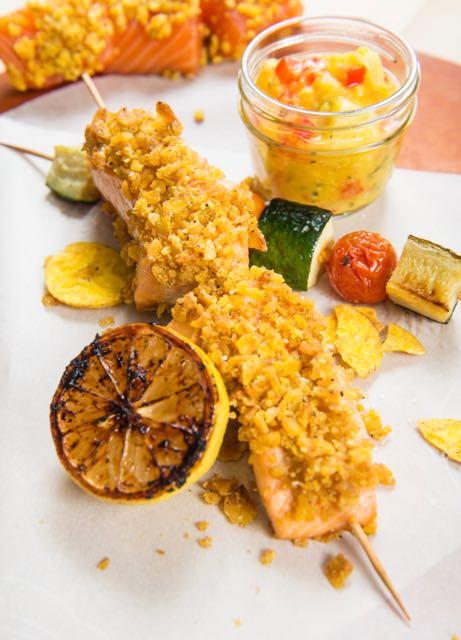 At Home Ingredients
1 small bag (100 g) jalapeno plantain chips
1 tbsp olive oil
Pinch kosher salt
Pinch black pepper
Mango salsa
1 cup frozen mango chunks
1 tbsp olive oil
2 tbsp red pepper, diced small
Few drops Tabasco sauce
Pinch kosher salt
Pinch dried thyme
On the Ice Ingredients
2 lake trout fillets
4 8-inch wooden skewers
Tinfoil
2 lemons, halved and grilled
At Home Steps
Place chips, oil, salt and pepper in a food processor and pulse until chopped into small pieces. Place in a travel container.
Place salsa ingredients in a food processor, pulse until rough chopped, then pour into a travel container.
On the Ice Steps
Cut fillets into 2-inch chunks (approximately 12 to 16 pieces). Place 3 or 4 chunks on each skewer, then lightly press chip mixture on all sides. Individually wrap each skewer in tinfoil.
Heat flat griddle or fry pan over medium heat on camp stove. Cook wrapped skewers for 5 minutes on each side.
Unwrap skewers, garnish with lemon and serve with mango salsa and grilled vegetable skewers (optional).
This winter, Winnipeg hunter/angler/chef Cameron Tait is sharing four fantastic recipes with Outdoor Canada readers: Whitefish Stew, Caribbean Trout, Pike Chowder and Coconut Catfish. And even cooler, all these delectable fish dishes can be prepared right on the ice. See them all at www.outdoorcanada.ca/2017IceCooking.