SLUG IT OUT
Winchester's semi-auto SX4 is definitely not your grandpa's gun
The first trip to the range with my trusty old smooth bore and a box of shotgun slugs was an abysmal failure. I set out with the idea of hunting whitetails with that do-it-all 12-gauge, but every time I squeezed the trigger, I only rattled a few molars and was lucky to hit a paper plate at 30 yards. In them good ol' days, you just went with what you had, and in my case, it was a lightweight pump and Foster-style slugs.
If I learned anything from my early years, to quote Winchester, it was "don't try to turn your duck gun into a buck gun." If you can't hit a paper plate at 100 yards, in other words, you best change your ammo or your gun. So, rather than missing a buck at 50 yards, I ended up swapping the slugs for SSG buckshot.
Meanwhile, an evolution in guns and ammo had begun, driven by urban expansion and the creation of more shotgun-only hunting zones. The result was the introduction of sabot slugs and rifle-barreled slug guns, which continue to improve. Take the semi-auto SX4 Cantilever Buck, the new generation of slug gun from Winchester that replaces the SX3.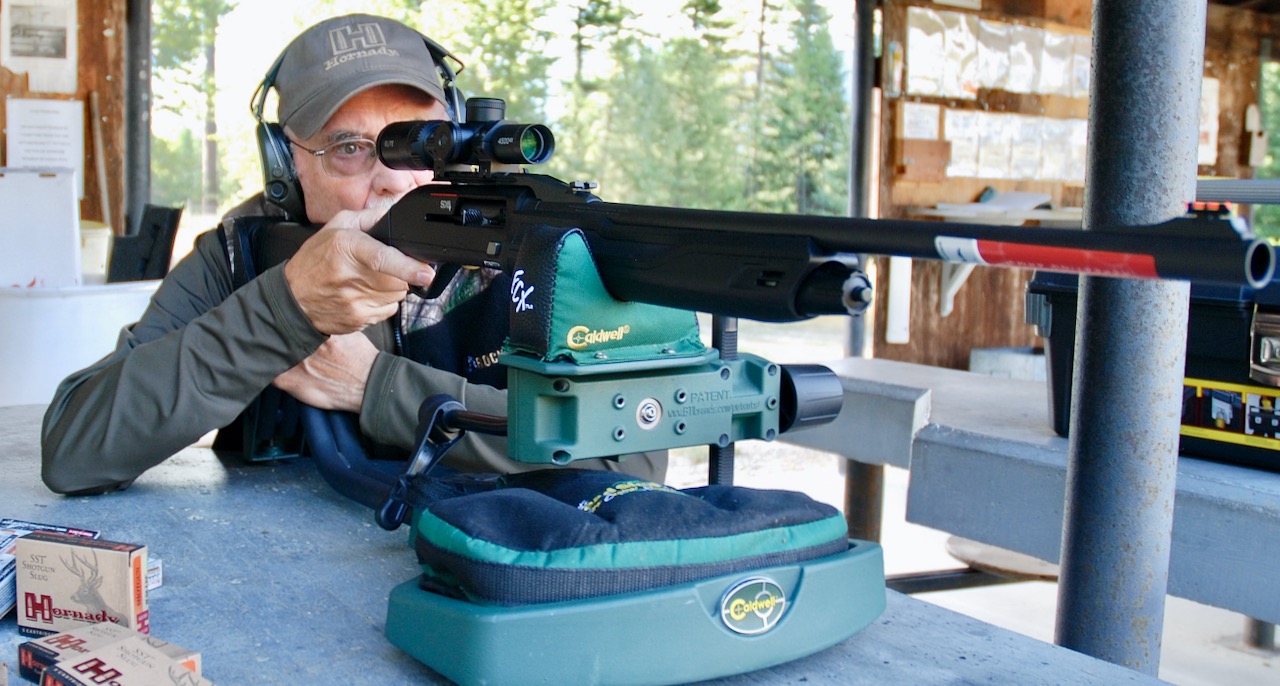 Mechanically, it features a 22-inch rifled barrel that's chambered to handle 2¾- and three-inch sabot slugs. The barrel includes a Weaver-style cantilever rail for attaching a red dot or conventional scope; if you prefer open sights, it comes equipped with a TruGlo fibre-optic front sight and an adjustable rear sight.
The SX4's matte black receiver is made of a strong, lightweight aluminum alloy, while inside the self-adjusting valve system automatically allocates the exact gas pressure to reliably cycle a wide range of loads—and reduce felt recoil. Other mechanical features include a drop-out trigger group, an enlarged bolt handle, an oversized release button and a larger ambidextrous cross-bolt safety.
As for the synthetic stock, it includes improved ergonomics, a rounder grip and textured surfaces for a non-slip grip in nasty weather. Finished in a non-glare matte black, the stock includes length-of-pull spacers and a recoil pad designed to direct felt recoil down and away from the shooter's face.
TEST RESULTS
The first thing that caught my eye on my 20-gauge test model SX4 was just how high the cantilever rail appeared to be when sighting down the barrel. While it still allowed me to utilize the iron sights, I could not attain a cheek weld, despite the low-profile Bushnell 4500 1-4×24 scope and the lowest mounts I could find. Together with the scope, the gun tipped the scales at eight pounds one ounce, a manageable weight for most hunters.
As for the trigger, it had a pull weight north of six pounds, which is typical for a shotgun, but a pet peeve of mine when it comes to rifle-barreled slug guns. I would have preferred a rifle-like trigger with a consistent pull weight of around three or four pounds. Otherwise, the SX4 spit out hulls with plenty of vigour and cycled flawlessly on the range.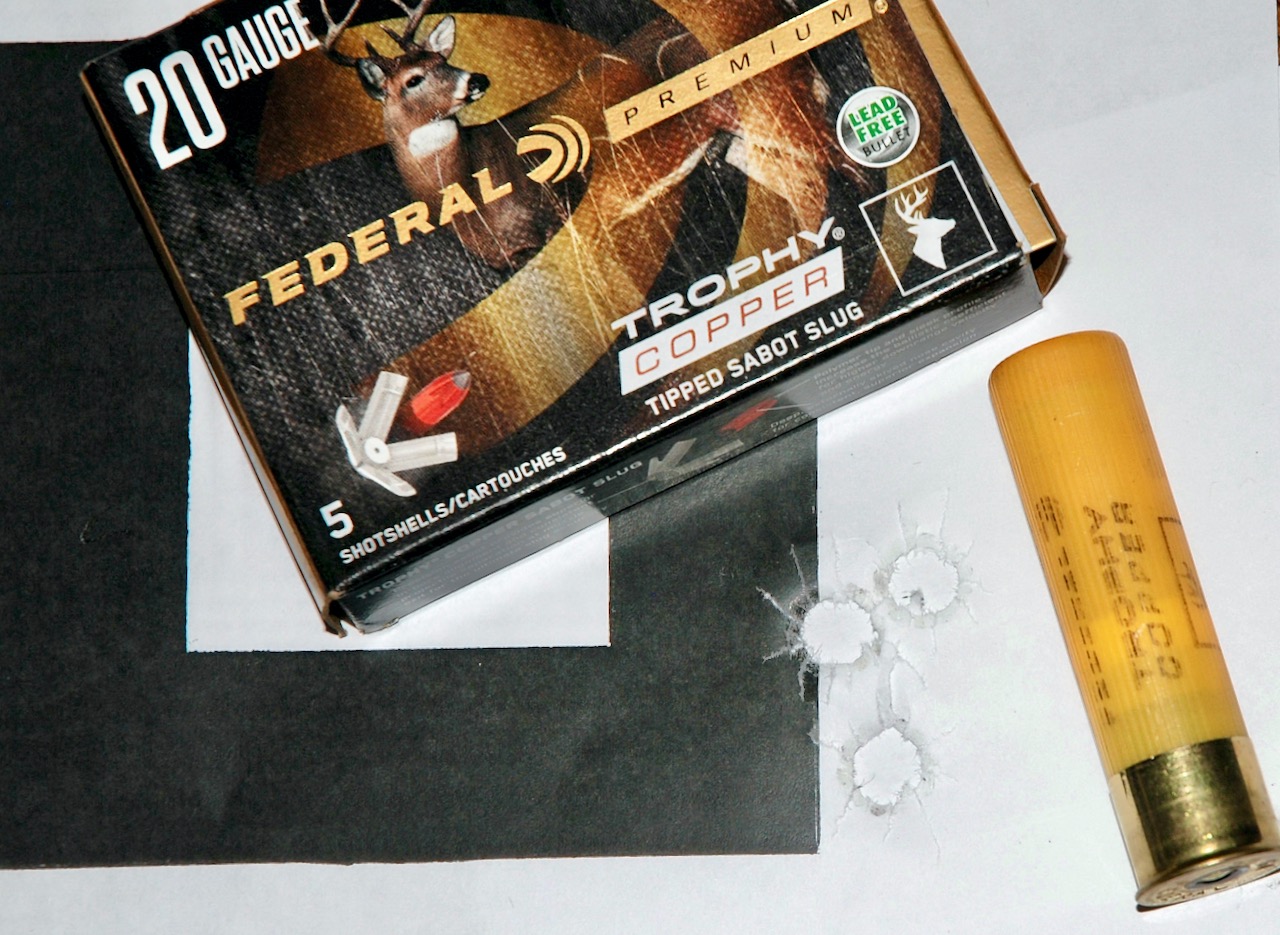 While this shotgun was not a tack driver, I did not expect it to be. For the most part, it delivered respectable groups between two and three inches, although Federal Premium Trophy Copper did produce one sub-MOA group (then expanded out to two inches in the next group). Overall, the Trophy Copper had the best two-group average at 1.53 inches, followed by Hornady SST at 2.2 inches and Winchester Deer Season at 2.42 inches. A single group of Remington Premier AccuTip holed out at 2.47 inches.
While that is not centrefire-rifle accuracy, it's a far cry from the old days when I couldn't hit a paper plate at 30 yards. I certainly wouldn't hesitate to take a shot at a buck out to at least 125 yards with any of those four varieties of ammo. Note that none of them grouped in proximity to one another, so if you were considering switching brands, plan another trip to the range before heading off to your favourite deer woods.
THE SPECS
Gauge: 20
Chamber length: 3″
Barrel length: 22″
Overall length: 43″
Length of pull: 14 ¼"
Weight: 7 lb 4 oz
Drop at comb: ¾"
Drop at heel: 2″
Magazine capacity: 4 x 2¾" shells