Triple threat
With a Leupold scope and Hornady ammo, the Ridgeline is made for elk
Western Canada offers some of the finest elk hunting to be had anywhere in North America. That reality spawned my decision to take on the challenge of finding the quintessential rifle, scope and ammunition for hunting this outstanding big-game animal. But unearthing this triple-threat combo didn't just happen overnight, as my search continued unabated for a number of years. It was only in 2018 that I discovered the Ridgeline, a carbon-fibre barrelled rifle made by Christensen Arms.
Founded in Utah in 1995, with its roots in the aerospace industry, Christensen Arms has changed the way firearms are built. Its aim was to improve the overall hunting experience by designing and manufacturing highly accurate and exceptionally lightweight rifles using aerospace materials and processes. The result is the Ridgeline and its lightweight carbon-fibre barrel, which offers superior strength and rigidity over traditional heavy-profile steel barrels.
The carbon-fibre barrel is hand built with a proprietary layered design that uses the strength and thermal conduction benefits of carbon fibre to achieve consistent harmonics and accuracy. In simpler lingo, it aids in reducing barrel whip and improves heat dispersion compared to that of a standard or lightweight barrel. The barrel lining is 416R stainless steel that is button rifled, stress relieved and hand lapped with a bore tolerance of plus-minus 0.0001 of an inch for guaranteed sub-MOA accuracy.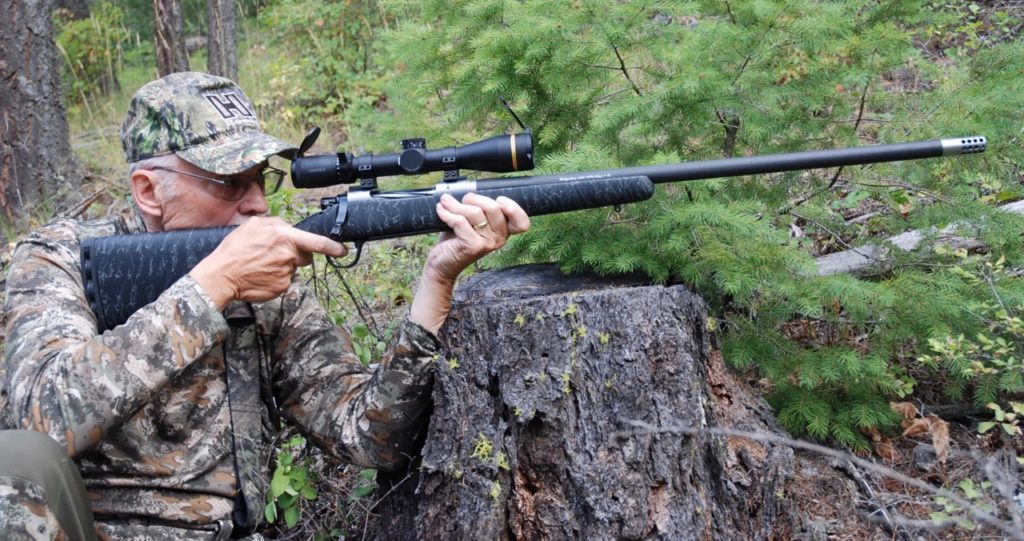 To further enhance accuracy, the barrel is free-floated and each barrel chamber is CNC-machined using match-grade reamers. Christensen then finishes the barrel with a threaded muzzle that includes a stainless steel radial brake, which can be removed and replaced with a stainless steel thread protector.
The action is machined from a solid billet of heat-treated 416T stainless steel. It includes an enlarged ejection port, match-grade trigger (2.5 to 3.5 pounds), hinged floor plate, internal magazine and improved bolt release. Other features include a spiral-fluted bolt, M16-style extractor, fluted bolt knob, dual ejector on all magnum calibres and twin-precision surface ground lugs.
As well, the action is drilled and tapped for standard Remington 700 bases. It is bedded using spot bedding around the recoil lug and the dual bedding pillars, which are constructed from Invar, a nickel-iron alloy known for its uniquely low thermal expansion. Unlike aluminum pillars, Invar pillars are impervious to temperature changes.
Finally, the Ridgeline's hand-laid, carbon-fibre composite, sporter-style stock is strong but lightweight and fitted with a soft LimbSaver recoil pad. The stock is available in two colour schemes: black with grey webbing, or green with black and tan webbing.
[easy-tweet tweet="@OutdoorCanada's firearms experts says that with a Leupold scope and Hornady ammo, the Ridgeline is made for elk" user="OutdoorCanada" url="hunting, huntingguns, gunreview"]
TEST RESULTS
The best way to describe the Ridgeline is that you get all the attributes of a heavy target-barreled rifle in a firearm that weighs only 6.7 pounds. In comparison, a competitor's rifle with a 26-inch steel varmint/target barrel weighs 11 pounds—that's 4.3 pounds of extra weight the Ridgeline doesn't have. In fact, the total package with the Leupold VX-6HD 2-12×42 scope weighed in at eight pounds three ounces. The light weight aside, the carbon-fibre technology also meanst the barrel doesn't heat up, as a steel barrel would. Plus, the gun balances better than a target-barrelled rifle.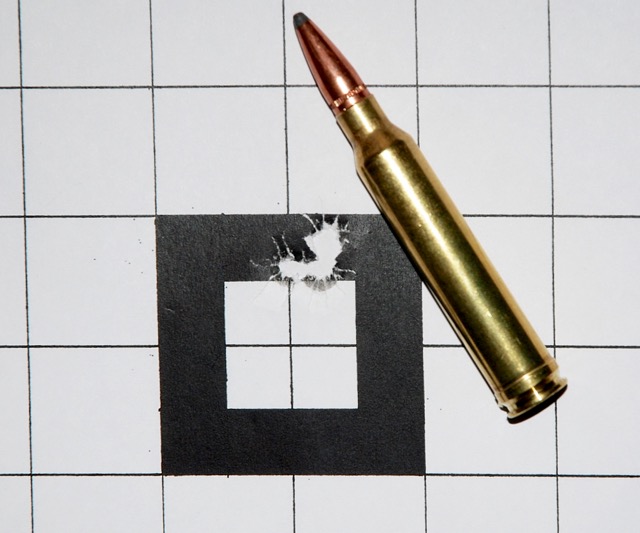 This rifle is definitely a shooter. It provided outstanding overall accuracy (above), with factory ammo averaging 0.878 inches, and my handloads shooting just a touch tighter at an average of 0.833 inches. The individual results were even more impressive, with eight groups bettering 0.75 inches, six of which hovered at, or bettered, a half-inch.
The best of the lot were the 190-grain Hornady Interlock bullets, which grouped into 0.290 inches. Wow! While this will now be my load of choice for as many elk hunts as my bullet supply will last, I would not hesitate to use either Hornady Precision Hunter 200-grain ELD-X, Federal Premium 180-grain Trophy Copper or Barnes VOR-TX 180-grain Tipped TSX factory ammo. They are all excellent cartridges for elk, shooting into less than 0.75 inches. Unquestionably, my elk hunt combo of the future will consist of the Ridgeline .300 Winchester Magnum, Leupold VX-6HD scope and Hornady 190-grain Interlock bullets.

THE SPECS
Calibre: .300 Win. Mag.
Magazine capacity: 3 rounds
Barrel length: 26″
Overall length: 48″
Length of pull: 13.6″
Drop at comb: 1.2″
Drop at heel: 1″
Weight: 6.7 lb
Rate of twist: 1-10″
B.C.'s Mark Hoffman is Outdoor Canada's hunting firearms reviewer.