Rimfire reacher
Go long for small game with Savage's semi-auto A17 and A22 magnum
Savage has been manufacturing affordable firearms for more than a century, with some of its offerings, such as the Model 99, considered historically to be among North America's top hunting guns. Throughout that time span, Savage has continued to expand its product line and innovate. In 2012, for example, the company took on the challenge of building a semi-automatic rifle to handle the hot .17 HMR rimfire cartridge.
Some pretty big players in the firearms industry had already tried to come up with such a rifle, but their efforts failed largely due to the problem of blowback. Namely, the breech was opening too soon after firing, before all the gases had burned up. Savage engineers recognized the solution was all about timing, so they came up with a method of delaying blowback long enough to ensure the breech wouldn't open prematurely. It involved a bit of ingenuity, and using an interrupter lug on the bolt. It worked, and the A17 was soon born.
While I considered testing the A17 back when it was first introduced in 2015, I put it off. In 2016, however, Savage rolled out the A22 Magnum chambered in .22 WMR, so I decided to tackle the two rifles at the same time. Both models feature an adjustable AccuTrigger, as well as a 10-round rotary magazine, rugged synthetic stock with a textured rib pattern, and sling swivels front and back. Then there's the steel-machined receiver and button-rifled carbon-steel barrel. Plus, both are drilled and tapped for factory-installed scope bases.
My initial reaction when I first heard about the new A17 was to question Savage's choice of the .17 HMR over the speedy .17 WSM. Some of my misgivings were alleviated with CCI's development of new ammo for the .17 HMR that upped the velocity by 100 fps to 2,650 fps. CCI also went to work on the 57-year-old .22 WMR by developing the 35-grain Gamepoint bullet. It sports a thin jacket that's electronically plated to the lead core for easier and controlled impact expansion, and it has a factory-listed velocity of 2,100 fps.
Test results
I found the 10-shot rotary magazine a bit tricky to load. It also had to be firmly latched in place, or the action would not pick up the first round. But once the magazine was properly positioned, I was able to fast-fire a number of 10-shot strings with both rifles, which cycled flawlessly.
It's worth noting that while the bolt does not stay open when the last cartridge is fired, both rifles feature a manual hold-open button located in front of the trigger guard. Whenever you're finished shooting, it's always advisable to manually check that the rifle is empty. It's especially easy to forget just how many rounds you've fired with a 10-shot magazine. The hold-open button makes it easy to check.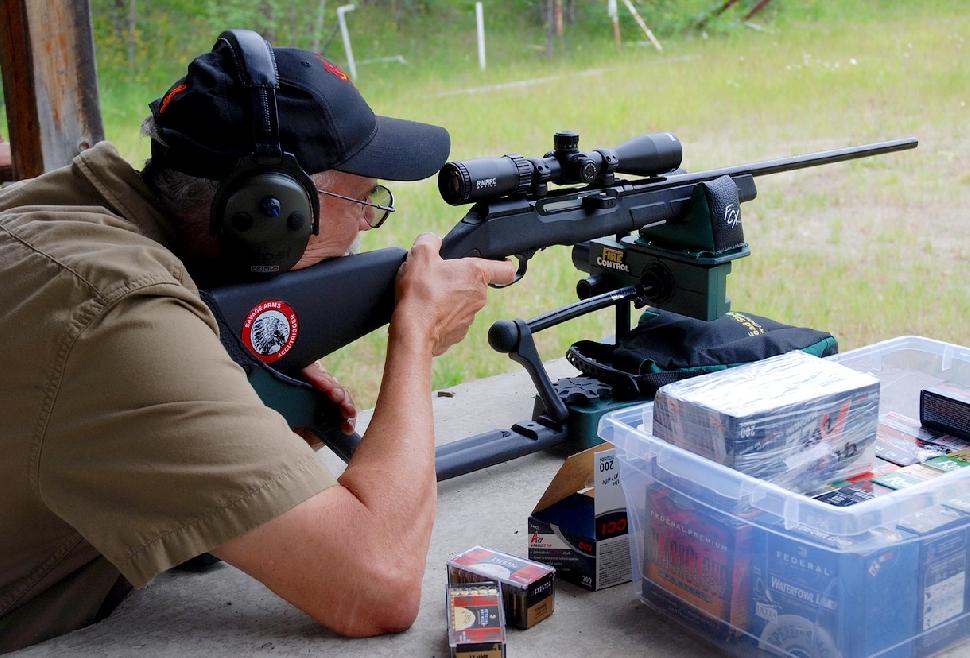 To test their potential for hunting small game at extended ranges, I decided to test both rifles at 50 and 100 yards. I also tested them for penetration using ballistic gelatin from Clear Ballistics. CCI's 17-grain Varmint Tip A17 bullet penetrated 9¼ inches with some fragmentation, while CCI's 35-grain Gamepoint bullet for the A22 Magnum penetrated 12 inches with no fragmentation. Unquestionably, both rounds had plenty of punch for small game out to 100 yards and beyond, but if you're looking for a bit deeper penetration, I have to give the nod to the A22 Magnum.
Both rifles shot well. The A17, with three five-shot groups of a half-inch or less, bettered the A22 Magnum at 50 yards. At 100 yards, however, the A22 held its own with a slightly smaller group. When you consider that both semi-autos delivered at or near five-shot MOA 100-yard accuracy, that's a pretty respectable performance. While both guns would certainly be fun to shoot when hunting small game at extended ranges, I would opt for the A17 if I had to choose between the two, based solely on its 50-yard performance. For hunting small predators, on the other hand, the A22 Magnum may well be the better choice.
B.C.'s Mark Hoffman is Outdoor Canada's hunting firearms reviewer.
The specs

A17/A22
Calibre: .17 HMR/.22 WMR
Capacity: 10/10
Barrel length: 22″/21″
Overall length: 42″/40.5″
Length of pull: 13⅞"/13⅞"
Drop at comb: 1 5/16″/1 5/16″
Drop at heel: 1 9/16″/1 9/16″
Weight: 5.41 lb/5.5 lb
Rate of twist: 1 in 9″/1 in 16″