Lethal Reach
Sako's Model 85 Long Range Hunter delivers surgical precision
Long-range hunting is not new, and over the years more than a few custom rifles have been built to accommodate this pursuit. Names such as "beanfield rifle" evolved to describe these long-range shooters. Recognizing the interest, several gun manufacturers have introduced long-range rifles, and this year Sako added the Model 85 Long Range Hunter to the list.
While describing a rifle's performance is not my usual start point, in this instance my sight-in was so noteworthy that it warrants immediate mention. At the 50-yard berm, I found a target with only a couple of bullet holes in it, so I zeroed in on one of the holes and fired three shots without observing any fresh impact holes. When I walked down to the target, I saw that all three shots had hit the original point-of-aim bullet hole, all but dead centre. At that moment, I had no doubt this was a shooter.
The Long Range Hunter has some of the standard Model 85's long-standing features, such as its renowned action, ultra-smooth bolt, adjustable custom trigger, free-floated barrel and two-way safety allowing for the safe removal of a chambered cartridge. It departs from the standard version in other areas, however, as it does not have a detachable magazine.
Features specific to the Long Range Hunter include a match-grade 26-inch barrel with a flush design muzzle brake for reduced recoil and muzzle jump, and a stock designed for long-range shooting, complete with a flat fore-end for better support. It also features double sling studs, making it possible to mount both a bipod and sling at the same time. At a weight of 9.7 pounds, the Long Range Hunter is also notably heavier than the standard Model 85, but I found this extra weight tended to stabilize the rifle and reduce felt recoil, both positive factors when shooting a long-range rifle.
Test Results
The rifle was pure Sako—practically flawless in every respect. Of course, this recognizes that the Long Range Hunter, paired with the Burris Eliminator III scope, weighs 11 pounds six ounces and measures 49 1/5 inches in length. This makes it heavier and longer than most other hunting rifles, which can be an asset for long-range shooting, offering stability and, with the 26-inch barrel, enhanced long-range performance.
At its factory-set pull weight of three pounds 15 ounces, the trigger on my test rifle was quite a bit heavier than I would have wanted for a rifle of this design. So, I adjusted it down to two pounds 14 ounces for a lighter, crisp and travel-free break.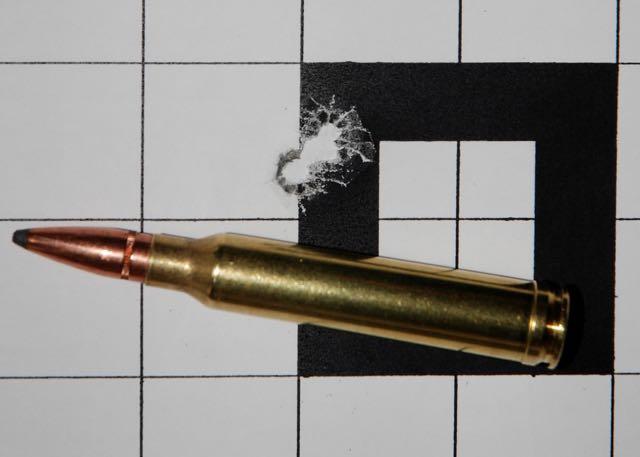 Before assembling my handloads, I used a Hornady Cartridge O.A.L gauge to check the test rifle for its maximum cartridge length. I was mildly surprised to find the throat was very long. That meant all my handloads were seated well out and only .01 inch off the lands, no doubt contributing to their outstanding accuracy.
In all, I tested 15 different factory loads and three handloads. The results certainly elevated this Sako into the class of long-range phenomes, with only one group of factory ammo exceeding an inch. Most hovered around three-quarters of an inch and some even cut that in half. The real winners were my handloads—two cut paper at a half-inch, with the 190-grain Hornady Interlocks topping the list at a quarter-inch. My only regret is that Hornady no longer makes this particular bullet, as it would make a fine long-range hunting bullet for this rifle.
A rifle that can repeatedly deliver accuracy with surgical precision impresses the heck out of me. But when it happens to be a big-game hunting rifle, the appeal is even more pronounced. The Sako Model 85 Long Range Hunter is just such a rifle.
B.C.'s Mark Hoffman is Outdoor Canada's new hunting firearms reviewer.
The Specs
Calibre: .300 Win. Mag.
Barrel Length: 26″
Overall Length: 49½"
Length of Pull: 14.1″
Drop at Comb: 1.3″
Drop at Heel: 1.3″
Weight: 9.7 lb
Rate of Twist: 1″ to 11″
Magazine Capacity: 4