Enough gun
The Model 70 Safari Express promises to down dangerous game
There is something special about stalking game that can suddenly become a deadly adversary. Such hunts have always elevated my hunter instincts, and driven my adrenalin flow to new heights. The old adage "use enough gun" certainly applies, but a hunter on the trail of dangerous game also requires a rifle that is utterly dependable, fast on point and able to deliver quick follow-up shots when necessary. The Winchester Model 70 Safari Express is just such a gun, and it has "iconic safari rifle" written all over it.
This Winchester certainly has it all, from the front barrel-mounted sling swivel to the checkered walnut stock. Along with the flawless fit and finish, features include a deluxe cheekpiece, Pachmayr Decelerator recoil pad, matte finish on all metal surfaces, dual steel crossbolts, hooded brass bead front sight, and one-piece metal trigger guard and magazine frame with a steel floorplate. But as we all know, aesthetic appeal is only the first layer, so let's take a look at the real guts of this rifle.
It begins with a cold hammer-forged and free-floated barrel with a forged steel receiver and double integral recoil lugs. This double lug feature is designed to eliminate any shift of the barrel and receiver during recoil from a heavyweight magnum cartridge, thereby maintaining the rifle's inherent accuracy. Next, and a close second, is the Model 70's MOA trigger that offers zero take-up, zero creep and zero overtravel. The trigger on my test rifle was so precise that, with a half-dozen pulls, the weight fell between three pounds 14 ounces and three pounds 14.6 ounces. If that's not enough to impress you, there was also no creep or overtravel. This is simply a great trigger.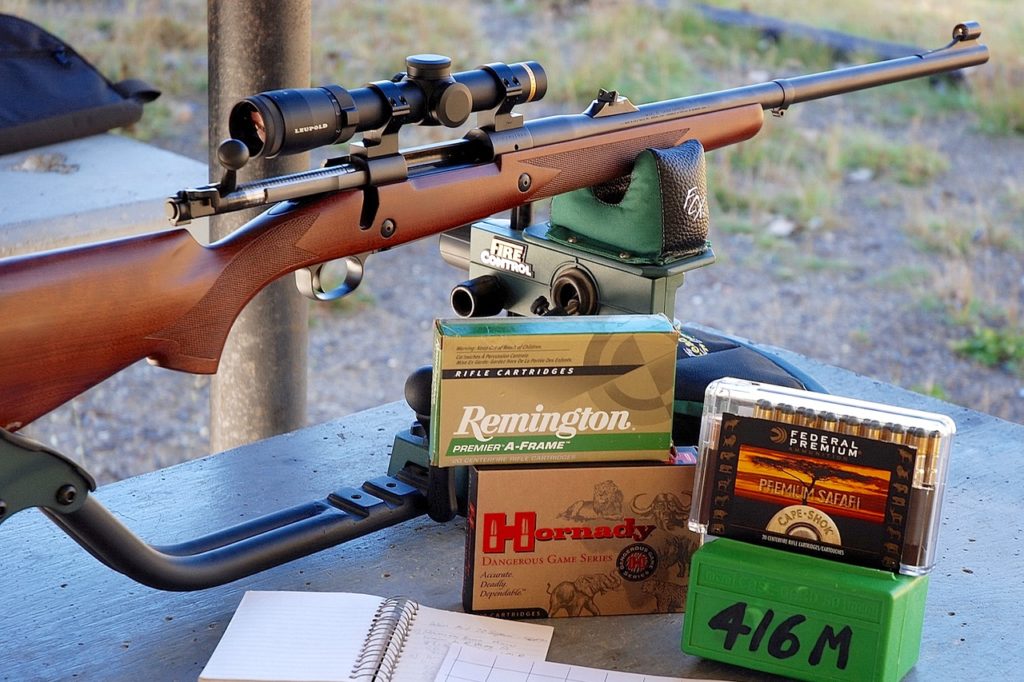 Perhaps the rifle's most historic component is the pre-1964 controlled round feed and claw extractor bolt design. The massive claw extractor firmly grips the cartridge base, thereby ensuring complete control of the cartridge from the magazine to the chamber, and during ejection. Ultimately, this offers an all but flawless delivery of the cartridge to the chamber—a must when your life could depend on it.
While it has been around for some time, Winchester's three-position safety is another hunter-friendly feature worth mentioning, as are the iron sights. The front bead sight showed up well under low light, with the hood helping me find my target more quickly. At very close range and under duress, in fact, you could almost use the hood as a sight window. And while it protects the rifling to ensure accuracy, the recessed target crown also provided the appearance of quality precision workmanship.
TEST RESULTS
I topped my test Safari with a Leupold VX-6 1-6×24 scope, which proved to be the rifle's equal in every respect. I simply could not find a single flaw in either component—a rare thing, indeed. On the range, this rifle was the most accurate big-bore rifle I have ever shot. In particular, my handloads simply shot lights out. The 300-grain Barnes TSX bullet provided three-shot 100-yard groups that measured 0.25 and 0.31 inches. Yes, you read that right—0.25 inches (below), an all but varmint rifle-type performance!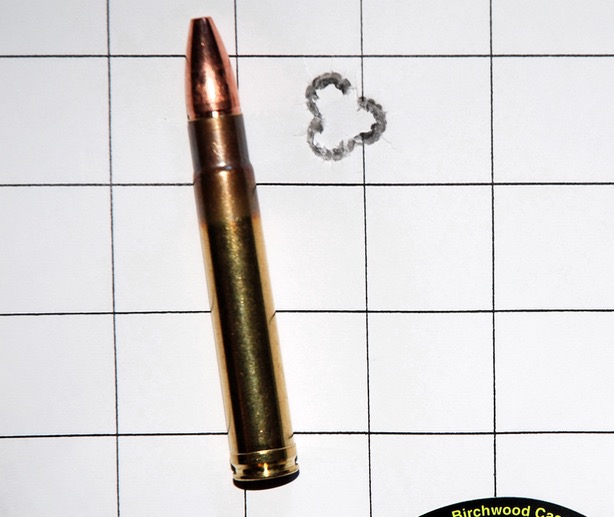 The factory ammo I tested did not miss the mark, either. Federal's Woodleigh Hydro Solids, Hornady's DGX and Remington's Swift A-Frame rounds all grouped into 1.0, 0.61 and 0.42 inches, respectively. That is superb accuracy.
Because of its diversity, the .416 Rem. Mag. is quite possibly my favourite big-bore cartridge. With more than two and a half tons of muzzle energy, it will readily handle the world's largest and most deadly game. And with its velocity and inherent accuracy, it's also ideal for other game where longer shots are required. Unquestionably, this combo will be my top choice on my next trip across the pond, or anywhere else, for that matter, where I need to use "enough gun."

THE SPECS
Calibre: .416 Rem. Mag.
Weight: 9 lb
Overall length: 44¾"
Barrel length: 24″
Length of pull: 13¾"
Drop at comb: 0.5″
Drop at heel: 0.5″