The Big Leagues
A 6-step plan for bass fishing success from Ottawa's Charles Sim
Ottawa angler Charles Sim made it to the world championship of competitive bass fishing—the Bassmaster Classic. Here's his tournament-winning advice.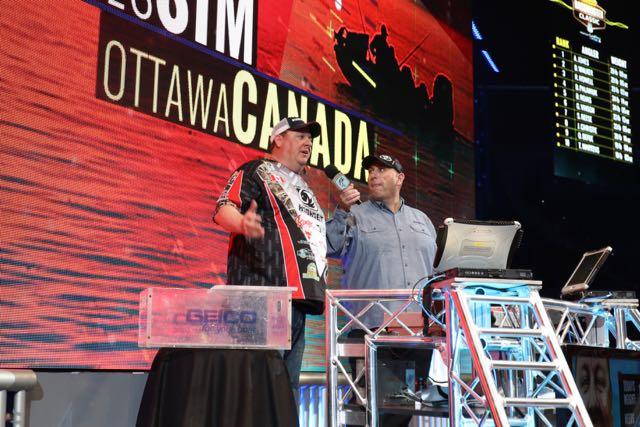 In 1990, Hank Gibson of Keswick, Ontario, became the first angler outside of the U.S. to ever qualify for and compete in the Bassmaster Classic—the most prestigious bass-fishing competition in the world. I wrote about this great accomplishment in outdoor columns for local papers and a now defunct outdoor magazine. Gibson was so appreciative of the coverage, he forwarded copies to Ray Scott—the legendary founder of the Bass Anglers Sportsman Society (B.A.S.S.)—who subsequently made sure I had invites to cover future Classics as an official press angler.
I covered my first Classic in 1991, and until this year, not one Canadian angler had again walked onto the Classic stage—other than Dave Mercer (above right)  of course, who has been the event's emcee since 2011. That all changed this past March when Ottawa's own Charles Sim (above left) proudly represented all of Canada at the Geico Bassmaster Classic in Tulsa, Oklahoma, placing 31st ahead of star anglers such as Kevin VanDam, Mark Davis and Mike Iaconelli. Here's what the 44-year-old fishing ace did to get there.