Rifle revamp
The trusty Finnish-made T3 gets a welcome upgrade
Right when it was introduced in 2002, the Finnish-made Tikka T3 established a well-earned reputation as an accurate, dependable rifle for a fair price. Having owned and tested a number of T3s over the years, however, I've discovered a few chinks in the armour. And I'm not alone. While most of the issues may have been related to the synthetic stock, there were enough other minor glitches noticed that parent company Sako finally made changes to the original design, rolling out the T3x last year. So, what exactly changed, and how does the new design perform? To find out, I tested the T3x Lite Stainless model.
Since most of the changes relate to the synthetic stock, I will begin there. One of the complaints that I and other T3 aficionados had was with the hollow stock, which would sound off every time it was bumped. To reduce the noise, the T3x has a foam insert in the rear portion of the stock. Sako also improved the grip with a new, asymmetrical grip pattern designed for a more solid grasp in all weather conditions. Also new is a robust recoil pad, designed to further reduce felt recoil.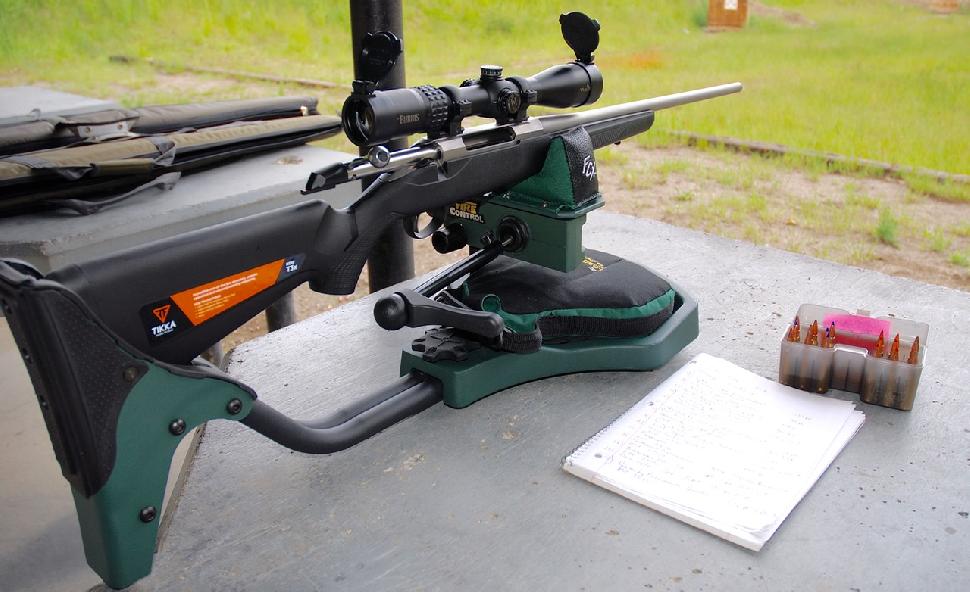 The real innovation is the new modular synthetic stock design. It provides the opportunity to interchange the standard hunting pistol grip with a more vertical palm-swell grip, and to add a wider fore-end. With a single screw in the grip cap, the grip can be removed and replaced at will. Both the alternative grip and a wider fore-end are sold separately, however. Finally, the rifle's lines have been altered to give it a more contemporary look.
Moving on to changes not related to the stock, the ejection port was widened to improve the one-round cartridge feed and ejection of spent cases. To further enhance accuracy, meanwhile, the aluminum recoil lug has been replaced with an extra-strong steel lug. Also gone is the plastic bolt shroud, replaced with a metal shroud for both a better look and increased safety. Finally, the receiver was given a new look and an extra screw hole to increase robustness when mounting a picatinny rail.
Test results
Most, if not all, of the T3x upgrades were quantifiable improvements, of which the modular stock design was the most functionally noteworthy. Replacing the standard grip with the larger palm-swell grip took but a minute or two, and it certainly gave the rifle a different feel. For me, it provided a more reliable grip on the rifle, but that will no doubt vary from shooter to shooter. While the wider fore-end has application when shooting from a rest, meanwhile, I preferred the standard fore-end in the field.
Generally, this rifle preferred 150-grain ammo, with nary a group over an inch, although it also shot well with Hornady's 178-grain ELD-X Precision Hunter, a great choice for elk. For deer-sized game, you won't go wrong with Hornady's Custom 150-grain SST (grouping pictured below), Federal's 150-grain Fusion, Barnes' VOR-TX 150-grain Tipped TSX BT or Remington's Core-Lokt 150-grain PSP. They all shot exceeding well, with groups in the half-inch arena.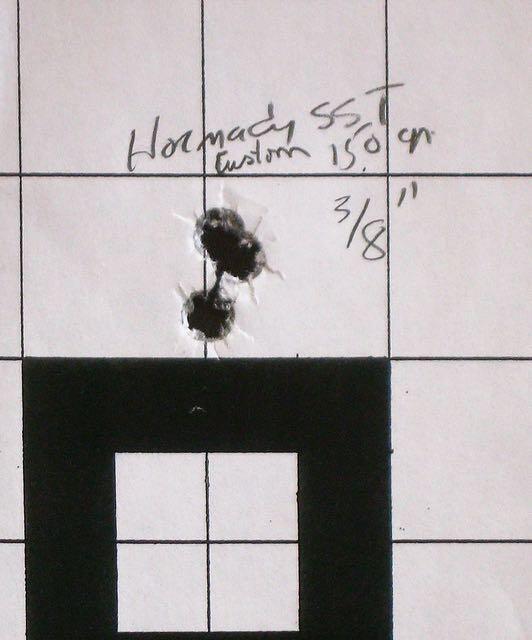 If you're looking for wild boar medicine, Winchester's Razor Boar XT 150-grain, with its one-piece bullet construction, delivered fine accuracy and will no doubt provide plenty of penetration to boot. As a final observation, if you're looking for a light load for a young shooter, I certainly noted a significant reduction in recoil with Hornady's Custom Lite ammo.
All in all, the T3x lived up to my expectations, offering an overall improvement over the T3, yet retaining the dependable accuracy, superb action and quality trigger of the original design. This is another winner from Sako that will no doubt be around for some time to come.
B.C.'s Mark Hoffman is Outdoor Canada's hunting firearms reviewer.
The specs

Calibre: .308 Winchester
Barrel length: 22.4″
Overall length: 42.5″
Length of pull: 14.1″
Drop at comb: 0.8″
Drop at heel: 1.2″
Weight: 6.6 to 7 lb
Rate of twist: 1 in 11″
Magazine capacity: 3