Baked walleye with a pecan crust and essence of orange
A healthy alternative to frying that won't make your house smell like grease
Delicate fresh fish, citrus essence and a crispy nut texture—in cooking, some things make for a perfect combination, and this is one of those dishes. Great for using ingredients found in most pantries, this recipe also calls for baking, a healthy alternative to frying that doesn't leave your house smelling like grease. Serves 4.
Cucumber salsa
½ English cucumber, finely diced
1 large tomato (seeds removed), finely diced
2 tbsp olive oil
1 tbsp chopped cilantro (or parsley)
1 tsp finely chopped garlic
3 drops Tabasco sauce
Salt and black pepper, to taste
Fish
1 orange
4 walleye fillets (3 oz each)
1 tbsp olive oil
½ cup whole pecans
Pinch salt and pepper
12 Breton Original crackers (or similar)
Instructions
For the cucumber salsa, mix all ingredients in a bowl and set aside.
Slice 2 tbsp zest from orange (use a Microplane or box grater), then cut out the segments and juice what remains. Pour juice over walleye; set zest and segments aside.
In a food processor, add the orange zest, olive oil, pecans, salt, pepper and crackers. Chop until the mixture resembles coarse breadcrumbs; remove and set aside.
Drain orange juice from walleye, then pour some of the cracker/pecan crumbs overtop and gently toss. Place fish on a parchment-lined tray, sprinkle with more crumbs, and press down lightly.
Bake in a 400°F oven until the fish flakes easily (approximately 8 minutes). Garnish with orange segments and top with cucumber salsa; serve with a mixed green salad.
For the glass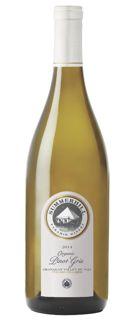 From Kelowna, B.C., Summerhill Pyramid Winery's 2014 Pinot Gris is an early-to-market wine with a medium body and refreshing citrus-floral accents. It pairs exceptionally well with this dish's crispy nut crust and orange essence.