TERRIFIC TRANSITION TIME
While fall is my favourite time to be out on the water fishing, it comes with two major issues.  The first is that the season is much too short, and the second is what always follows. I have to admit, as much as I love ice fishing, I'm not ready yet to even think about freezing cold temperatures and snow.  
Nevertheless, when I checked the Lake of the Woods surface temperature mid-week, it was bouncing between 14°C (59°F) and 16°C (61°F).  And when I went crappie fishing yesterday, on a much smaller and shallower backcountry water, it never once made it up to that magical mark.
I say "magical" because if you're a muskie angler, you know that 15° C (60° F) is the generally accepted temperature at which a muskies' summer home range breaks down. Like many freshwater fish, these big toothy critters spend the spring, summer and winter faithful to relatively small—and quite different—home ranges. But once the water temperature permanently settles below the 15°C line, the fish generally roam throughout the lake. And they continue prowling until the water temperature dips down to 5 °C (40°F), at which time they settle into their winter home areas.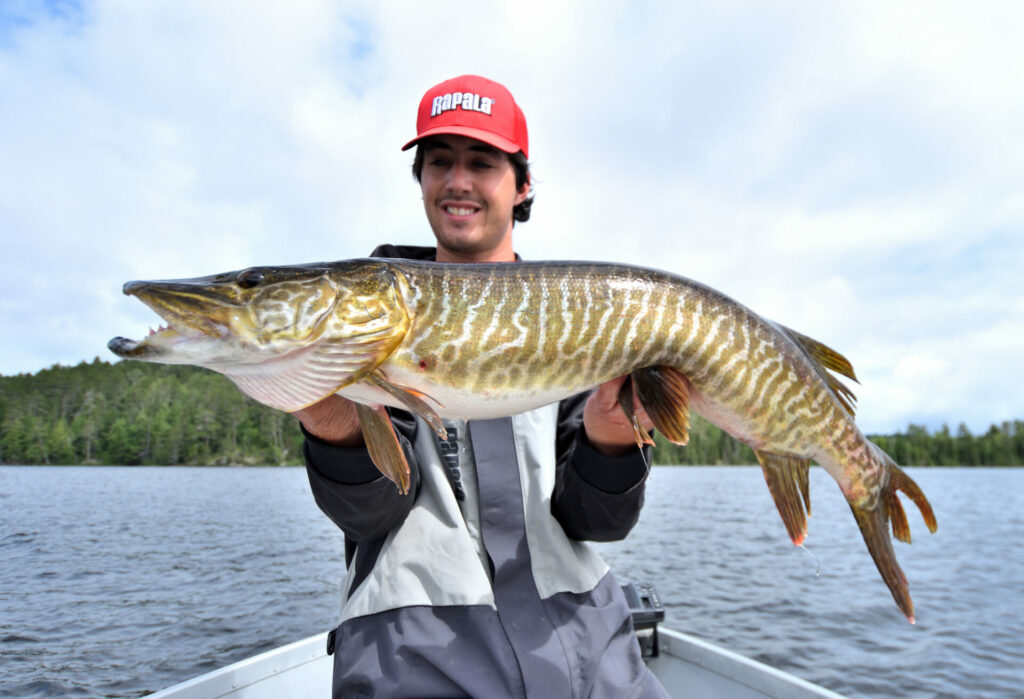 The reason I mention this, is because many anglers believe that if the fish are now moving, it is time to put down the casting gear and start trolling. And there's no doubt about it, trolling is a great fall strategy. I mean, two moving targets—the fish and your lure—always have a great chance of colliding into each other. But it's a big mistake to think that casting is still not a superb fall strategy. In fact, it is my favourite way to target these fish.
What you have to keep in mind is that while the muskies are definitely on the move, they will stop and feed at prime structure and cover locations. So, if you're on the right muskie highway—like the Trans Canada or MacDonald Cartier Expressway—it's possible that you'll connect with different fish at a choice location.  
The other day, for example, I visited a prime pit stop just before lunch and hooked a nice, though not a giant, muskie. So, I revisited the cafeteria several hours later ("Pearson's Wall," I call it, in honour of my muskie guru buddy, Dick Pearson) on my way home and was rewarded with the most savage strike of the year. I mean, the muskie stopped my lure dead in its tracks and almost jarred me off my feet.  
You better believe I'll be casting this greasy spoon continuously this fall, as the water temperature continues to dip and the fish continue to prowl and fatten up. It's like meeting the muskies at Tim's every morning for a coffee.