March madness
Saskatchewan's Cayleb Gorieu is already a late-season jigging master
Quick-strike rigging with dead baits for pike is the go-to method of choice for many ice anglers in the late days of winter, and early days of spring. But young Saskatchewan ice stick Cayleb Gorieu will tell you that it's not always the best approach.
"March is my favourite month for ice fishing," says Gorieu, who lives 12 kilometres north of Wakaw, and 25 kilometres from Shannon and Wakaw lakes, which are two of his wintertime favourites. "Everyone knows that walleye and northern pike are slowly moving towards their spawning areas at this time of year, but the fish are also following schools of bait. And if they can't find any bait, they'll travel across flats using the edges and ridges to guide them."
As he hunts for the predators, drilling countless holes and probing beneath the ice, Gorieu, who is 17 years old and in his last year of high school, relies on a single search bait. "A yellow and orange Buckshot Rattle spoon with a glow back is my favourite lure," he says.  "It's my 'March weapon,' and I fish it in an unorthodox manner."
"I start by jigging it only an inch off the bottom to make the rattles click. If I don't mark any fish on my Humminbird Ice 35, I will start pounding the spoon on the sandy bottom. Then, when I call in and mark a fish, I will make it follow the lure up in the water column. I'm usually fishing in only 10 feet of water, so when they're active I can almost pull them into the hole. If they stop following, on the other hand, I'll quickly drop the spoon back down and they will take it on the fall."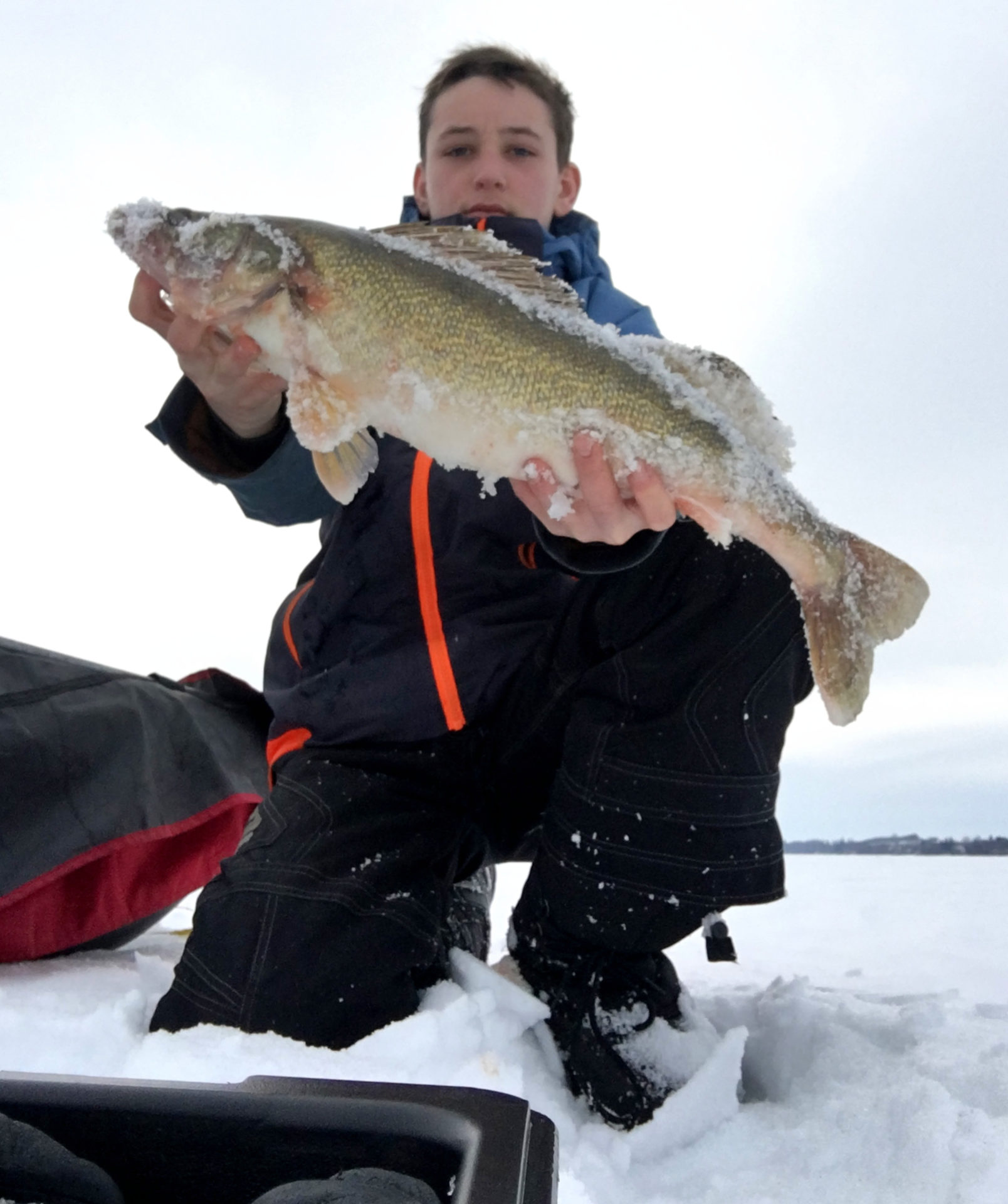 Gorieu is also quick to point out that he consistently catches more and bigger northern pike and walleye than the other anglers around him, who are typically fishing with much bigger, flashier and louder baits. "You can quickly condition and intimidate walleye and pike by using large profile baits," says the farm kid, who confesses that he still frustrates his father because he is out fishing every evening.
"They quickly lose interest in big baits, especially if there is an easier meal nearby. Using your sonar to gauge the mood of the fish is critical. I can detect every little movement under the ice with my Humminbird, so I know when there's a fish within the cone radius."
With a 43-inch northern pike to his credit and scores of giant walleye, seasoned anglers would be wise to take note of how this South Saskatchewan River rat is putting fish on the ice and giving new meaning to March Madness!