In tune for toms
Away from the stage and studio, country star Meghan Patrick finds solace—and musical inspiration—in the spring turkey woods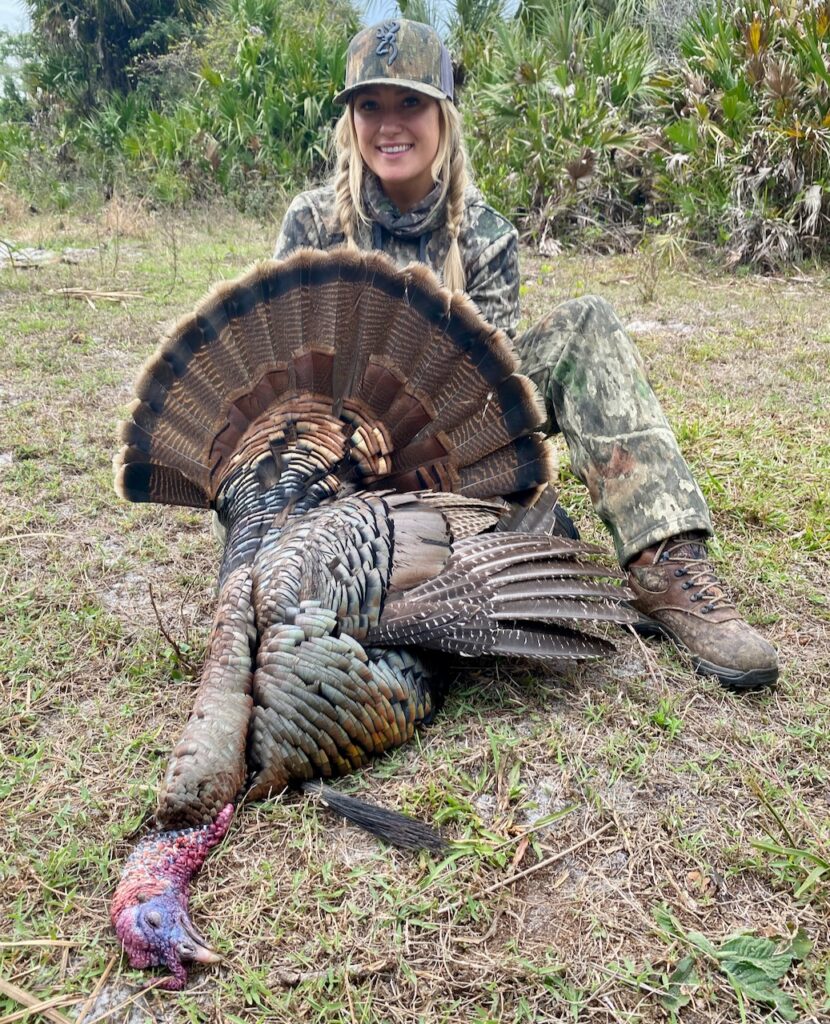 Juno Award-winning country singer-songwriter Meghan Patrick didn't grow up hunting, but she's certainly making up for lost time. Now living in Nashville, Tennessee, the 34-year-old Bowmanville, Ontario, native has embraced the hunting world in a big way. Since her first wild turkey hunt seven years ago, she's crossed a few species off her hunting bucket list, including upland game birds, waterfowl, deer and bears.
An outspoken booster of hunting, Patrick says she's been on the receiving end of hate mail from anti-hunters, but isn't one to back down from a challenge. "I believe strongly in conservation and wildlife, and being a moral and ethical hunter," she says. "A lot of people who get mad about hunting are naive about what it actually is. It's really important to spread information on what we really do."
Not long before she headed out on an Osceola turkey hunt in Florida this spring, we spoke to Patrick about how the outdoors has shaped her life. And with the spring turkey season just around the corner, we also asked her to share the lessons she's learned in the turkey woods.
BEGINNINGS
When she was a child, Patrick says she was a tomboy, playing a lot of sports and enjoying fishing in local creeks and at the cottage her family rented every summer. Hunting wasn't part of her upbringing, however. "I didn't grow up with it," she says. "I didn't have a dad, uncle or grandfather who hunted. It's something I got into it on my own." That all started about seven years ago, after a friend invited her over for a taste of venison and smoked wild turkey. "I said, 'Oh my gosh, this is amazing, this is delicious.'" It was like a switch was turned on for her.
MOTIVATION
After that first taste of wild game, Patrick says she wanted more, but also wanted to harvest it herself. "I wanted to know about the process," she says. "I felt like it would give me a greater appreciation for eating meat, which it definitely has." Patrick says she also now enjoys the solitude and connection with nature that hunting provides.
"Part of why I love hunting is the stillness and the quiet," she says. "When I was touring all the time, it was such a juxtaposition to what my work life was like. The idea of being able to sit still and not do anything—just being quiet, not on my phone or talking to anybody—is really appealing to me. It's a nice escape."
ATTITUDE
There can be a steep learning curve in hunting, Patrick allows, but it's manageable with the right mindset. "I hunt a lot and I am pretty obsessed with it, but I got started a lot later in life than most other people," she says. "I still feel I have a lot to learn, but I also think that's an important message to get out there, to be humble and to be honest."
If you're a new hunter, she advises, don't be afraid to acknowledge that you don't know everything. Likewise, don't be afraid to ask what you think might be stupid questions. "The more information you can arm yourself with," she says, "the more successful a hunter you're going to be."