Guns & ammo
Expert advice, appraisals and fascinating firearms stories
Canadian firearms expert Dave Anderson appraises a .30-40 Krag Winchester Model 1895, a Winchester Model 1894 in .38-55, a .303 Lee-Metford and an oddball Hopkins & Allen pistol.
Whether you have a question about antique guns, modern firearms, ammunition or reloading, expert Dave Anderson is here with the answer. Please send your detailed questions and applicable, high-resolution photos to editorial@outdoorcanada.ca.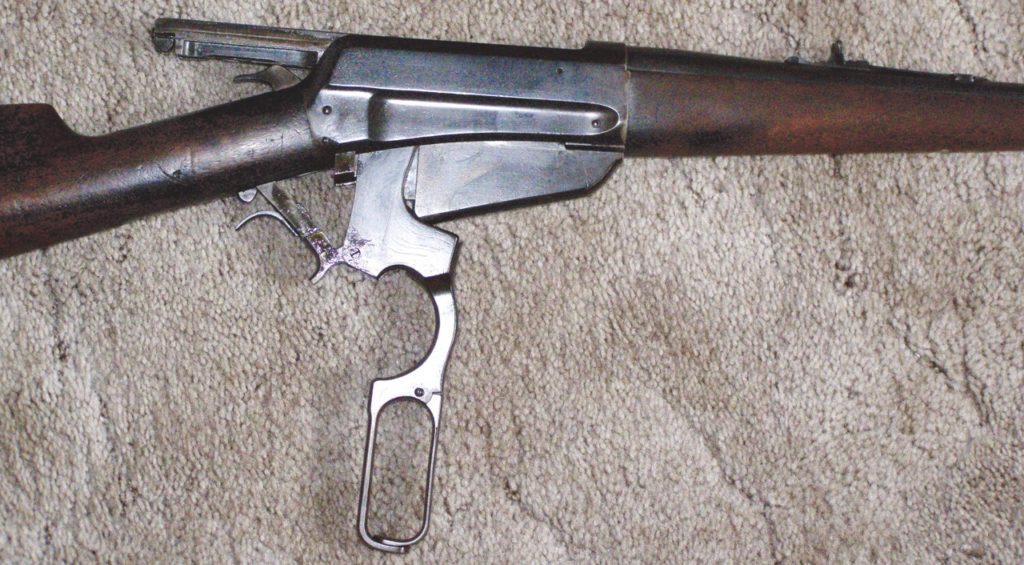 Would you kindly evaluate this Winchester Model 1895 in .30-40 Krag (above)? The bluing is in good shape and the rifling is excellent, but the stock has some scratches. It shoots well. According to the serial number (40198), it was manufactured in 1903. This gun has a lot of history. I have a picture from the early 1900s of my great-grandfather holding the rifle while coming ashore in a canoe with a large white-tailed buck. The gun was passed down to my grandfather, then to me. I still have a box of 220-grain ammo for this gun. Please suggest a possible value. Any help would be greatly appreciated.
TONY CALAIEZZI
POWELL RIVER, B.C.
The Winchester 1895 is in high demand among Winchester collectors. To me, it isn't quite as graceful and attractive as Models 1886 and 1892, but it has an appeal all of its own. I'd love to have a good shooter-grade 1895 in either .30-40 Krag or .303 British. Yours appears to be a standard sporting rifle model. A total of 425,881 were made from 1896 to 1931, with roughly 293,000 exported to Russia as military rifles. That left only about 133,000 for the North American market.
The most common chambering was in .30-40 Krag, also known as .30 US. Some of the more rare chamberings, such as .405 Winchester, bring substantial premiums. Your rifle appears to be in very good condition, considering it is well over a century old. There are some minor stock dings and scratches, but I don't see any cracks or broken wood, and the visible screw slots appear straight and undamaged.
On U.S. gun sale websites, these rifles seem to have asking prices of $2,500 to $4,000. At a Canadian gun auction, I estimate your 1895 would bring in around $2,000 to $3,000, possibly more if there are some U.S. dealers among the bidders.
[easy-tweet tweet="Fascinating firearms: Appraising a .30-40 Krag Winchester Model 1895, a Winchester Model 1894 in .38-55, a .303 Lee-Metford and an oddball 19th century pistol"]