P.J. Perry's fishing hot spots
Saxophonist Perry chases trout and steelhead all across Canada's West
For our 2016 Fishing Special issue, Outdoor Canada recruited a supergroup of acclaimed Canadian recording artists, who also happen to be hard-core anglers. And these fishin' musicians agreed to sing about their favourite Canadian fishing holes—74 in all. For the full list, see The Fishin' Musicians.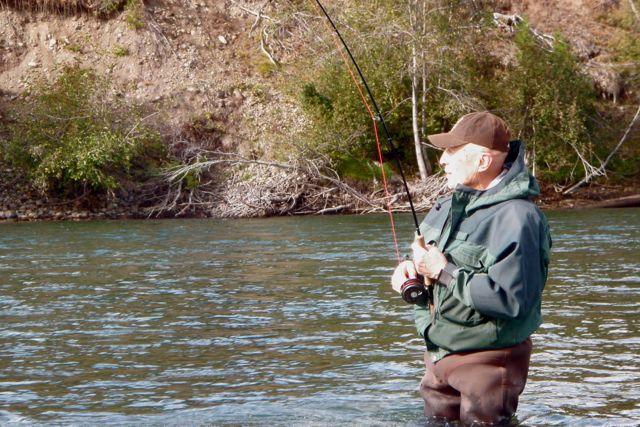 Widely acclaimed as one of Canada's finest jazz saxophonists, P.J. Perry has been playing professionally since he joined his father's dance band at age 14—and he's been fishing since age 12. Known for his bebop-influenced style, Perry has accumulated numerous awards over his six-decade career, including a Juno in 1993 for his solo album My Ideal and another for his work with The Rob McConnell Tentet in 2001. Today, the long-time Edmonton resident still records and tours and, as you can see from his hot spots, remains passionate about beautiful fish in lovely places.
Learn more: www.pjperry.com
Favourite fish: Steelhead
Favourite type of fishing: Steelhead on the fly
Favourite fishing song: "I'm Gonna Go Fishin'" by Duke Ellington and Peggy Lee
BOW RIVER, CALGARY, ALBERTA
GPS: 51.034456, -114.012190
FISH: Brown and rainbow trout
WHY: Friends in Calgary showed me the ropes here
BEST TIME: Fall
BEST FLY: Grasshoppers
BULKLEY RIVER, B.C.
GPS: 54.790, -127.151
FISH: Steelhead
WHY: Good wading river, and conveniently flows through town
BEST TIME: Fall
BEST FLIES: Large dry flies
MORICE RIVER, B.C.
GPS: 54.374, -126.755
FISH: Steelhead
WHY: Wild area, with excellent fishing and wading
BEST TIME: Fall
BEST FLIES: Large dry flies
RAM RIVER, ALBERTA
GPS: 52.371, -115.413
FISH: Cutthroat trout
WHY: Gorgeous Rocky Mountain stream
BEST TIME: Summer and fall
BEST FLIES: Caddisfly imitations