GOOSE GUMBO
COOKED TO TENDER PERFECTION WITH THE TASTES OF LOUISIANA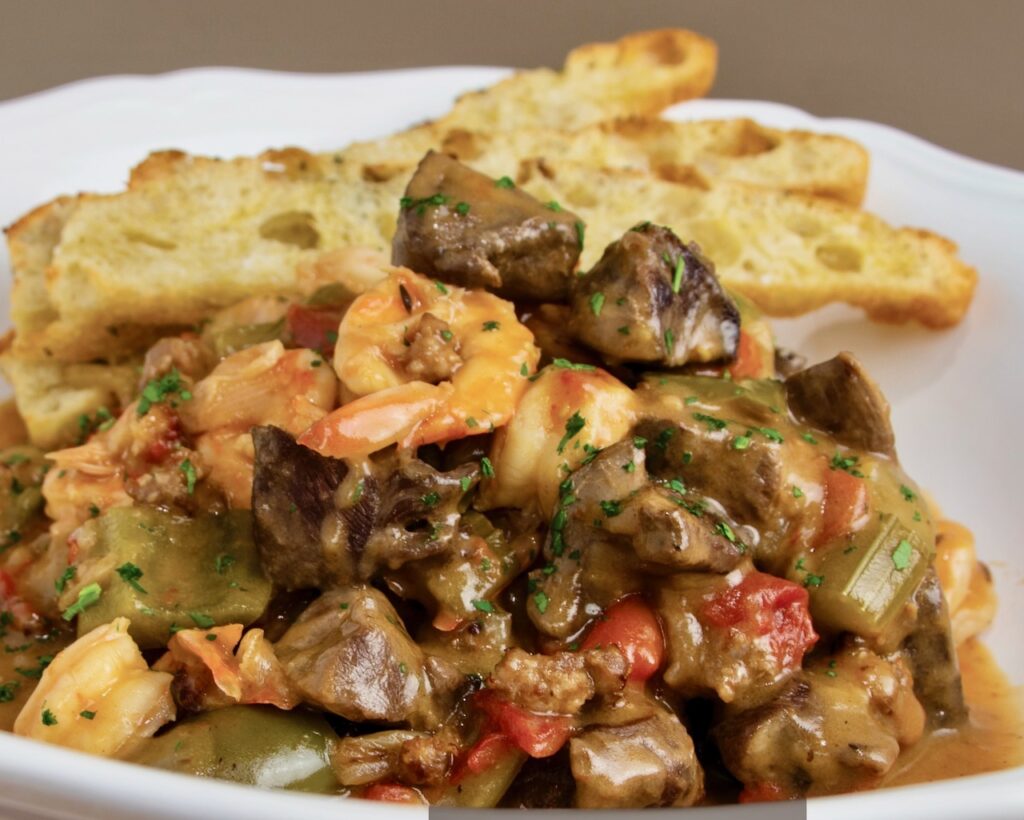 Let's face it, goose breasts are tough, especially those from mature birds. Luckily, the muscle fibres can be broken by aging the meat longer or, as is the case with this Cajun-influenced recipe, through moist cooking methods and the addition of acidic ingredients. Whether you use goose meat from last fall's hunt or a snow goose harvested this spring, this full-flavoured stew is sure to become a household favourite. Serves 4.
Ingredients
2 goose breasts, diced one inch
½ cup butter
1 medium-size onion, diced
2 chorizo sausages, casings removed
¾ cup flour
1 litre chicken stock
1 355-ml can diced tomatoes, with juice
2 celery ribs, chopped
1 green pepper, chopped
3 bay leaves
1 tbsp Cajun seasoning
Pinch salt
1 tsp Tabasco sauce
12 jumbo shrimp, shells removed
1 tbsp chopped parsley
1 baguette
Instructions
Heat a heavy-bottomed pot on medium heat. Add butter and onions, and cook for 5 minutes or until onions are transparent.
Add chorizo and brown lightly, then add goose breast and cook for five minutes.
Reduce heat to low, add flour and stir well, scraping the pot bottom to prevent burning. Cook until the flour is dark brown, then turn off the heat and let sit for 5 minutes.
Add stock while whisking to prevent lumps from forming.
Turn heat to medium-high, then add tomatoes, celery, green pepper, bay leaves, Cajun seasoning, salt and Tabasco. Stirring continuously, bring the mixture to a simmer, then add shrimp and simmer for a couple of hours or until the goose is tender.
Garnish with parsley and serve with toasted baguette slices.
To watch Chef Cameron Tait prepare this dish and others, go to www.outdoorcanada.ca/food.

FOR THE GLASS
No 99 Baco Noir from the Niagara region's Wayne Gretzky Estates has a medium body with flavours of blackberry, currant and spice. Serve slightly chilled to best accompany this mildly spicy dish.