Blueberry-Pepper Elk
Roasted tenderloin drizzled with a sweet and spicy sauce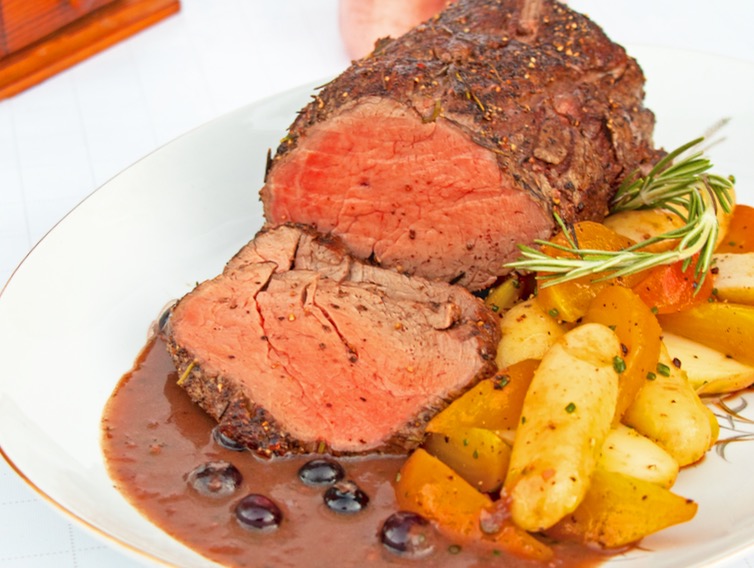 Revered as one of the most prized wild game meats, elk has a unique earthy flavour and texture. And combined with this recipe's blueberry and pickled green peppercorn sauce, it makes for a truly exceptional meal.Just be sure to serve the meat medium-rare— if overcooked, it becomes too dry and chewy. No elk in your freezer? Deer tenderloin is a great substitute. Serves 4.
INGREDIENTS
1.5 to 2 lb elk tenderloin
3 long fresh rosemary sprigs
Kosher salt, to taste
Black pepper, to taste
2 tbsp canola oil
SAUCE
2 tbsp butter
1 shallot, finely diced
2 garlic cloves, chopped
1 cup red wine
3 cups beef stock
¼ cup pickled green peppercorns, crushed
½ tsp kosher salt
3 tbsp soft butter
3 tbsp flour
½ cup blueberries
Trim all silver skin and excess fat from the tenderloin. Tie individual loops of butcher's twine around the meat, spaced three inches apart. Make the loops snug, but not too tight, then thread the rosemary sprigs under the twine on top of the tenderloin. Season the meat on all sides with salt and pepper, then set aside.
For the sauce, melt the butter in a saucepan on medium heat, and sweat the shallot and garlic for 5 minutes, stirring often. Add the red wine and bring to a simmer for 10 minutes to burn off the alcohol, then add the beef stock, peppercorns and salt. Leave on low heat.
In a large frying pan on high heat, add the canola oil and sear the tenderloin on all sides. Lay the seared meat on a parchment-lined sheet pan and place in the centre of a 300°F oven. Once it reaches an internal temperature of 125°F, remove the meat and let it rest for 15 minutes to allow the juices to disperse before slicing.
Meanwhile, bring the sauce back to a simmer. Knead the soft butter and flour together until well combined (the fancy name for this is beurre manié). Whisk half the mixture into the sauce to thicken it, adding more as needed until the sauce has the consistency of light gravy. Add the blueberries and continue simmering for another five minutes.
Serve the sliced tenderloin with fingerling potatoes and gold beets, with the sauce on the side in a gravy bowl.
To watch Chef Cameron Tait prepare this dish and others, go to www.outdoorcanada.ca/food.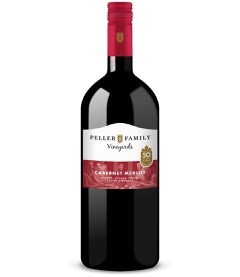 FOR THE GLASS
A dry, medium-bodied red wine with accents of cherry and vanilla, this Cabernet Merlot from Niagara-on-Lake, Ontario's Peller Family Vineyards makes a perfect pairing for roast elk.