WALLEYE ROCKEFELLER
Dine like a millionaire with this rich and tasty fish dish
Recipe & photos by Cameron Tait
Oscar Wilde famously once wrote, "Imitation is the sincerest form of flattery." That's certainly the case with this modern-day walleye recipe inspired by a 19th-century New Orleans favourite, Oysters Rockefeller. One of the greatest characteristics about walleye is that it can take on many different flavours and presentation styles. In this dish, for example, simple and common ingredients such as garlic, spinach, onion, bacon and Parmesan cheese make for a perfect marriage of flavours. This recipe is easily doubled, which is a good thing because your guests will definitely be wanting more than just one helping. Serves 2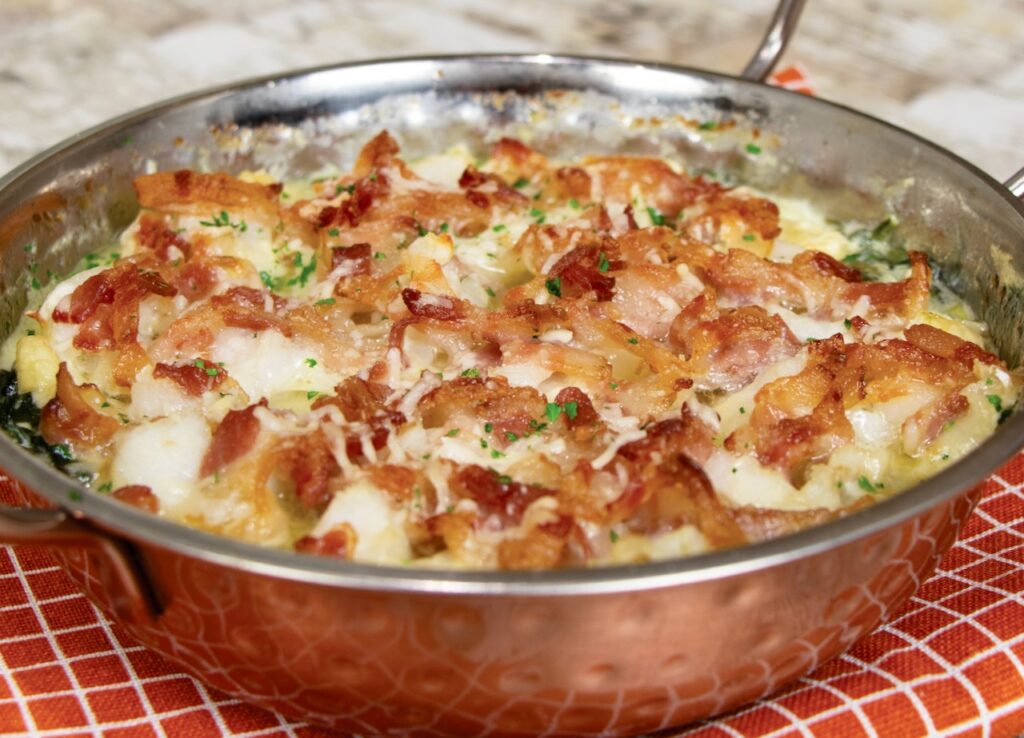 1/4 cup butter
2 garlic cloves, finely chopped
140 grams fresh spinach
¼ cup whipping cream
Kosher salt and pepper, to taste
8-ounce walleye fillet
4 strips bacon, thinly sliced
¼ cup Parmesan cheese
Preheat oven to 400°F.
Heat a frying pan on medium heat, then add the butter, garlic and spinach. Heat until the spinach is lightly wilted, then add the cream, salt and pepper. Remove the mixture from the heat and place it in a small, heatproof dish.
Slice the walleye into half-inch pieces and place on top of the cooked spinach. Top evenly with the sliced bacon and place in the pre-heated oven. Bake for 15 minutes, then top with Parmesan and bake for another 5 minutes. Serve immediately.
FOR THE GLASS
Red wine seldomly goes well with fish, but Magnotta's 2020 Pinot Noir Equus Series VQA is truly an exception. A medium-bodied dry wine with cherry and smokey accents, it pairs perfectly with this dish's garlic, spinach, cream, bacon and fish ingredients. Be sure to serve it slightly chilled.