SHARP SHOOTER
Weatherby's lightweight Mark V Hunter is deadly accurate
Weatherby has been on the leading edge of cartridge technology for three quarters of a century, having developed trail-blazing cartridges and some mighty fine rifles. While many of those rifles showcase Weatherby's innovative cartridge technology, the company wisely did not ignore the many other standard and proven cartridges hunters have grown to love. That tradition is reflected in the 2022 introduction of the Mark V Hunter, with Weatherby staying the course by chambering the rifle in seven of its own magnum cartridges, as well as 10 others.
While the Hunter is a standalone model with a new stock design, it includes many of the attributes of the Mark V Backcountry series Weatherby introduced in 2021. The stock features the same trim flat-bottom forend, ambidextrous palm swells, aluminum pillar construction and Urban & Black Speckle finish.
Mechanically, the Hunter utilizes Weatherby's signature multi-lug bolt system, which the company touts as the "world's strongest action." It comes in both standard and magnum action sizes, with the standard utilizing a six-lug design, while the heavier magnums use the traditional nine locking lugs that can handle the hottest commercial cartridges on the market.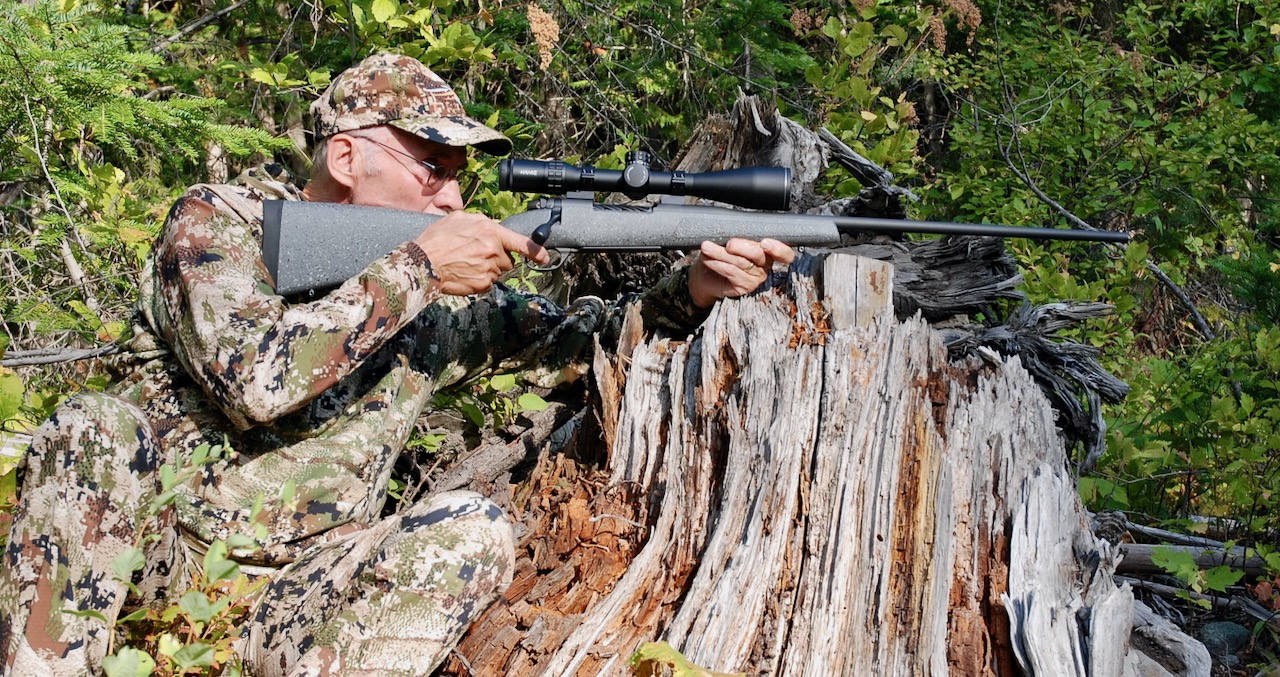 The Hunter also offers several safety features, including three rings of steel around the base of the cartridge, a fully enclosed bolt shroud and three gas-relief ports in the bolt body to vent dangerous pressure should there be an unlikely cartridge failure.
For maximum foul-weather protection, the barrel, receiver and trigger guard are finished in cobalt Cerakote, while the bolt, bolt knob and safety are finished in graphite black Cerakote. The deeply fluted bolt has a removable bolt knob that, with its 54-degree throw, offers quick follow-up shots and maximum scope clearance.
The Hunter is also equipped with a Triggertech trigger that provides a zero-creep break, and extremely short over-travel. It is externally adjustable, and with its precision-cut stainless steel components, it ensures safe, reliable and consistent trigger pulls from shot to shot. Finally, the barrel is threaded ½ x 28 for the potential installation of a brake.
TEST RESULTS
Despite its advertised weight of 6.2 pounds, my test Hunter in 6.5 WBY RPM tipped my postal scale at a paltry six pounds. With Talley lightweight mounts and a Hawke Frontier 2.5-15×50 LR scope, the total weight was seven and a half pounds, the standard weight of many non-scoped rifles.
The factory-set trigger pull weight of three pound four ounces was a touch heavier than I wanted, so I adjusted it down to a consistent two pounds 12 ounces. The mighty fine Triggertech trigger lived up to its billing, with no identifiable creep or over-travel.
I also liked the rifle's clean lines, as well as the palm swells and the textured grip on both the swells and the forend. The larger, pear-shaped bolt knob also added visual appeal, along with user-friendly practicality.
As for ammunition, I included two factory loads and nine handloads for my test, although I took a different approach with my handloads this time. Rather than experimenting with a number of different powders, I instead used H1000 for every load owing to its consistent sub-MOA performance in a previously tested 6.5 WBY load.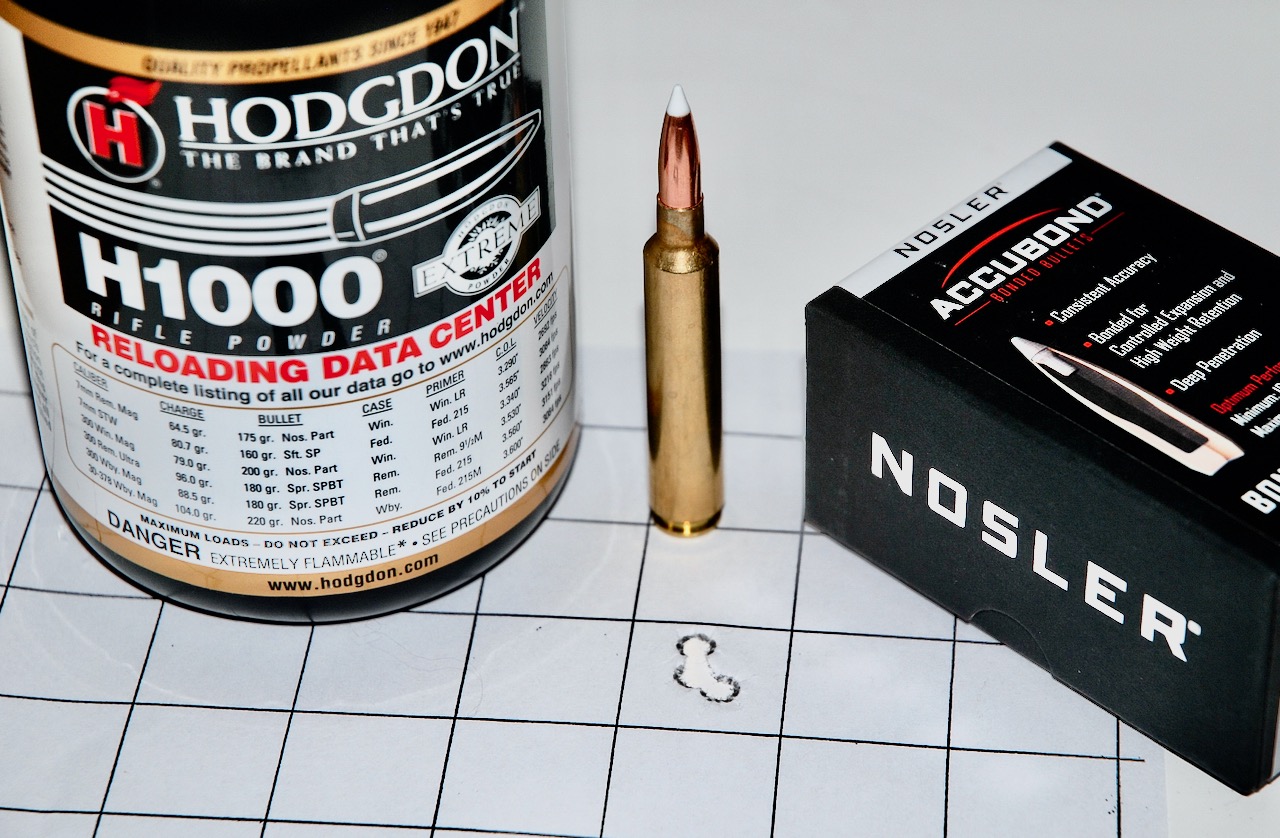 Despite past successes with a number of Weatherby rifles, I wasn't sure what kind of accuracy to expect from the Hunter, possibly because of its light weight or barrel contour, or the combination of both. I needn't have worried, as seven of my handloads bettered MOA, with a couple hovering at or under 0.5 inches. Weatherby Select 140-grain Hornady InterLock also delivered 0.51-inch accuracy. For hunting, I would consider either a handload with a 140-grain Nosler AccuBond bullet and H1000 powder, or Weatherby Select 140-grain Hornady InterLock ammo. Both provided 0.5-inch accuracy.
I was impressed with both the rifle and scope. For their price points (MRSP US$1,499 and US$899, respectively), they delivered on all fronts. With its simple clean lines, accuracy, weight, balance, fit and finish, the rifle bettered my expectations. As for the scope, it ticked every one of my requisite feature boxes, while providing optical clarity well beyond its price tag. The pairing was a true bang-for-your-buck duo.

THE SPECS
Calibre: 6.5 WBY RPM
Overall length: 45"
Length of pull: 14"
Weight: 6.2 lb
Barrel length/contour: 24"/#1
Twist rate: 1" to 8"
Magazine capacity: 4+1
Drop at comb: 0.625"
Drop at heel: 0.3"