A waterfowl adventure in south-central Manitoba
Days of ducks, geese and old friends
Well, my annual waterfowl pilgrimage to south-central Manitoba is in the books and about the only thing I can say is that, like fine wine, it keeps getting better with each passing year.
This fall's two morning tally included 43 mallards, 15 Canadas and a blue-morph phase snow goose that resembles the Emperor goose of the Aleutian Islands. Shared amongst the four of us that were hunting, the bounty amounts to a priceless dinner, at least one a month for each of us, until we meet up again next season.
And on that note, I have to confess that I live a charmed life.
You see, a few years ago, while I was doing fishing seminars at the Cabela's main office store in Winnipeg, a gentleman came up after my presentation, introduced himself as Lorne Ross, and gave me a bottle of his homemade maple syrup.  That was reward enough, but then Lorne said, "If you'd ever like to bring your grandson, Liam, over for a fall waterfowl hunt, I'd love to take you guys out."
I remember exactly what I chuckled in reply …. "Be careful what you say, Lorne, I just might take you up on your offer."
And from that one chance meeting a lasting friendship has flourished.  I should mention, too, that Lorne is the chair of the Winnipeg trap and skeet club's Junior trap program.  He also won the Honolulu trap handicap event a few years back when he and his wife, Gwen, vacationed one winter in Hawaii.  So, let's just say, he is not too shabby a shot when it comes to pulling the trigger on a shotgun.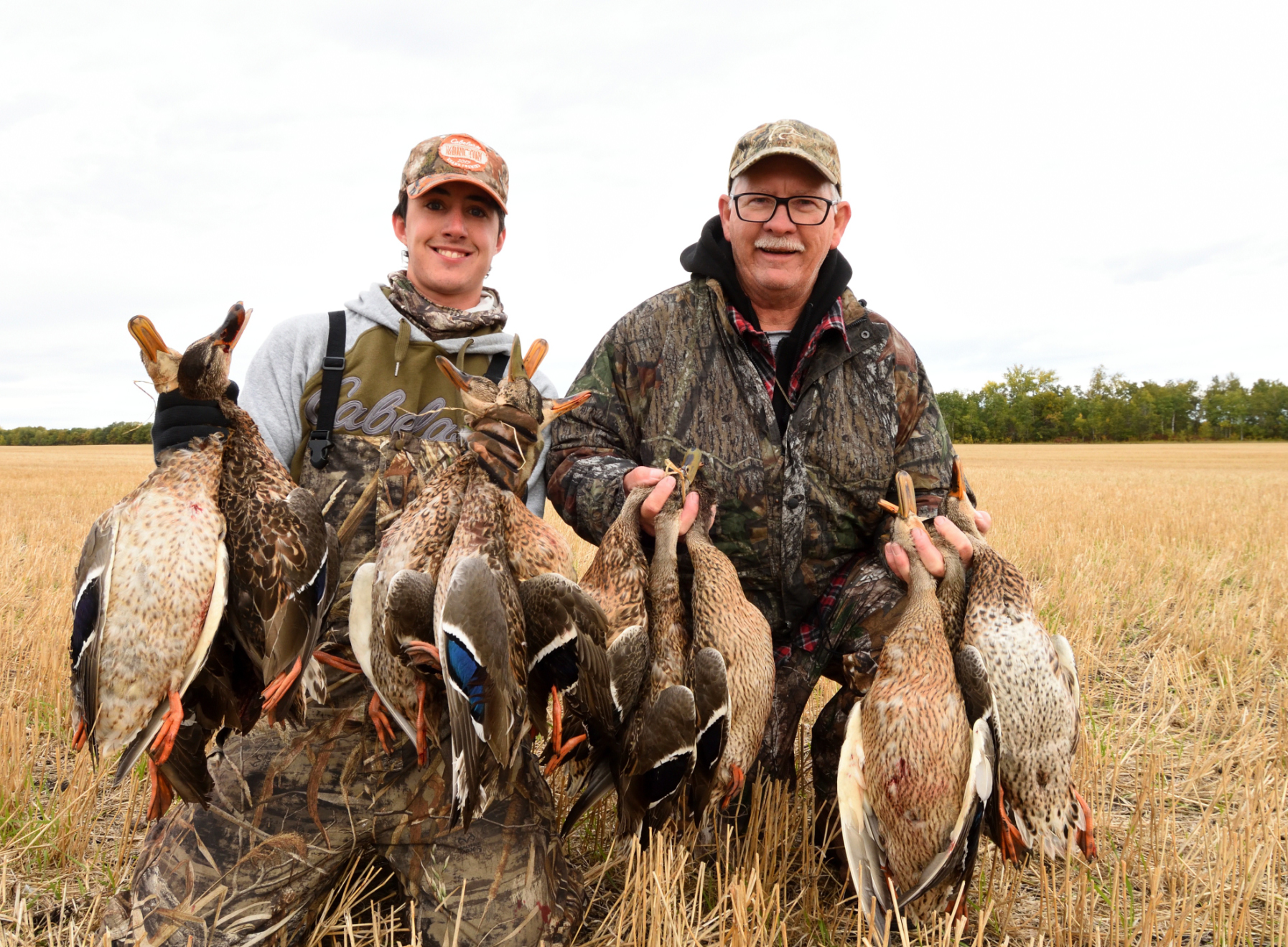 And living in Stonewall, Manitoba, a short drive north of Winnipeg, near the famous Oak Hammock Marsh, he has had plenty of opportunity to do just that.  Often with his good friend, Charlie Ross, who, though he shares the same last name, is not related.
Liam and I first met Charlie last autumn when we hunted with him and Lorne and it was nothing short of spell binding – thrilling really – to watch Charlie and his prized black lab, Pink, work like a well oiled machine.
Unfortunately, Pink is growing old, so she didn't join us in the field this year.  That meant we recruited Liam to pick up the slack, and with thousands of birds piling down from the north country, he got a workout.
But the hit of the weekend was watching and listening to Charlie and Lorne's nephew, Dustin Kerr, work the numerous duck and goose calls that they wore around their necks.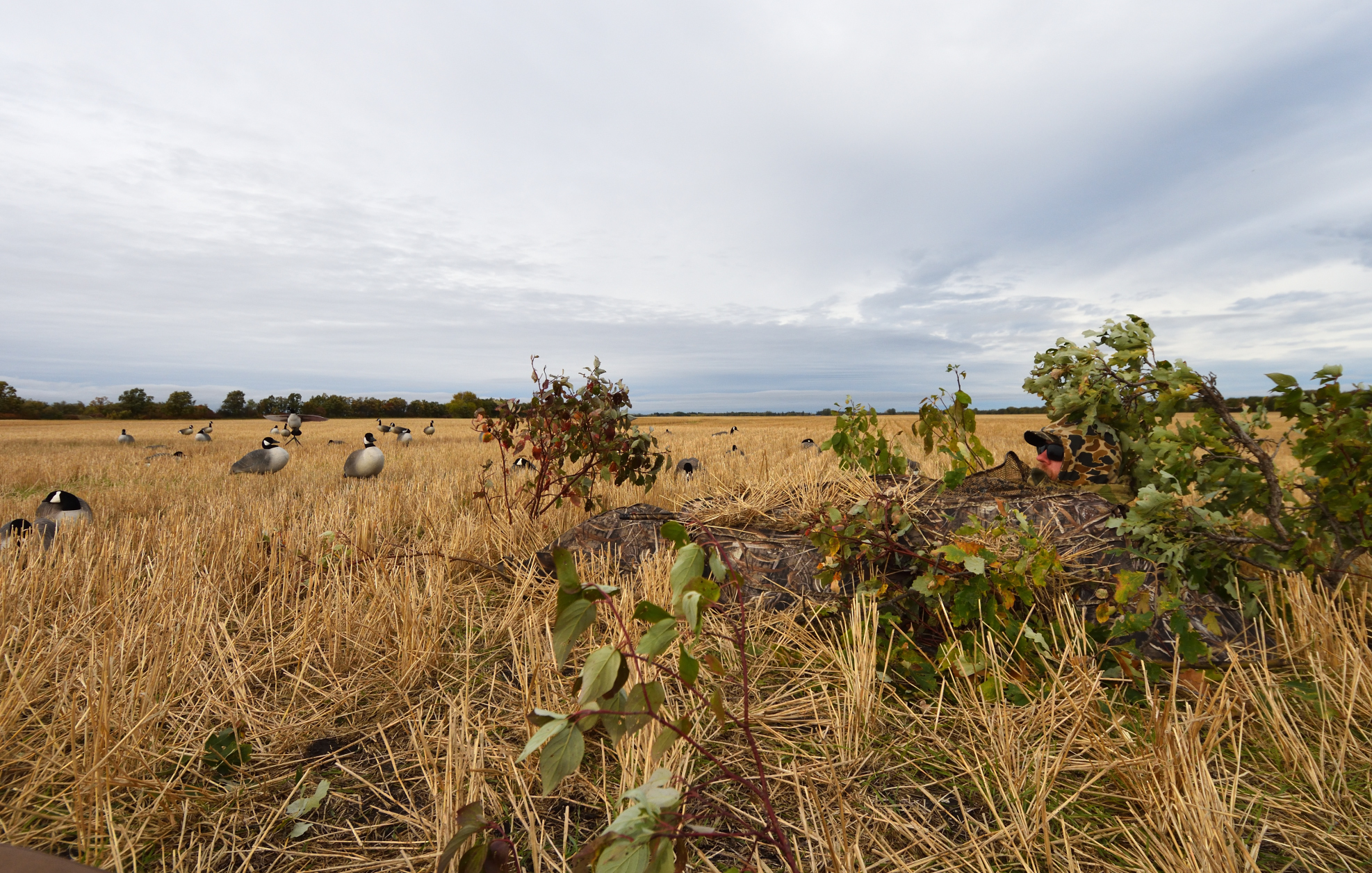 Because there were so few hunters in the fields, the birds were leisurely taking to the air each morning, with an almost unlimited choice of recently combined wheat and barley fields in which to dine.  Even though our spread of decoys must have looked impressive from the air, the fact that there were so many live birds in the neighbouring fields around us, meant we had plenty of "real" quacking and honking competition.
But it didn't matter.
As soon as we spotted a flock of ducks or geese in the distance, Charlie and Dustin would start pleading with the birds to come our way.  And that is what they did, time after time, after time.
In fact, on several occasions a flock of birds would fly over us, well out of range, zeroed in on a neighbouring field, but as soon the two Dr. Doolittles started squawking we would watch the birds tilt their wings, look back in our direction and make an immediate 180-degree course correction.  Then they folded their wings backward, stuck out their feet and came barrelling in for a landing.
Even more impressive was watching Charlie and Dustin coaxed a flock to turn around and come right back, after we had dropped two or three of their buddies.  If I hadn't seen with my own eyes I would not have believed it.  But the boys were speaking the language and it was spellbinding to see.