Unlocking the secrets of two 19th century European shotguns, a Winchester Model 94 Yellow Boy Carbine and a collectible Canadian Weatherby
Whether you have a question about antique guns, modern firearms, ammunition or reloading, expert Dave Anderson is here with the answer. Please send your detailed questions and applicable, high-resolution photos toeditorial@outdoorcanada.ca.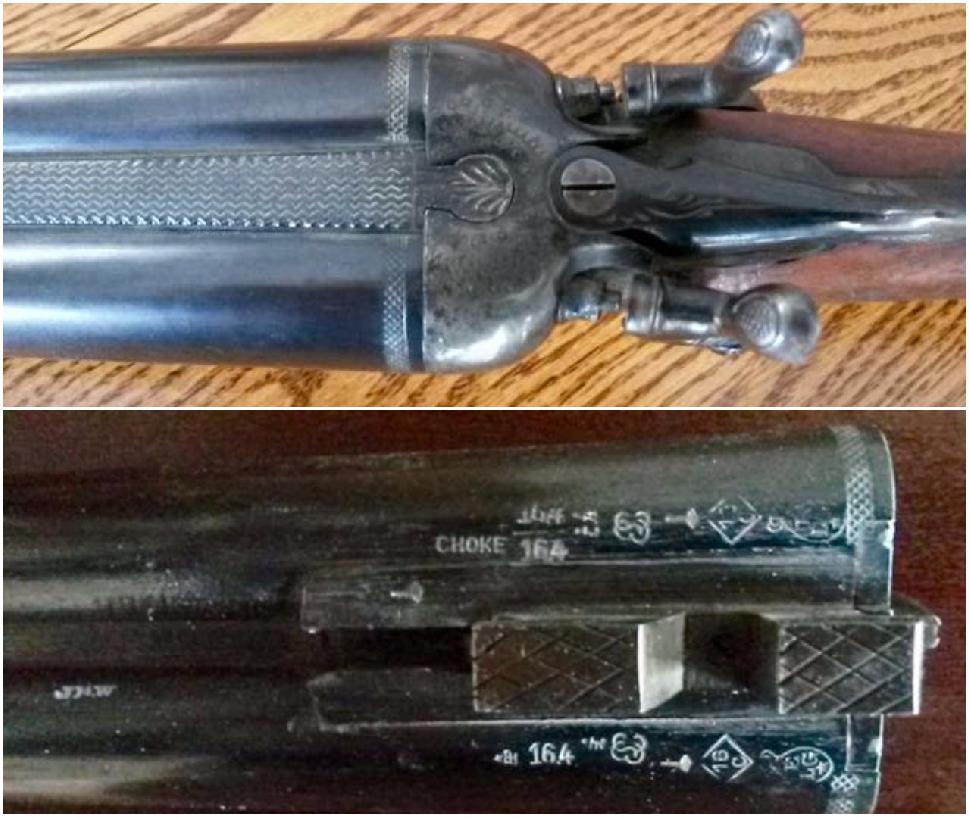 My father gave me this double-barrelled twin-hammer shotgun in 1966 when I turned 16 (above). He got the shotgun from his dad, who emigrated from Ireland around 1905, but never fired it—he didn't like guns. I don't know anything about this double, but it's in excellent condition and shoots perfectly. I am at the end of the line as far as keeping this gun in the family is concerned, so I'm wondering if you could tell me more about it, including its approximate value.
Gerry Shaw
Red Deer, Alberta
Your photos indicate the shotgun was made in Belgium and proved at the Liege proof house. The markings indicate it's a 16-gauge with the two barrels choked identically (16.4 represents the bore size of the choked portion of the barrel). A great many external-hammer shotguns of varying quality were made in Belgium for export from around 1875 to 1900.
From what I can see, your shotgun seems to be nicely made and fitted. There is little collector interest in Belgian-made hammer shotguns, however. Personally, I wouldn't shoot it, as there was still a lot to learn about steel manufacturing when these old guns were produced. Its value is primarily as a wall-hanger and as a memento of a bygone era; I'd estimate it's worth $200 or so.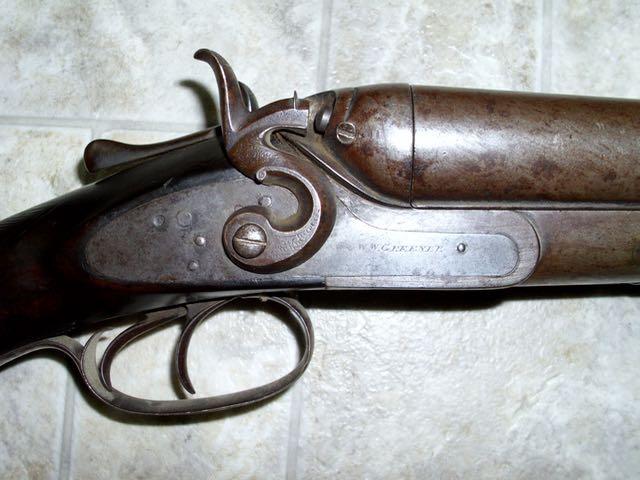 Could you provide any information about this double-barrelled shotgun and its value (above)? The markings on top of the barrel say "W.W. Greener Dominion Gun 68 Haymarket London." There are also markings under the forestock that read "11B 12M," along with serial #36018. The barrel is 30 inches long and the overall length is 46 3/4 inches. I contacted W.W. Greener and they said the gun was built in the late 1800s. They also said it was relatively inexpensive when it was made, so I assume that means it won't have much value today. I also took the shotgun to Cabela's to see what they knew about it, but they didn't know much; they figured it could be worth $1,500, but that seems high to me. If it is worth something, do you have any idea where I could sell it? Here in Saskatchewan, I think the market could be limited. Thanks for any info.
Allen Prosser
Shellbrook, Saskatchewan
William Greener was a well-regarded British gunmaker. Greener guns are well made, and valued as both collectibles and—assuming they're in safe condition, of course—as practical sporting arms. Your shotgun has external hammers, which are in considerably less demand by both collectors and shooters. I can't tell for sure, but it may have Damascus barrels; there's also some surface rust and rust pitting. I wouldn't consider it a shooter, but given the name, it should have some value to a collector of British or double shotguns.
I agree with you that $1,500 is on the high side. I think it would be more in the range of $500-plus to a collector. As you say, finding someone who wants it won't be that easy. There are two firearm auction houses that may be able to help you find a buyer (go to www.outdoorcanada.ca/gunauctions).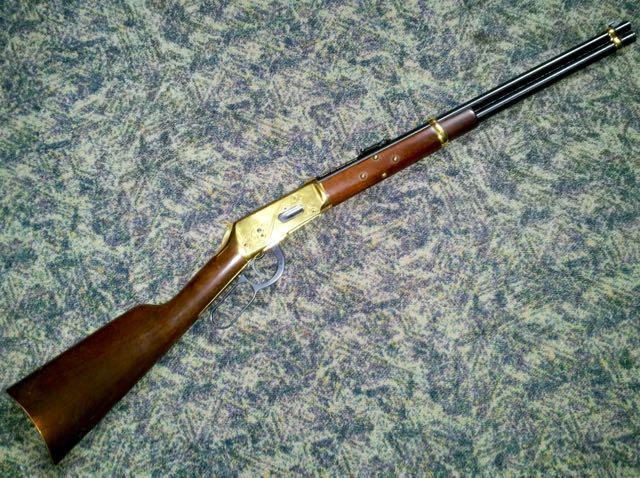 I have a Winchester Model 94 Yellow Boy Indian Carbine in .30-.30 (serial #YB4719). It has never been fired. Could you please tell me its value? Thank you.
Lloyd Allen
Toronto, Ontario
The Yellow Boy Indian Carbine is one of the rarest Winchester 94 commemorative rifles. It was made for sale in Europe, so it's not often seen in Canada or the U.S. It debuted in 1973, and a total of 4,903 rifles were made, with serial numbers ranging from YB1 to YB4903. Since so few of these Model 94s are sold in North America, it's tough to estimate their value.
The current Blue Book of Gun Values suggests a value of US$1,495, but I recently saw one that sold at a gun auction for US$2,160. In the Canadian market, where we have fewer collectors, I'd say a value of between $1,500 and $2,000 is a reasonable estimate. To get the maximum price, these commemorative rifles should not only be unfired, they should also come with the original box and all original papers. Plus, both the rifle and the box should show minimal handling.
COLLECTOR'S CORNER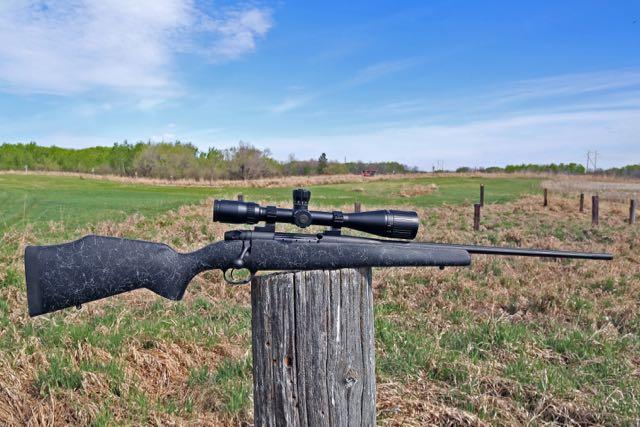 I don't find collectible firearms that need to be locked away untouched and unused very appealing. I'd rather use and enjoy firearms that have the potential to hold their value, or even increase in value after a decade or two. The recently introduced Weatherby North Mark V (above) is a good example of just such a gun.
Made exclusively for sale in Canada, it's based on the Weatherby Ultra Lightweight, but with a black carbon-fibre stock (with spiderweb accents) that cuts down the weight by a further half-pound. Other distinguishing features include a red maple leaf along with the North Mark compass and Weatherby logos on the floorplate (below). The rifle pictured here sports Talley one-piece bases and rings and a Bushnell LRS 5-15×40 scope. The fluted barrel is blackened stainless steel.
Built on the famous Mark V action, the North Mark uses the nine-lug action for most Weatherby magnum cartridges, and the lighter six-lug action for standard cartridges and the .240 Weatherby. Chambered in cartridges such as the .270 Win. or .30-06, the rifle weighs 5¼ pounds; field-ready with scope, rings/bases and cartridges, it should come in at about 6½ pounds. I can't think of a better all-around rifle for Canadian big-game hunting.
I'm pleased to see a rifle made exclusively for Canadian hunters. The standard Weatherby Ultra Lightweight is a great rifle and already one of my favourites. I bought one in .257 Wby. years ago and have shot game with it in both Africa and North America. This new Canadian version, at a half-pound lighter, is even better. I've owned or tested Mark Vs from different eras and made in different countries, and in terms of fit, finish and quality control, the current versions are the best ever.