Guns & ammo
Investigating some of granddad's ammo boxes, a turn-of-the-century Winchester .32 and an English-made double
Whether you have a question about antique guns, modern firearms, ammunition or reloading, expert Dave Anderson is here with the answer. Please send your detailed questions and applicable, high-resolution photos to editorial@outdoorcanada.ca.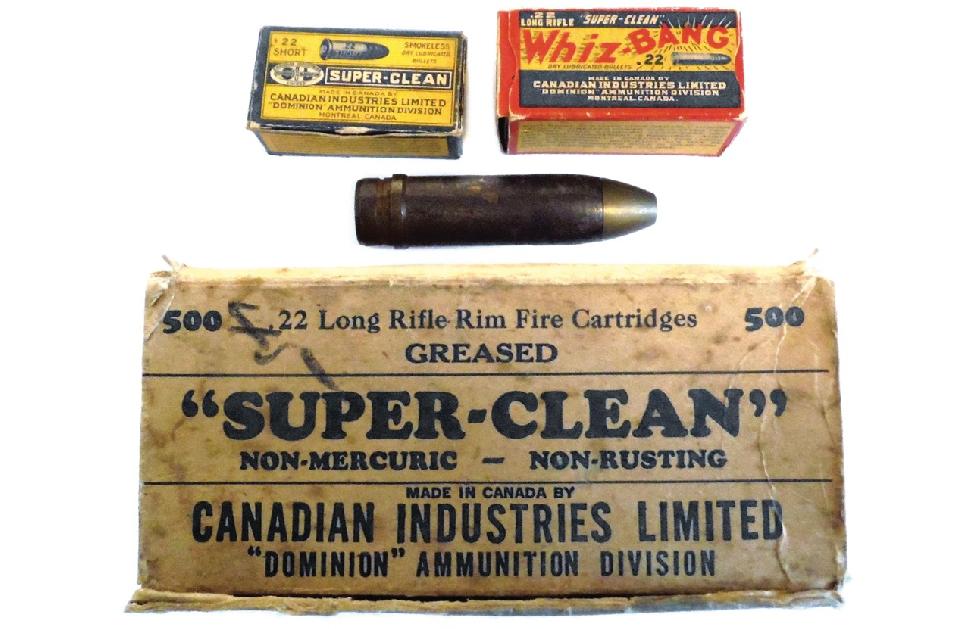 I'm retired from the military and I inherited this old ammo (above) from my father's and grandfather's estates. Could you please suggest a ballpark value, and where could I sell it?
Ward Hewitt
Ottawa, Ontario
You have some nice collectible items there. I haven't seen a box marked "Whiz-Bang" in a long time—it sure brought back some memories! Unfortunately, trying to value old ammo and old ammo boxes is tough and very inexact. There aren't a lot of cartridge collectors, so even dealers specializing in old ammo take into account it may take years to resell items.
Complete boxes with all the original cartridges are the most valuable to collectors, and the less worn and tattered the box, the better. Judging from your photos, your most collectible items are the Super-Clean .22 long rifle boxes in the 500-round carton. Presumably because they were in the carton, the boxes look to be in very good condition. Assuming the 50-round boxes are full, they should be worth perhaps $100 to a collector. Keep in mind, however, that these are the prices dealers are asking, not what they might pay. Considering the risk, time and expense involved in selling, a dealer needs a substantial mark-up. And there are no set prices—I also found boxes for $35, and 500-round cartons for $325 to $350.
Your .44-40 box is a bit tattered, but with all original cartridges, it should be worth at least $100. There's a surprisingly brisk trade in empty boxes on eBay, with items such as yours going for $10 to $20 each. Of course, you need a licence to purchase ammunition here in Canada, plus there are shipping restrictions, but anyone can buy and mail an empty box. Many people use them to decorate dens, bookshelves, gun cabinets and so forth.
I can't comment on your individual cartridges, however, as I don't know who manufactured them, or what calibres they are. To get the best value for your ammo and boxes, I suggest you put them on display at a gun show. Another option is to show pictures of your items to a dealer of vintage cartridges, then see what offers are forthcoming.

I have a Winchester Model 1894 in .32 WS (above) that once belonged to my grandfather. The serial number is 231593. The rifle is stamped "Nickel steel barrel for smokeless powder" and "Manufactured by Winchester Arms, New Haven Conn. USA." And on the rear sight, it's stamped "Pat. Oct-8-1901." Is that the actual date the rifle was made? I would like to know the approximate age of this rifle, and what it might be worth (even though I have no intention of selling it).
Neil Ross
Terrace, B.C.
The stamp on the rear sight is the date on which the rifle's patent was first issued, not the date the rifle was manufactured. The serial number, however, indicates the rifle was made in either 1901, according to factory records, or 1904, according to the Polishing Room records.
Judging by the photo, the rifle is in very good condition. In fact, the wood appears so nice it may have been refinished. A collector would likely want to make a careful inspection before bidding, but from what I can see, this rifle would be in demand at an auction.
Assuming the wood finish is original, and the other side of the rifle is as nice as the right side shown in the photo, I would expect it to sell for $2,000 to $2,500 at a well-publicized gun auction. Even if the wood has been refinished, the rifle would still be worth at least $2,000. It's a great family heirloom—your grandfather would be happy to know you are keeping it in the family.

This is my dad's 12-gauge shotgun (above) that was given to him by his great-great uncle. We haven't been able to find much information about it or the manufacturer. It has the engraving "H Akrill maker Beverley." If you can offer any information, that would be greatly appreciated.
Keith Reynolds
Taber, Alberta
Henry Esau Akrill established a gunmaking business in Beverley, Yorkshire, England, in 1833. In later years, it became a retail store selling guns and outdoor clothing. The Akrill store remained a well-respected family-owned operation until 2001, when Roger Akrill sold it. One reference says the store is now a fast-food takeout restaurant. Although Akrill did make his own guns, the business later had guns built to its specifications by manufacturers such as Holloway, Osborne and Carr. They were considered to be affordable, good-quality hunting guns.
The external hammers indicate your shotgun was most likely made between 1875 and 1900. When hammerless shotguns were introduced between 1880 and 1890, external hammer guns fell out of favour quite quickly. I consider any quality English-made double to be of some interest to collectors, although there isn't a great demand for models with external hammers. In Canada, I think value would be in the $200 to $300 range.
Apparently, some records of the Akrill firm still exist, including serial numbers by year after 1910. You may be able to find more by writing to: Roger Akrill, South Lawn, Church Lane, Thornton Dale, N. York, England Y018 7QL. The telephone number listed is 01751 475093.
Collector's corner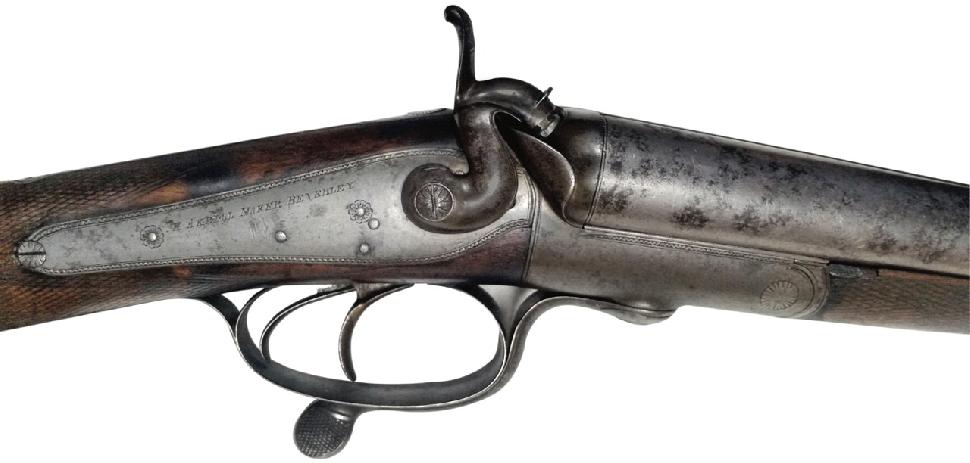 After its redesign in 1964, the Winchester 70 received a lot of criticism from rifle aficionados. From about 1972 on, however, Winchester made substantial improvements in quality control, and in the rifle's appearance. But the big breakthrough came in 1981, when the much-loved Featherweight was reintroduced, complete with a handsome, well-proportioned stock. The rifle proved to be very successful, and it's probably one of the main reasons Winchester is thriving today.
Chambered in 7mm (7×57) Mauser, this Featherweight is one of two I bought in 1982. I've shot several whitetails and mule deer with it, developing a high regard for the 7×57 cartridge. This rifle uses the Model 70 push-feed action, which, despite having some detractors, is an excellent action.
It may be a bit of a stretch to call this a collectible, as it's only 35 years old. That said, the reintroduction of the Featherweight was a major factor in restoring the reputation of the Model 70, so I wouldn't consider a Model 70 collection complete without one. Both the .257 Roberts and 7×57 Mauser chamberings add a bit of value to the rifle, as they were only offered from 1981 to 1985.
As an interesting side note, the butt pad is marked "Winchester Repeating Arms," a marking that was only used for a short time in 1982 before it was replaced with the U.S. Repeating Arms logo. I've kept this rifle in near-pristine condition. It's not for sale, but I'd say it's worth $750 or so—that's what I would pay for its twin in .257 Roberts. I still regret not picking one up at the time!