THE BEAR HUNTER
David Costley equipped Britain's royal guard with bearskin caps, and became pen pals with Queen Victoria in the process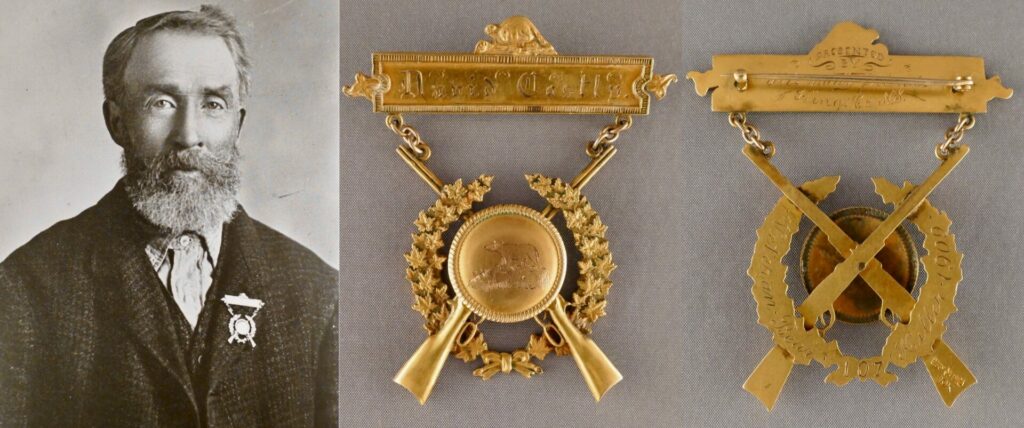 THE QUEEN CONNECTION
In 1897, Queen Victoria invited Costley to London to personally thank him for his bearskins. "David was too busy to go," Legge says. "He had traps to mind." Like many local men of his era, Costley had a large family to feed, and earned his living by farming and also trapping beaver, otter, mink and fox. And with 10 children and a 750-acre property to tend to, there wasn't time to sit around, let alone travel across the pond.
Since King David—another one of Costley's local nicknames as the era's supreme bear hunter—couldn't visit the Queen, she expressed her thanks with gifts instead. She sent him a commemorative medal, a jewel-encrusted gold ring and a Winchester .45-90. With Queen Victoria usually only giving guns to family members, Legge says the Winchester was the item Costley treasured most. It was the most useful thing to give the woodsman, after all, since he couldn't hunt with a medal.
To further celebrate Costley's success and reputation, the Texas Rangers sent him a pocket watch, and the residents of Kings County raised funds to present him with an eight-ounce gold medallion featuring the image of a bear. Backed by two crossed rifles and surrounded by a cluster of maple leafs, the medal hangs on a bar with a misspelled engraving of his surname. The back of the bar is inscribed with "Presented by his many friends. Kings Co. N.S."
While the Winchester was unfortunately stolen from a grandson's home in the 1980s, the medal from the people of Kings County is kept under lock and key in the Kings County Museum in Kentville. The other items have been dispersed among family members, while the correspondence between Costley and Queen Victoria has been lost.
Queen Victoria sent Costley a jewel-encrusted gold ring and a Winchester .45-90—and a series of personal letters
It seems odd to think that a Queen Empress would have the time and inclination to write to a trapper an ocean away. But given Queen Victoria's fondness for her Scottish gillie, John Brown, who died in 1883, it's entirely plausible she had indeed exchanged letters with Costley. "They wrote back and forth," Legge maintains. "She was an outdoorsperson, so they could have a lot in common." Included in the correspondence was a photo Costley purportedly sent to the Queen; it's believed to be still hanging in Buckingham Palace.
Costley's large life came to an end not at the claws of a bear, but after a simple mishap. In the fall of 1923, while he was picking apples, a frost-covered ladder rung sent him plummeting to the ground. He broke several ribs, with one puncturing a lung. Seven days later, at age 85, the once mighty Bear Hunter was dead.
Writer Allan Lynch's fourth book is The Nova Scotia Book Of Musts, The 101 Places Every Nova Scotian Must See.