TUBE TIME
Why crayfish imitations make a hot go-to bait for walleye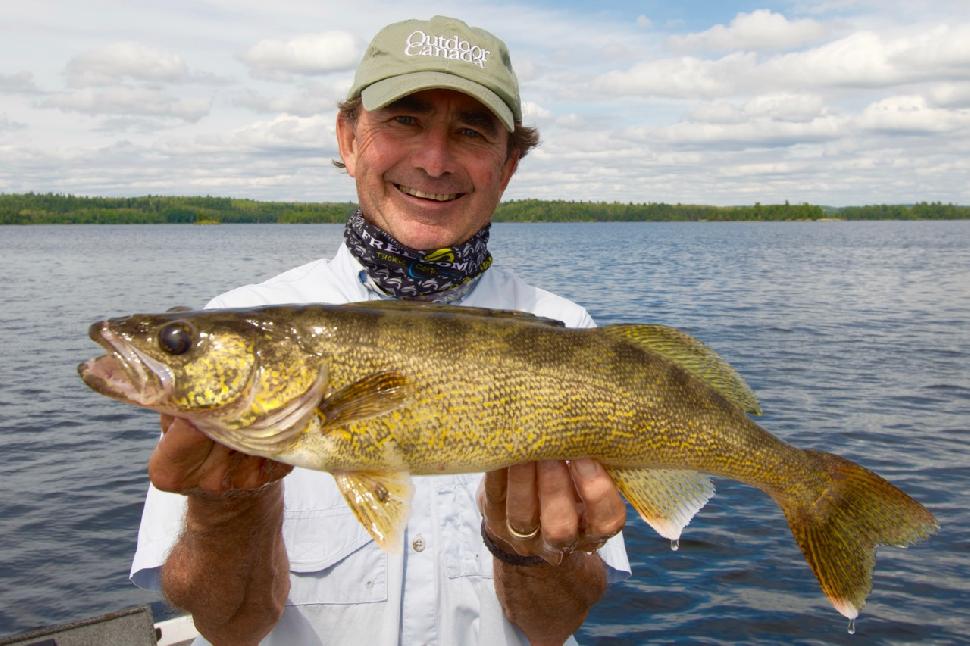 Successful fishing is all about taking risks, but this was ridiculous. A few years ago, I was at Winnipeg's Mid-Canada Boat Show, presenting seminars on stage at the "Hawg Trough," a glass-sided tank stocked with several dozen walleye in the five- to 10-pound range. By the last afternoon of the event, the fish were frazzled and hugging the bottom, so as I was standing at the edge of the tank with my fishing rod in hand, I got a bright idea. I told the audience that if I didn't catch five fish on my next five casts, I'd jump into the tank fully clothed. Talk about grabbing everyone's attention.
In the end, you'll never know if I was serious, because I made five casts and caught five fish. But the bait I used is what will truly surprise you—a tube jig. Yep, it was the same four-inch, soft-plastic crayfish imitation beloved by bass anglers. Now, I have to confess that calling my shot on stage was a carefully calculated risk. Truth be told, I rely on tube jigs throughout the open-water season to catch walleye, especially when I find them along the bottom.
The crayfish
Part of the reason walleye are the most sought-after fish in the country is they're so adaptable, and their palate is anything but discriminating. That's why so many pros say the best way to catch them is by tipping a jig with a natural or soft-plastic minnow, leech or nightcrawler. Well, it's time to add crayfish to the list. In some areas, in fact, these freshwater lobsters should be the top choice.
While often overlooked by anglers, crayfish have always been on the walleye's menu. And these crustaceans are even more prevalent today as the invasive rusty crayfish moves into more lakes and rivers (see "Rust never sleeps" below). In my home waters of Lake of the Woods in northwestern Ontario, for example, there are now so many rusties crawling on the bottom it's impossible to lay down a natural bait and not have it carried away by the aggressive invaders. Ditto in thousands of other waterways. The most obvious evidence of this is when you keep a few smaller walleye for shorelunch in your livewell. They'll expel so many partially digested crawfish—from both ends—that you'll smell them.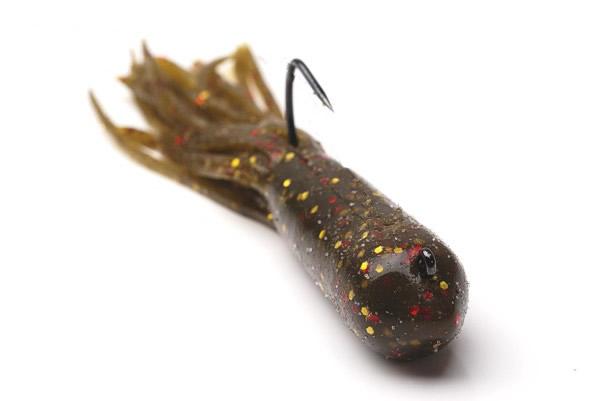 The tackle
Another nice thing about fishing for crayfish-consuming walleye is that the set-up is so simple. I fish with the same rig I use for bass: a 6′ 8″ medium-heavy spinning rod paired with a 3000 series spinning reel spooled with eight- to 10-pound gel-spun line. And I tip that with a five-foot leader of eight-pound monofilament because I like the little bit of stretch it provides.
When I mark a school of walleye lying tight to the bottom, I'll engage the Spot-Lock feature on my Minn Kota trolling motor and hold a half-cast away from the fish. Then I'll fire out a brown or green-pumpkin tube on a 3/16- to 3/8-ounce jighead (above), depending on the depth. When fishing for smallies, I'll pop the tube. But for walleye, I'll work it much more subtly—inching it along with a few subtle skips is all it takes to catch the attention of a lobster-loving walleye.
When I find the fish spread out along the bottom, on the other hand, I'll make a long cast behind the boat, feed out another half-cast length of line, and drift or use the trolling motor to drag the bait. Give it a try this summer. And when you find an aggressive pod of walleye, bet your friends you're going to catch five fish on your next five casts. If it's a hot, sunny, calm day, there's no way you can lose.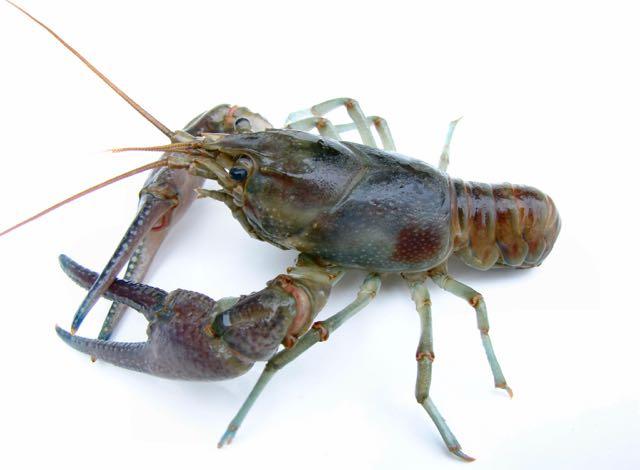 Rust never sleeps
Native to the Ohio River Basin, invasive rusty crayfish first appeared in Ontario's Kawartha Lakes in the early 1960s, and have since steadily spread north, east and west. Because they're so aggressive and large, with bodies measuring up to roughly five inches in length, they outcompete native crayfish for food and are better able to avoid predation. They also eat large quantities of aquatic vegetation, reducing spawning and nursery habitat for native fish. In Ontario, the overland transport of any species of crayfish, either alive or dead, is now prohibited.