Spoon feeding big largemouth bass
Big bass fall for an oversized presentation originally developed for pike and lakers
I get enough emails and direct messages over the course of a day that I long ago turned off all notifications.  My cell phone, tablet and PC would never stop chirping and ringing. But I do check my messages often, usually when I get off the water in the evening. And when I did on Saturday, I tilted my head downward, opened my eyes widely and said: "Whoa!" out loud, when I saw the image of a largemouth bass that social media friend Peter Hood sent me. The thing was huge. Then I read Peter's text and was completely bowled over. 
"I caught it on the Williams Whitefish half and half spoon, with a 4-inch Mister Twister curly tail grub," Peter said. "We took your lake trout technique and were shocked at how many Larrys of this size we caught."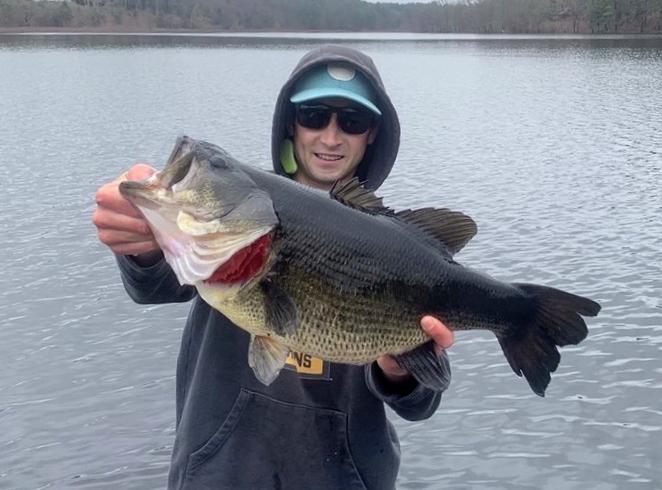 Now, if you have read any of my exploits over the years, you know that my fishing buddy Mark Stiffel and I set the lodge record for northern pike one year at Arctic Lodges on sprawling Reindeer Lake along the northern Manitoba/Saskatchewan border. We caught the big toothies casting the largest C90 Williams Whitefish spoons. We replaced the treblehooks with single siwashes and adorned them with five- and six-inch-long white twister tails.
Another time we trolled for chinook and coho salmon out of Queen Charlotte Lodge in Haida Gwaii, and instead of using the standard flashers and dodgers ahead of our cut plug herring like everyone else was doing, we put on the same pure silver-and-gold C90 Williams Whitefish spoons with the hooks removed. In one day, we caught and released over 1,000 pounds of salmon. Our result stunned the guides at the resort, who were all waiting for us on the dock when we returned that night. It was the same story when we trolled for lake trout in Kasba Lake in the Northwest Territories. We landed so many giant trout on the spoons that it was crazy, topped off by two over 40-pound mastodons that we hooked at The Dome. 
Every one of the fish came on the C90 Whitefish in Nu-wrinkle half-gold/half-silver. The spoon has been such an amazingly consistent fish producer for me over the years, that I recorded a YOUTUBE video on the ways we often use it. And that was Peter's inspiration to modify the presentation for largemouth bass.
"After I listened to your podcasts, I downsized to the C70 model," Peter told me. "My buddy Conor and I retrieved them slowly and steadily, while imparting some twitches. We were fishing in a bay on one of our home rivers here in Massachusetts. The water level was low at the time and we were working around clusters of lily pads. We've only had a chance to try it once, but we caught four largemouth that day and the smallest one was 4.5 pounds. The big one clocked in at eight pounds."
And how appropriate is this: Peter, who lives in Boston and recently graduated from the University of Massachusetts in Amherst, is working part time this summer as a groundskeeper at Fenway Park, home of the Boston Red Socks. All I can say is that he knocked this one out of the park.