Recipe: Turkey Fricassee
Make this simple yet sublime dish of wild turkey, simmered with mushrooms, pearl onion and more
This fricassee dish is my favourite springtime recipe for a freshly harvested wild turkey. Fricassee dishes traditionally include white meat such as rabbit, veal, chicken or, even better, wild turkey, simmered with mushrooms and pearl onions. I only use the breast meat because it cooks up so tender and juicy (I braise the tougher legs and thighs for another dish). The flavours are simple yet sublime, and hearty but not overly filling. Serves 4.
Ingredients
2½ lb skinless wild turkey breast
1 tsp kosher salt
½ tsp white pepper
3 oz butter
1 cup peeled pearl onions, whole (or 1 yellow onion, finely diced)
3 cloves garlic, finely chopped
2 oz flour
3 cups chicken stock, warmed
1 cup heavy cream
1 tsp grainy mustard
1 tsp lemon juice
4 cups white mushrooms, quartered
Salt, white pepper and nutmeg to taste
1 tsp chopped fresh thyme
1 tsp chopped parsley
½ cup shelled edamame beans (optional)
Zest from ½ lemon
Instructions
Cut turkey into 1-inch chunks and season with kosher salt and white pepper.
In a heavy-bottomed pot, melt butter over medium heat. Add turkey and lightly cook on all sides, but do not brown; remove from pan.
Add onions and cook until translucent, then add garlic and cook for one minute. Add flour and mix to combine into butter; reduce heat to low and cook for another two minutes.
Add chicken stock, whisking vigorously to prevent lumps. Add cream, mustard and lemon juice, then bring to a simmer.
When mixture has reached a slow boil, add turkey and mushrooms. Season with salt, pepper and nutmeg, then cover and cook for 1 hour or until turkey is tender.
Garnish with thyme, parsley, edamame and lemon zest, and serve with country potato salad (recipe below).
For the glass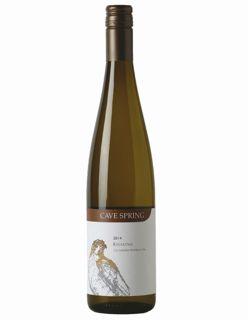 Canadian Rieslings are generally lighter than their California and French counterparts, with more floral-citrus accents. This 2014 Riesling from Ontario's Cave Spring Cellars pairs nicely with the grainy mustard and lemon zest of the light cream sauce.