Vietnamese Perch Rolls
For a fresh spin on your catch, take your taste buds on an Asian adventure
For me, summertime is all about two distinct cooking styles. The first is on the barbecue, with big, bold, smoky flavours. The second is light, refreshing and adventurous, just like this dish. When it's hot and humid out, forget the grill and try this delicious Asian creation instead. Requiring almost no cooking, this recipe makes eight spring rolls, but you can easily increase the ingredients accordingly to make more. Serves 4.
Watch chef Cameron Tait prepare this dish in his home kitchen…
Not sure how to fillet yellow perch? Watch chef Cameron Tait demonstrate his method with both conventional and electric knives.
Dipping sauce
6 tbsp water
2 tbsp sugar
2 tbsp fresh lime juice
2 tbsp fish sauce
1 tsp Sriracha sauce
1 tsp chopped cilantro
Rolls
1 lb perch fillets
1 tbsp canola oil
Kosher salt, black pepper and paprika, to taste
2 cups cooked rice vermicelli
1 cup julienned red, green and yellow peppers
½ English cucumber, julienned
1 tsp each chopped ginger and garlic
Salt and pepper, to taste
1 tbsp sesame oil
8 8½-inch round rice papers
8 red leaf lettuce leaves
1 mango, peeled and julienned
½ cup chopped cilantro leaves
8 whole basil leaves
8 whole mint leaves
1 tbsp toasted white sesame seeds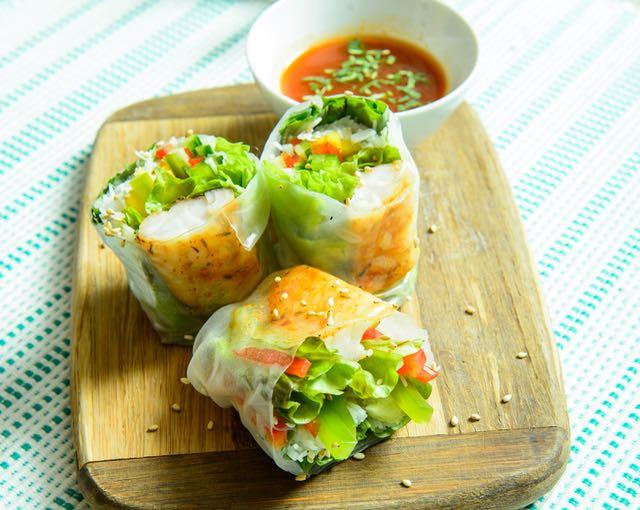 Preparation
Mix sauce ingredients in bowl and set aside.
Slice fillets into 8 3-inch strips and season with salt, pepper and paprika. Cook in canola oil in a frying pan on medium heat for 1 minute each side, then set aside.
Cook rice vermicelli per package instructions, then set aside.
Toss peppers and cucumbers with ginger, garlic, salt, pepper and sesame oil, then set aside.
Organize remaining ingredients into separate piles, at the ready.
To assemble rolls, soak one rice paper at a time in cool water until soft, then place on a cutting board. Place one fillet strip, ¼ cup vermicelli, one-eighth of pepper-cucumber mix and one-eighth of remaining ingredients in the centre of the rice paper. Fold both ends over the ingredients, then roll them up. Repeat with remaining 7 rice papers and ingredients.
Place a damp paper towel on top of the completed spring rolls to prevent them from drying out before serving. When ready, serve with dipping sauce.
For the glass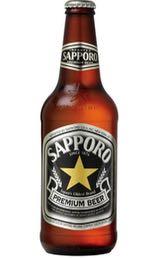 With its refreshing flavour and moderate body, Sapporo Premium is the ideal choice for accenting the ginger, garlic and mango in this dish.