Walleye Gyros
A tasty—and very Canadian—twist on the classic Greek sandwich
Here's a Canadian twist on a favourite Greek dish, the gyro sandwich. Forget the traditional filling of pork, chicken, beef or lamb—let's break the mould and use freshly caught walleye instead. You can even prepare this simple meal over an open campfire for a delicious shorelunch alternative. And trust me, these tasty wraps will disappear as fast as you can make them. Serves 4.
Watch chef Cameron Tait preparing this dish in his home kitchen…
To get your walleye ready for the frying pan, check out this video of Cameron Tait's simple, surfire fillet method.
Cucumber sauce (aka tzatziki)
1 cup plain yogurt
2 tsp lemon juice
Pinch salt
1 clove garlic, finely chopped
1 English cucumber, small dice
Vegetable topping
½ red onion, finely chopped
2 green onions, thinly sliced
1 can (298 ml) red kidney beans, drained and rinsed
8 cherry tomatoes, cut in half
2 tbsp chopped cilantro
1 avocado, peeled and chopped small
Juice of half a lemon
Kosher salt and black pepper, to taste
Everything else
four 8-inch pitas
2 tbsp canola oil (for pitas)
2 cups flour
2 tsp seasoned salt
1 tsp paprika
1 tin condensed milk
1 tsp Worcestershire sauce
2 walleye fillets (12 oz each), cut into 2-inch chunks
2 L canola oil
Kosher salt, to taste
Lemon juice, to taste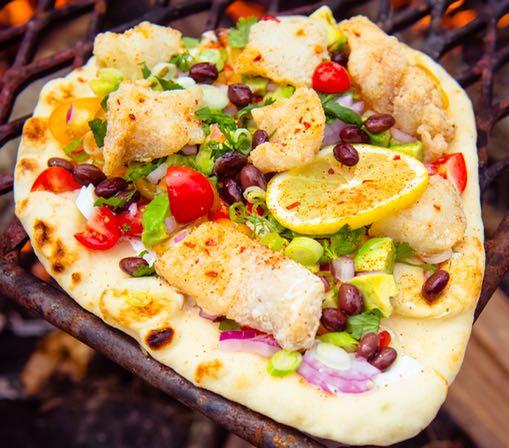 Preparation
Place all cucumber sauce ingredients in a mixing bowl and toss to combine. Cover and refrigerate for one hour, to further improve the flavour.
Place all vegetable topping ingredients in a mixing bowl; toss well and set aside.
Brush pitas with canola oil. In a frying pan or on a heated fire grate, heat pitas until golden on both sides.
Combine flour, seasoned salt and paprika in a bowl.
Mix condensed milk and Worcestershire sauce in a bowl; add fish and let soak for 5 minutes. Remove fish and cover in seasoned flour, shaking off excess.
Heat oil to 365°F in a skillet or heavy-bottomed pot. Add fish and cook for 2 to 3 minutes; remove and season with salt.
Spoon 2 tbsp of cucumber sauce on each pita, then add vegetable topping, followed by fish and a few drops of lemon juice.
A culinary arts instructor at Winnipeg's Paterson Globalfoods Institute, hunter and angler Cameron Tait is Outdoor Canada's Table Fare game recipe contributor. The dishes are photographed by 100 Acre Woods Photography.
For the glass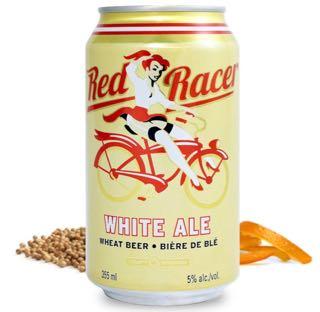 Belgian-style Red Racer White Ale is brewed with coriander seed and dried orange peel, producing a light-bodied beer with a refreshing citrus-spice aroma—a perfect pairing for the Greek-style walleye gyros.