Power Up For Success
Lithium batteries stay fully charged longer, even in sub-zero temperatures
Home run, pivotal move, revolutionary, game changer. Those are some of the words we use and hear to describe products that are typically new or unique. But such products rarely live up to their superlative advanced billing.
That's not so with lithium batteries—especially if you use one to power your ice sonar chartplotter. For the past couple of seasons, I've been using a 12-volt Dakota Lithium (LiFePo4) battery to power my Humminbird Ice Helix CHIRP  7, and it has made life on the ice so much easier.
The Helix itself is a game changer, what with dual spectrum adjustable CHIRP sonar, CHIRP interference rejection, AutoChart Live, 3/4-inch target separation, internal GPS and an ultra-bright LCD screen that is amazingly crisp and clear. But all of these features come at an energy gobbling cost that quickly brings a standard sealed lead-acid battery to its wobbling knees.  
When I first got the Helix, if I was on the ice at dawn, even on a warm winter day, by one or two o'clock in the afternoon I was typically losing power rapidly. So in order to compensate I'd turn down the light to a squinting dim to save power. What's with that?  
I subsequently bought two 12-volt Dakota Lithium (LiFePo4) batteries, put a ribbon around each one and stuck them under the Christmas tree for my grandson, Liam and me. And they've truly been game changers ever since.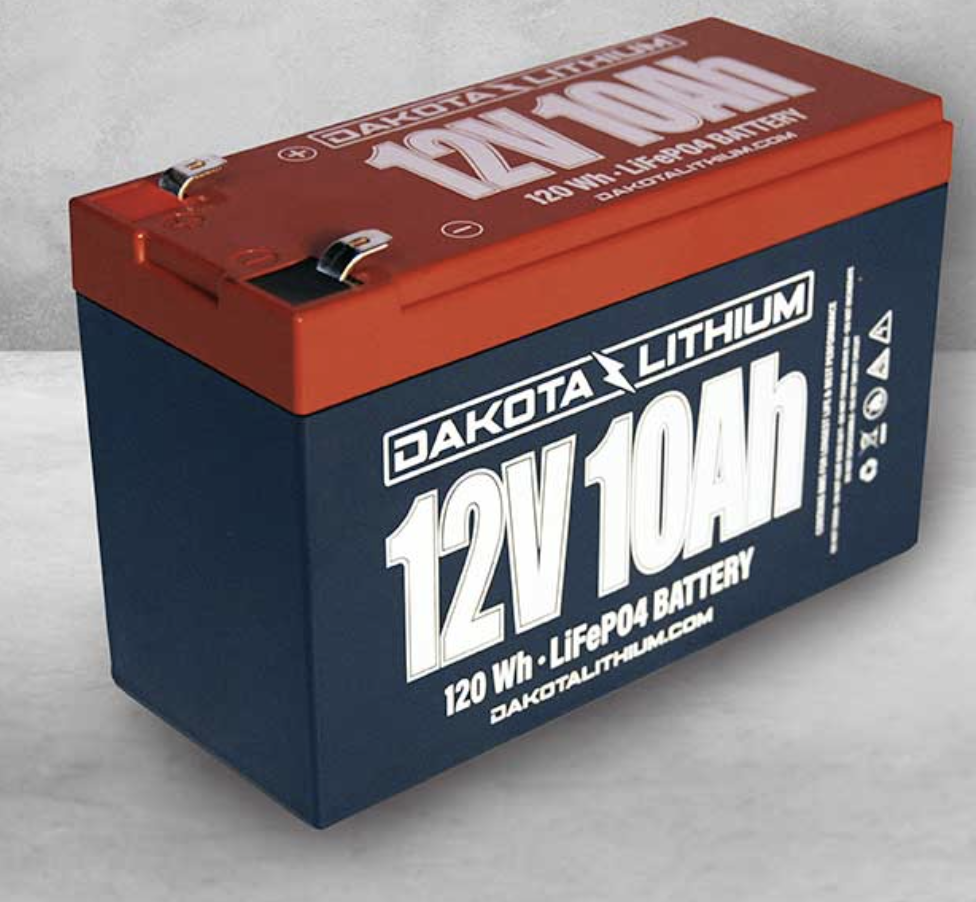 Now, I'll be totally honest with you: I was more than a little sceptical when I read that the batteries are half the weight of comparable sealed lead batteries, and yet provide twice the power and last four times longer. But, darn it, they really do. Weighing only two pounds, these mighty mites are amazing.  
What has really impressed me, though, is how long the batteries hold a charge at 100-percent, even when you're out on the ice. By early afternoon, for example, when my previous lead batteries were coughing, chocking and hacking, the lithiums are still ticking along at 100-percent. And they stay fully charged for so long that I initially thought my Helix must be mis-reading the energy level. But it wasn't.  
I have also become super-impressed with something that is called a flat voltage curve, which means the batteries are providing consistent power for however many ampere-hours they are rated. This means that unlike the dramatic drop in power that you experience with lead batteries, the lithiums pump out a constant steady output.
Gotta confess, too, there have been a couple of times when we have been forced to use the batteries for two solid long, super cold, -20ºC days (okay, so I forgot to recharge them) and they were still purring like kittens when we got home.  Having said this, however, I would still suggest that you recharge the battery after every use.
Finally, I honestly wish I could find even a slight negative or two to say about these things to show some objectivity, but I have not encountered a single issue. For sure they are a little more pricey, costing about twice the amount you'd pay for a sealed lead-acid battery, but when you factor in that they last four times longer, it actually means that they are less expensive.  
Game changers, pure and simple.