Destination: Lac La Biche
Hitting the water with TV's Fish'n Canada Show
By Angelo Viola & Pete Bowman
Of all the provinces to pleasantly surprise us here at Fish'n Canada in terms of angling opportunities, Alberta is very close to winning top honours. Not so long ago, we had no idea about the amazing walleye and northern pike fisheries this western destination has to offer. Now, though, we are in the know and telling everyone all about it.
A great example of the stellar fishing is Lac La Biche, which Angelo and the crew recently visited to shoot a Fish'n Canada episode. Lying approximately 225 kilometres northeast of Edmonton, this 236-square-kilometre lake has an average depth of just 28 feet and features a very good population of walleye, along with northern pike and perch.
Angelo's guide and fishing partner during his visit was Ray Kohlruss of Reel Angling Adventures, who guides anglers all four seasons throughout the Edmonton area, as well as the Athabasca region and the north of the province. Over the years, Ray has put the Fish'n Canada team on plenty of big walleye, and some giant northerns. He sure knows his stuff!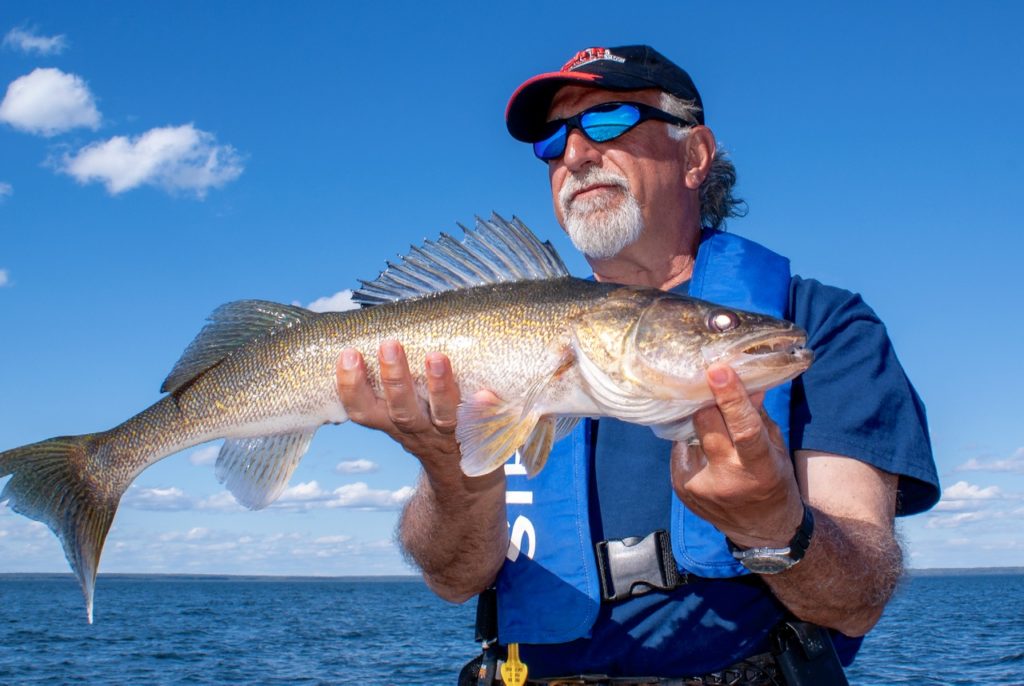 When Ray and Angelo and the crew first arrived at Lac La Biche, they were surprised to find the water had turned completely green due to algae. That didn't stop them from eventually finding the walleye, however, which were down deep, away from the surface clutter. Ray and Angelo also discovered that the fish wanted big baits. Make that really big baits.
The pair ended up using a wide array of swimbaits and jigs, all with massive bodies. At one point, Angelo even threw a ridiculously large swimbait that he had picked up on the East Coast for striped bass. Even though it was a muskie-sized soft-plastic, the walleye absolutely hammered it, leaving Angelo and Ray in complete disbelief—and, of course, with yet another great fishing story to share.
Contact guide Ray Kohlruss at www.reelangling.com, and visit Best Canadian Motor Inns at www.bcminns.com/locations/lac-la-biche for accommodations.
And for a complete guide to Fish'n Canada show episodes, TV channels and show times, go to www.fishncanada.com or www.facebook.com/fishncanada.