Fly anglers use the term "soft hackle" in two ways. First, it commonly refers to a class of wingless wet-fly patterns hackled with feathers from game birds. These traditional flies are also known as "spiders" in their native U.K., and they're most effective cast upstream or up-and-across, and fished like dry flies to represent emerging, stillborn, crippled or spent aquatic insects, or small wayward terrestrials. They'll also consistently catch fish when swung across downstream.
In the second sense, "soft hackle" simply means any feather with barbs that cling together, which includes just about everything except rooster capes and saddles. And yes, those are the very feathers that go into the classic soft-hackle flies. But soft hackle has also found its way into a number of other effective patterns over the years, including streamers and shrimps. Here are 10 of the most effective traditional and non-traditional soft-hackle designs.
Traditional
Partridge and Orange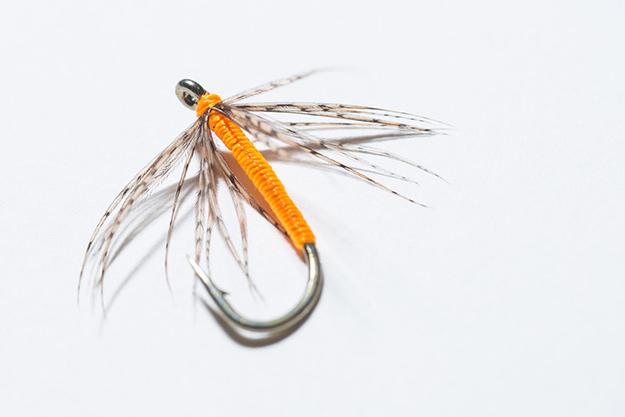 The 35-foot-wide side channel of Nova Scotia's LaHave River was running about mid-thigh deep, and I wanted to drift a fly along the opposite bank where the current slowed. To get a dead-drift, near-surface float along the bank, followed by an effective across-stream swing, I chose this classic soft-hackle pattern. The result: a foot-long brookie that took the fly as it swung below me.
Perhaps today's best-known soft hackle, the Partridge and Orange (also called the Orange Partridge or Partridge Hackle) has been a favourite of mine for decades, and of fly anglers in general for generations. Precisely what it's intended to represent is subject to interpretation. Some suggest it mimics a small stonefly or mid-sized mayfly; others say it's a caddis. There are also differing opinions on when to fish it—some recommend it for any sunny day between April and September, while others say May and June. Either way, it's always my first soft-hackle choice for moving water.
Recipe
Hook: Dry fly, sizes 8 to 16
Thread: Orange
Body: Thread or orange floss
Hackle: Partridge
Pheasant and Hen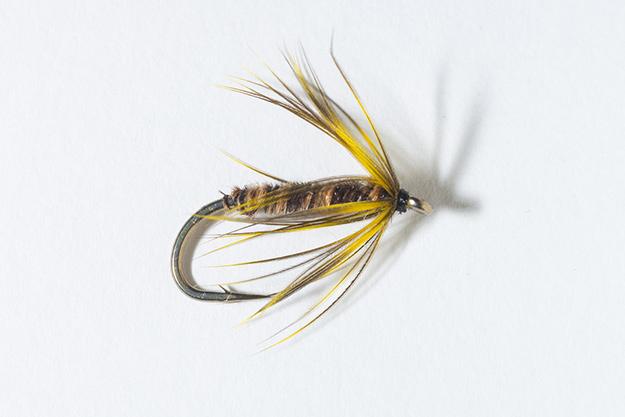 This is another effective traditional pattern, particularly when used as part of a three-fly rig. Also designed for moving water, it's fished in the same manner as the Partridge and Orange.
Recipe
Hook: Dry fly, sizes 8 to 16
Thread: Black
Body: Pheasant herl
Hackle: Well-marked hen
Tying Tips
For tying soft-hackle flies, select a soft hackle with central barbs as long as the total length of the hook, from eye to bend. Strip away the longer fibres and fluff, then stroke the selected barbs so they stand out perpendicular to the stem. Tie the feather in by either the tip (my preference) or the stem, with the concave side facing you. After winding the body, take one to two turns of the hackle and tie it off. Alternatively, you can finish the body a turn or two behind the hackle, wind the hackle rearward, then bring the thread through the fibres and finish the head.
Black and Peacock Spider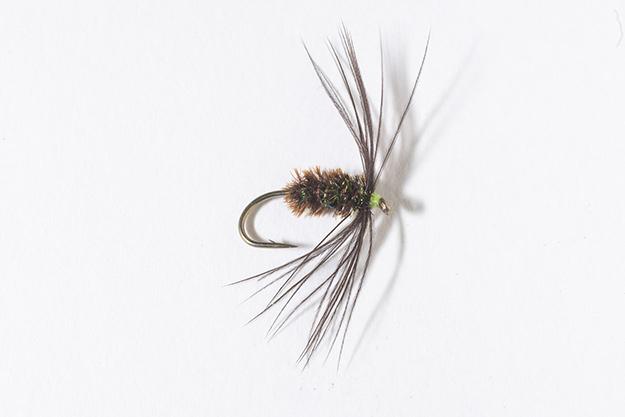 Soon after ice-out in many lakes, a variety of aquatic critters, including snails, migrate into the shallows. Rather than crawl or swim, the snails apparently float to the surface, then let the wind and waves carry them shoreward. Trout make a meal of these delicacies, often to the point of having bulging, crunchy bellies. My top producer during these—albeit infrequent—encounters is the Black and Peacock Spider, and friends from the far corners of the trout world agree.
Since I believe a little motion will separate my fly from the naturals, I use an ultra-slow hand-twist retrieve. Snail migration aside, this fly is among my most productive general-purpose stillwater patterns. When I don't know exactly what the fish are taking, I subscribe to the adage that small and black is a good place to start.
Recipe
Hook: Dry fly, sizes 8 to 18
Thread: Chartreuse (black is standard, but I like a bright spot at the head)
Body: Peacock herl
Hackle: Black hen
Hare's Ear Flymph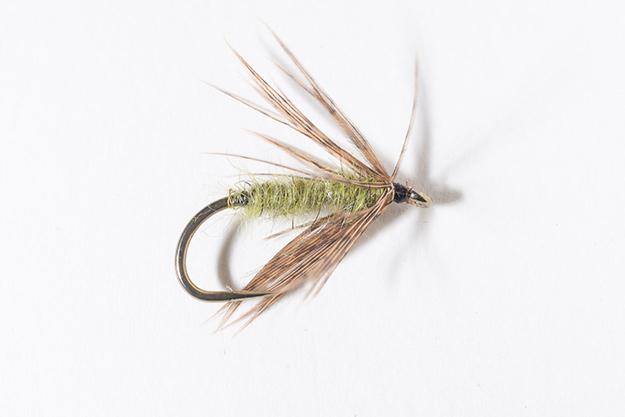 During the 1920s and 1930s, Pennsylvanian Jim Leisenring developed a new method of presenting wet flies to trout. He cast the fly up and across the current so it would have time to sink as it drifted downstream, but just before the fly reached the suspected location of a trout, Leisenring stopped following the line with the rod. The resulting pressure of the water on the leader then caused the fly to rise up in the water column, just like a mayfly or caddis nymph rising to the surface to hatch. This technique came to be known as the Leisenring Lift.
Leisenring developed a variety of wet flies for the technique, and one of his fishing friends and students, Vernon Hidy, coined the term "flymph" for the wingless patterns. The flies featured pre-dubbed thread bodies similar to what we now call dubbing brushes.
Recipe
Hook: Heavy-wire wet, sizes 8 to 14
Thread: Black
Body: Olive Hare's Ear Plus Dubbin
Hackle: Speckled brown hen
Peute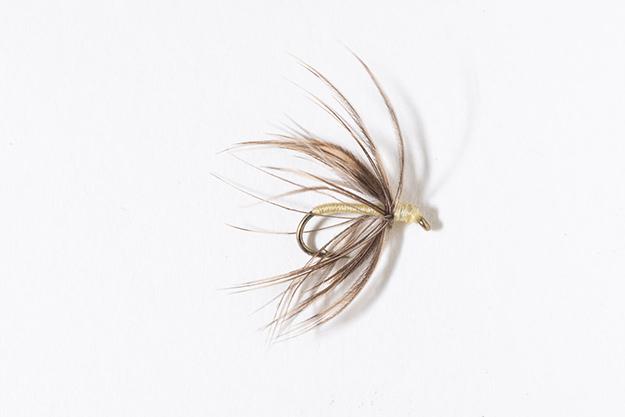 Brown trout lead a difficult life in France. Since catch-and-release isn't popular, a single error in judgment on the fish's part is generally fatal. So, it's a bit surprising that many French trout patterns aren't particularly imitative, at least not of adult aquatic insects. That said, they do use soft hackles to create the effect of an insect floating in the surface film.
These patterns are dropped into a feeding lane with long casts, at the end of a fine leader. While mayflies are often the primary species on the imitation menu, caddisflies are also an attractive dish. Created more than 50 years ago by celebrated fly tier Henri Bresson—the Wizard of Versoul—the Peute remains a popular chef's special to offer during an evening caddis hatch. The fly pictured here was tied by Christophe Lievremont of Dijon, France.
Recipe
Hook: Dry fly, size 18
Body: Dirty yellow tying thread
Hackle: A marbled feather from a female duck
Non-traditional
The Mess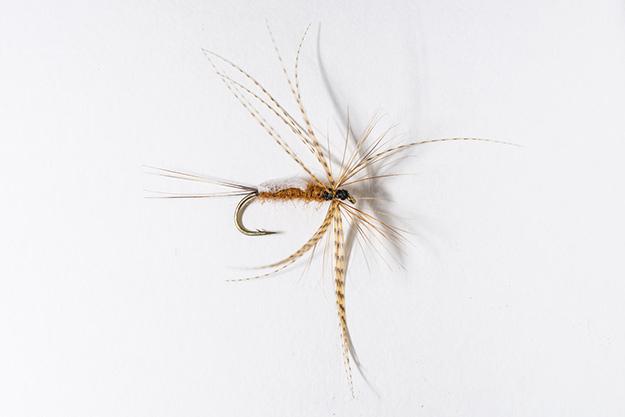 One persistent problem in fly tying is trying to imitate large mayfly duns such as the Hexagenia. Realistic patterns don't float well, and fish often refuse them at the last moment. One solution is to represent the wing and legs with an oversized soft hackle, such as natural or dyed mallard. The feather can be wrapped normally, and supported by a short-barbed cock's hackle or a ball of dubbing so it stands out from the fly's body. Or, the feather can be wrapped with the concave side facing forward. In either case, the length of the hackle barbs is about double that of a typical soft hackle.
The late fly fisherman and author Gary LaFontaine spent many hours at the bottom of river pools observing surface-feeding trout, as well as the appearance of both natural and artificial flies. Stemming from those observations was his creation of the Mess, which imitates the larger mayfly species. It features a concave-wrapped mallard hackle, held in place by a turn or two of dry-fly hackle.
Recipe
Hook: Dry fly, 1X long, sizes 6 to 12
Tail: Four dry-fly hackle fibres, split with two on each side
Back: Strip of foam
Body: Dubbing, colour to suit
Hackle: Dry-fly fronted with mallard
Hendrickson Soft-hackle Dry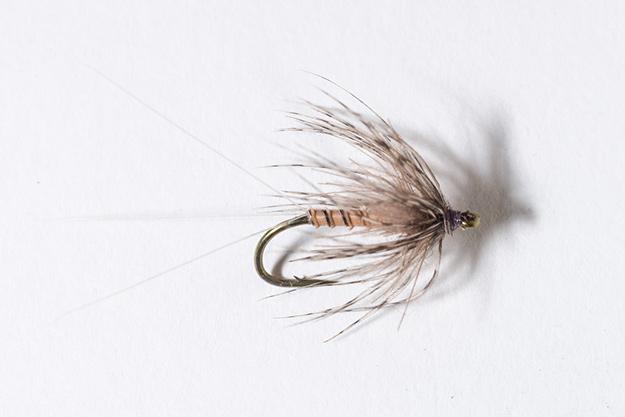 Claudel Dery is a creative fly tier from Montreal who uses a variety of soft hackles in several of his designs. In addition to the Hendrickson, he also ties soft-hackle dry flies with olive or cream bodies to represent other mayfly species. His patterns ride lower in the surface film than typical dry-fly designs, but they still float. This is partly due to the buoyant CDC (*cul de canard*) barbs he uses for the thorax.
Dery's patterns are fished like a typical dry fly, and he tells me that his Hendrickson edition fooled one of the larger brown trout he's landed to date (he tied the fly shown here). Another of his designs is a soft-hackle spinner imitation. To achieve the effect of spent—or spread—spinner wings, he bleaches the soft hackles to remove some of the feather structure. Dery recommends fishing these with a well-greased leader.
Recipe
Hook: TMC 101, sizes 14 and 16
Thread: White UNI Caenis
Tail: Dun Microfibetts Abdomen: Stripped goose biot, dyed light tan
Thorax: Rusty-dun CDC barbs
Hackle: Hungarian partridge
Sparrow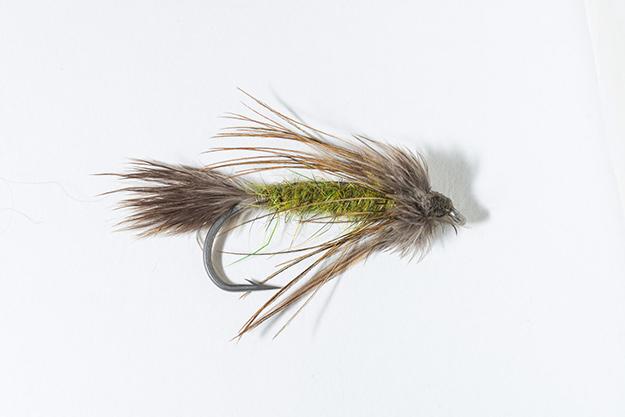 Jack Gartside lived a life envied by many ardent fly anglers, driving a taxi all winter in order to spend the entire trout season in the American West. He wrote several books about his fly-tying ideas, and his patterns have been featured in a number of published collections over the years. Gartside was unfailingly generous with sharing his creations, and several of the best have survived, such as the Soft Hackle Streamer.
Probably the most famous of his flies is the Sparrow, partly because it works, but also because it's one of the few patterns to utilize the after-shaft feathers found behind many game bird body feathers. These short, soft feathers are mobile in water, much like marabou, making excellent at simulating gills. My experience with the Sparrow is limited, but I've had friends swear it was the solution for reluctant sea-run brook trout. Depending on the size, it can be fished either as an upstream nymph or as a streamer.
Recipe
Hook: Mustad 9671, sizes 4 to 10
Thread: Grey
Tail: One or two short ring-necked pheasant under-rump feathers
Body: Dubbing blend of 2/3 grey squirrel body fur, with 1/3 grey rabbit underfur
Hackle: Mottled grey-and-brown pheasant rump feather
Head: One or two grey pheasant after-shaft feathers wound as folded hackle
Blae 'n' Black Marabou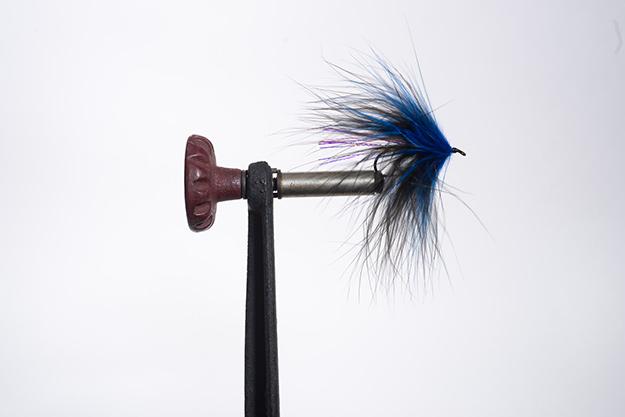 Whether Jack Gartside's Soft Hackle Streamer or the West Coast's Popsicles were the first of the wound-marabou designs is unsettled. Regardless, this style has produced many effective patterns. Frequently at their best in slow or cold water, these flies can entice surprisingly hard takes thanks to the inherent motion of the marabou. The marabou feathers are tied in by the butt and wound forward. Thin-stemmed feathers, often sold under the name Popsicle Marabou, are best.
Whether tied on a plastic tube or a hook, as shown here, the Blae 'n' Black Marabou has been my most successful salmon pattern for almost a decade, accounting for Atlantics weighing up to 35 pounds. I frequently fish them down-and-across with a sink-tip line, frequently mending the floating portion to get a low and slow presentation. In this scenario, I prefer the plastic tube version, because the fly floats up somewhat from the bottom, and the short shank, heavy-wire hook holds better.
Recipe
Hook: 4XL to 2XH streamer, size 2
Thread: Black 6/0 UNI-Thread
Body: None or holographic braid
Collar: Few strands of holographic gold Superflash under two black marabou feathers wound consecutively; front with a blue marabou feather
Orange Shrimp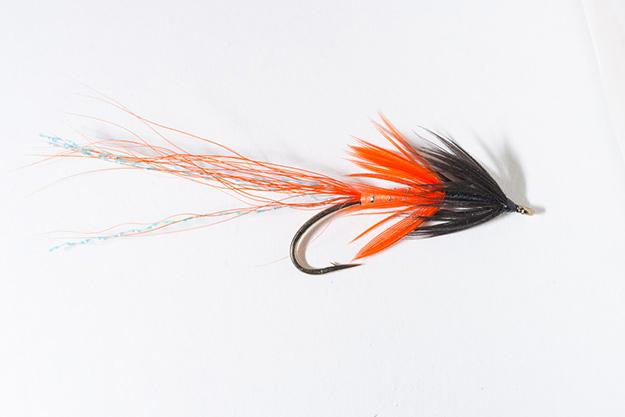 Roughly based on a 19th-century wingless design known as grubs, modern shrimp patterns have become very popular for Atlantic salmon, steelhead and sea trout. As with classic grubs, shrimp flies have three hackles—rear, middle and front—with many patterns calling for a reddish ring-necked pheasant feather at the rear (I prefer strands of dyed bucktail and flash material).
While often touted for fall fishing when there's plenty of colour about, shrimp flies will produce in all seasons. Typical down-and-across wet-fly presentations are productive, but so is a sink-and-draw tactic, particularly with smaller flies. The sink-and-draw is often used in stillwaters or low-flow conditions, where there's insufficient current to activate the fly's hackles. Dropping the rod tip while retrieving slack line lets the fly sink, and when the tip is lifted again, the fly rises as it moves toward the angler.
Recipe
Hook: Tiemco 200, size 6
Thread: Black
Tail: A few orange bucktail hairs mixed with orange Crystal Flash
Rib: Fine oval silver tinsel
Body: Orange UNI-Stretch for rear half, black UNI-Stretch for front
Middle Hackle: Orange hen hackle
Front Hackle: Black hen hackle
Paul Marriner is Outdoor Canada's Nova Scotia field editor.