The Other Great Lake
Often overshadowed by Great Bear Lake, the NWT's Great Slave Lake offers stunning scenery, affordable access and endless lake trout
Busse Bay
Ordinarily, being paired with a teenaged fishing guide might be a cause for some concern, but not on this trip. Marshall, from Spruce Grove, Alberta, had been coming to the lodge every summer since he was a little kid, thanks to his late grandfather, who was the camp manager for decades. That's also why Marshall knows a few fishing spots overlooked by the less-seasoned guides, including Busse Bay. There, against the backdrop of a kilometres-long, 20-storey cliff, our jigging streak continued. At home in Ontario, I tend to nod off while tip-tapping a quarter-ounce jig along the bottom, but dropping and retrieving these quarter-pound lures was edge-of-the-seat stuff.
We spent the afternoon in Busse after leaving Horseshoe Bay, and never went more than 15 minutes without landing a nice fish, including some fascinating examples of the different trout strains found in the lake. The most remarkable were the so-called butterfly lakers (top). Typically small, these fish are vividly coloured, with cartoonishly oversized red-orange pectoral, pelvic and tail fins.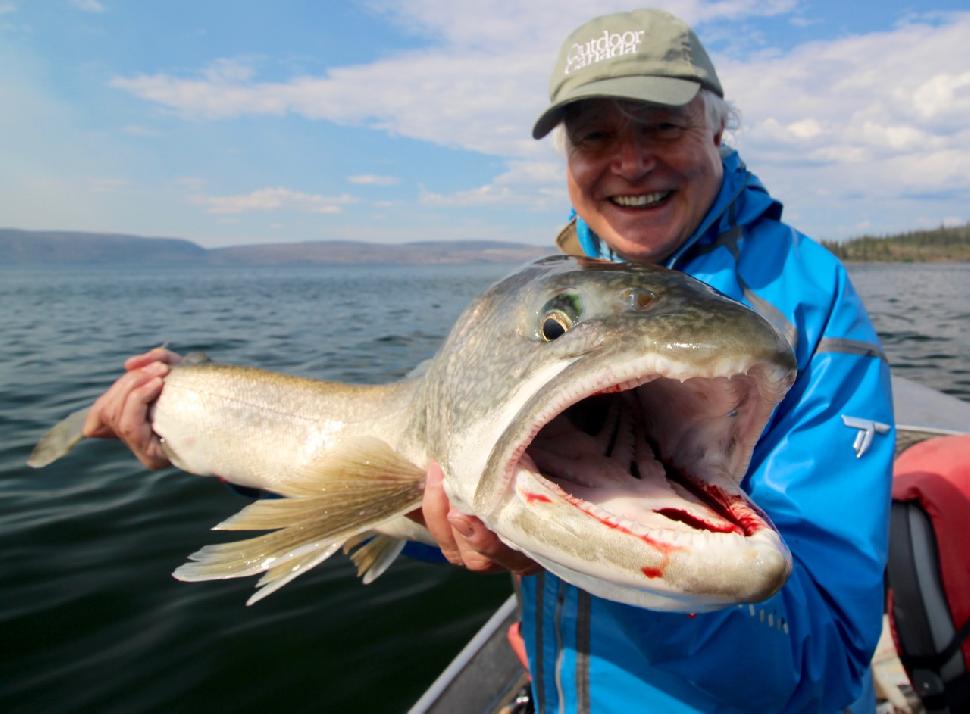 I was also intrigued by a number of trout with massive, fearsome heads tapering to long, skinny bodies that I nicknamed "anacondas" (above).