Fall Favourites
Secret Late-season Baits and Techniques
2. Northern Pike: Jerkbaits & Swimbaits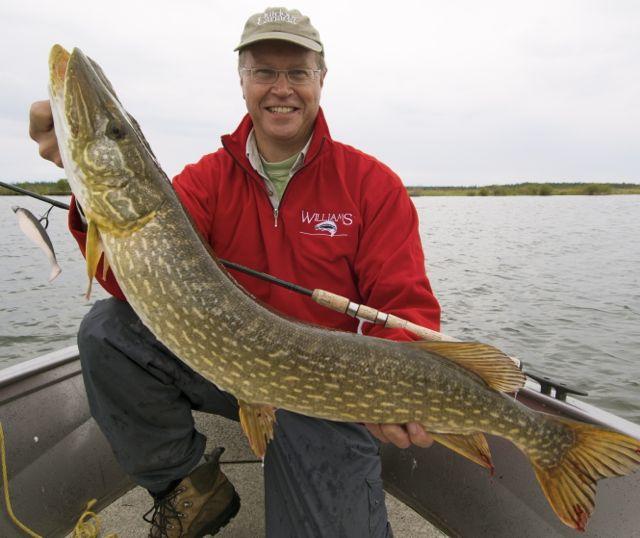 How can you not like catching pike in the fall? The big toothy critters that escaped detection over the summer, loafing in much deeper water than most anglers are accustomed to fishing, are now moving shallow once again. But unlike any other times of the year, they're travelling in groups of big fish. That means when you find one knee-knocking monster, you can be almost certain others are nearby.
The obvious contact spots are main-lake rocky shoals and points, although not all will produce pike. The best ones feature relatively sharp breaks and drop-offs into deep water; position your boat in 15 to 20 feet of water so you can easily cast up shallow.
The wind can be an astonishing ally at this time of year. Indeed, take two rocky structures of equal size, and the one exposed to the wind will be the high-stakes table, so to speak. That's because the swirling water reduces light penetration, which is extremely important on bright Indian summer days, allowing the pike to comfortably ambush forage.
More importantly, however, wind makes for a mind-altering pike prescription that spellbinds the fish and kicks their metabolism into high gear. On a lake you've never fished before, you could do much worse than run-and-gun as many main-lake shoals and points as possible on the windy side of the lake.
In terms of bait, there's really no need to stress. Fall pike are prodigious predators looking for meaty meals, so just dish up what they want. Typically, they're feeding on hordes of yellow perch and schools of high-protein ciscoe (also known as lake herring and tullibee) that are coming in from deep water to spawn.

Ideal are five- and six-inch crankbaits that are slightly larger than what you'd throw for bass yet smaller than what you'd select for muskies. Rapala's 5½-inch, 1 5/8-ounce, Super Shad Rap (above) is the single-best crankbait I've used. Also use larger soft-plastic paddletails pinned to ½-, ¾- and one-ounce jigheads. Five- and six-inch soft-plastic swimbaits with internal lead heads, such as Storm's WildEye Swim Shads (below), kick butt in the fall.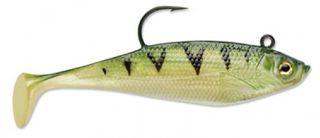 You'll want to throw these baits using seven- to 7½-foot, medium-heavy-action baitcasting rods. Bass flipping sticks work well in a pinch, as do light-action muskie bucktail rods. Spool your baitcaster with 30- to 50-pound-test braided line and always tip it with a quality titanium or muskie-style fluorocarbon leader.
Normally, you would want to reel in quickly after you've retrieved 50 to 60 per cent of your line; that way, you maximize the first half of your presentation, which typically produces more than 75 per cent of the fish. But in the fall, pike will follow your baits out off the edge of the structure and into no man's land, all the way back to the boat. And regardless of the bait you're using, therefore, be sure to occasionally stop retrieving, even for a second or two, so that the lure either suspends or falls. This slight, subtle change will trigger the vast majority of strikes.