Fall Favourites
Secret Late-season Baits and Techniques
3. Smallmouth Bass: Umbrella Rigs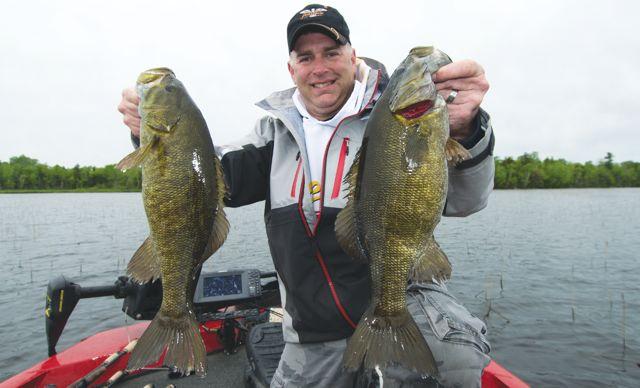 The hottest bait to hit the U.S. bass scene over the past few years has undoubtedly been the umbrella rig, which is also known as the Alabama rig. So many upstarts began winning big-cash tournaments with the lure, in fact, that it was quickly banned from elite competition. Here in Canada, however, interest in the rig fizzled out after it seemingly failed to live up to its advance billing.
For the uninitiated, an umbrella rig is a fanned-out array of five or so wires, fixed at the end where you tie on your line. Each wire ends with a soft-plastic swimbait, so the overall effect mimics a school of baitfish. And while umbrella rigs look awfully garish, the bass appear to be so mesmerized by the baits that they don't see the wires. (Be sure to check that the multi-hook rig does not contravene your local fishing regulations.)
When umbrella rigs exploded onto Canada's bass-fishing scene, many anglers excitedly tied one on, only to soon put it away when it failed to produce more or bigger bass. The trouble was, most of this first-time experimentation took place in the spring and summer on lakes where crayfish dominated the smallmouth's diet. With the fish looking down for dinner—not five to 10 feet above their heads—the rig failed to produce.
Fortunately, a few die-hard anglers continued to experiment into the fall on lakes where suspended pelagic baitfish, especially rainbow smelts, dominate the forage. Bingo! The Canadian connection was born.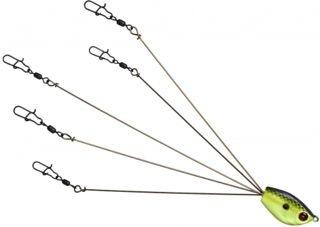 An umbrella rig (above) comes into its own when the water temperature finally dips for good below the 16°C mark, and they only get better the farther the temperature drops. It also works best when you use jig heads that match the size, shape and colour of your lake's forage fish. Most effective are ⅛- to ⅜-ounce jigs with three- to six-inch swimbaits, such as Bass Magnet Lure's Shift'R Shad, Reaction Innovations' Skinny Dipper, PowerBait's Split Belly and Trigger X's Slop Hopper.
Once your sonar reveals smallmouth on a structure, pitch out the rig using a sidearm lob. You'll want a 7½- to eight-foot, heavy-action baitcasting rod with tip action in the upper one-third of the rod. A flippin' stick will work in a pinch, especially when you're using lighter jigs pinned to smaller swimbaits. Always spool your baitcaster with at least 50-pound-test braided line to accommodate casting the heavy rig. Braided line's thin diameter allows for long pitches, while the low stretch greatly helps in setting the hooks at a distance.
After casting out the rig, count down to the zone the fish are using—either close to the bottom or suspended in the water column—and begin a slow, steady retrieve. To trigger strikes, pause occasionally so the rig stops and sinks a few inches, then snap it back up to attention.