Walleye winners
Podium-topping tips from the Canada-U.S. Walleye Tournament
This May marks the 40th anniversary of the Canada-U.S. Walleye Tournament, making the live-release event on Ontario's Sturgeon Lake the oldest walleye-fishing competition in the province. To help commemorate this milestone, we asked one of the winners of last year's tournament to share his early-season walleye secrets.
With the help of tournament partner Darryl Sawyer, Snug Harbour, Ontario's Richard Jenkins weighed in 15.16 pounds of walleye over two days of tough fishing, earning the pair $10,000. Here's what helped them reach the podium.
FISH AT THE RIGHT TIME
"If I can get a good early bite, that's what I like," Jenkins says. "I find the fish are a lot more aggressive." Of course, if you get on the right spot where the fish are actively feeding, you can catch them throughout the day. Generally, though, daybreak and dusk are the best times to fish for walleye, he says.
FISH THE RIGHT HABITAT
In the Kawartha Lakes area where he usually fishes, Jenkins targets walleye in three to 10 feet of water. And because walleye don't like clear water due to their sensitivity to light, Jenkins seeks out water that's a little murky or stained. He also looks for emerging vegetation. "If there's milfoil coming up, that's great," Jenkins says. He also searches for curly-leaved pondweed. "It usually comes up first, and it's usually the thickest," he says. "Walleye tend to group up in the weeds."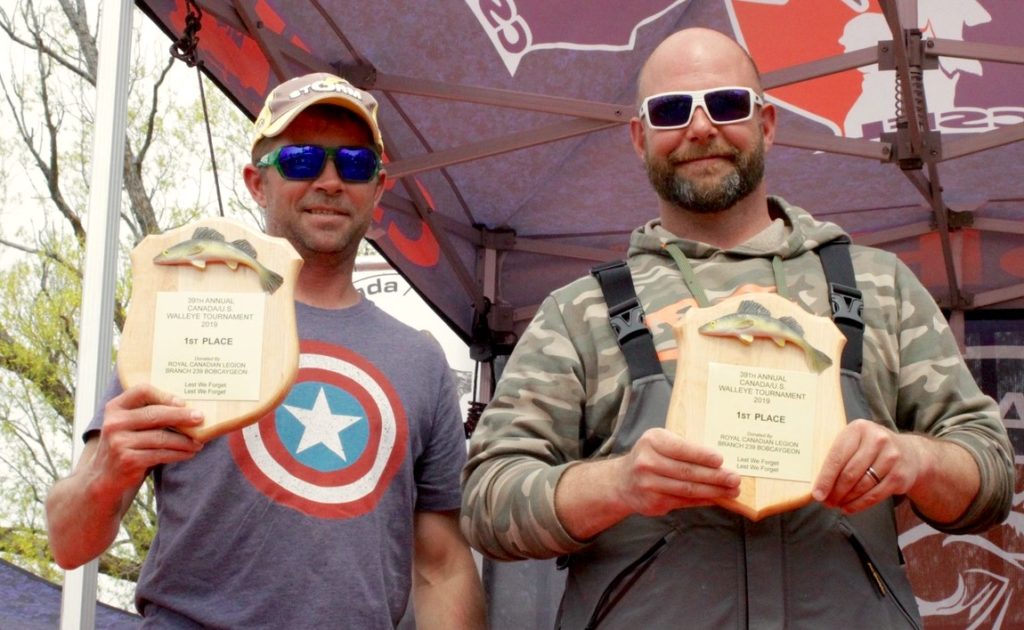 FISH THE RIGHT BAIT
Jenkins relies mainly on ball-headed jigs dressed with curly-tail grubs or flukes and bare bucktail jigs. He prefers black-and-green bucktails, or just plain black, as they're supposed to mimic a leech, he says. "Throw it to the edge of the weeds or weedline and snap it quickly."
FISH THE RIGHT CONDITIONS
"I like it to be a little overcast, with maybe 10-kilometre winds," Jenkins says. That creates six- to eight-inch waves—the so-called walleye chop—to break up the light penetration in the water. "It's a lot easier to fish for walleye in those conditions since they don't get as spooked," he says, adding that you can still catch walleye on sunny days if you find a decent weedbed.
FISH WITH THE RIGHT GEAR
Jenkins recommends using six-foot seven-inch medium-light-action spinning rods. "They're soft enough that you can play the fish easily, but they also have a bit of a backbone so you can drive the hook home," he says. He spools his reels with 10-pound braid, and uses a three- to four-foot fluorocarbon leader if the water is clear. In murky water, however, he runs straight braid.
Learn more about the Canada-U.S. Walleye Tournament at www.outdoorcanada.ca/cuwt.