#6 Rain or Fog Has Settled In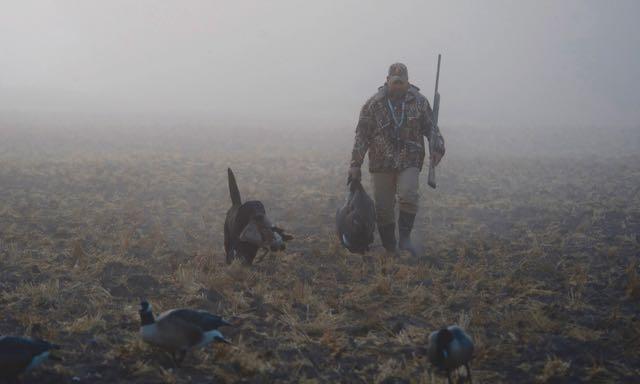 If it's downright pouring, you're usually better off staying in bed than risk getting stuck in, or chewing up, a farmer's field. Anything less than that, though, you should go for it. Just be prepared for the birds to act a little differently than usual. Often, they'll fly later in the morning and the flights will be more spread out, making patience key. It will also be tougher to predict where they'll land in the field, so be prepared to react accordingly. The black hole syndrome common to snow hunts can become an issue, too, so take similar precautions when setting up.
Decoys will often shine when they're wet, so use flocked decoys if you have that option. Alternatively, wipe down your decoys between flights if they appear at all shiny. Of course, there's typically little sunlight on rainy days, and that leads to another problem—the flat light conditions that favour approaching birds by making your set-up much more noticeable. To combat this, it's more important than ever to ensure your blind is well camouflaged.
Whatever you do, don't put off your hunt to the afternoon, hoping the weather will improve. It's not unusual for geese to sit in a field all day when it's raining, and if you bump them out when setting up, they won't return. If your only option is an afternoon hunt, however, and the birds have roosted midday, you can still find success. Just set up a full hour earlier than you normally would, because cool, rainy weather can make birds anxious to feed.
The challenge with fog, meanwhile, is getting yourself on the button when setting up in the morning. If fog is expected on the morning of your hunt, drive into your field after the birds have left the evening before and mark your blind location by dropping an e-pin with your phone or GPS. Alternatively, leave a reflective flag where the birds were feeding.
Like rain, fog can delay the timing of morning flights, so be prepared to wait it out. Even in the thickest fog, mallards will find their preferred feeding spots, but geese are often less discerning. So if you're hunting geese, call periodically even when you can't see or hear approaching birds.
You can even stand up in your blind if needed to help spot approaching birds, but be on high alert—ducks often approach silently in the fog, as will geese on occasion. That means you need to be ready to react in an instant when they suddenly appear in front of your blind. And get to work on filling that game bag.