#5 You Wake Up To Snow On the Ground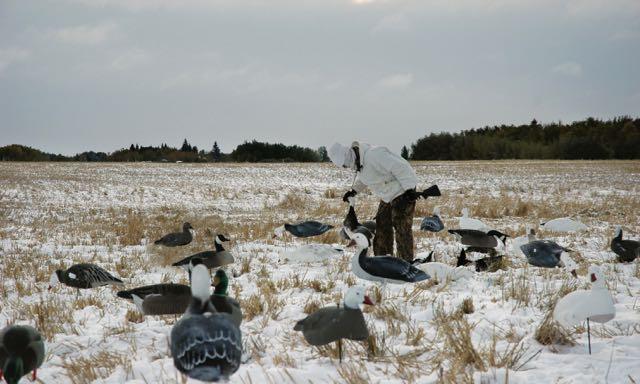 Finding snow on the ground in the morning can be a harbinger of a poor hunt. It's hard to avoid the black hole appearance of your set-up against the white background of the snow, a sure signal to birds that something's amiss. But don't despair—snow can pose problems, but it shouldn't keep you from heading afield. Just be aware that you need to reduce your footprint as much as possible.
Start by approaching and parking on the upwind side so that incoming birds will encounter less disturbed ground. And don't run your truck during set-up, as that only leads to more melted snow. Use white covers for your layout blinds, and dress in white if you can. Once you're all set up, a couple of spray cans of artificial snow can work wonders on your blind and surrounding area (don't worry, it easily washes off).
Many experienced waterfowlers forgo layout blinds on snowy mornings, choosing instead to go with traditional willow blinds. That's because layouts tend to create slop as your body heat warms the ground beneath them, and getting in and out invariably creates even more of a mess.
Also, periodically brush the snow off your decoys if it's accumulating, but don't risk being caught out with birds approaching. At least the snow will tend to stick on the upwind side of your decoys for the most part, while the birds will be approaching from downwind.