Attractive Aroma
Anglers Can Catch More Fish, and Attract the Opposite Sex, with the Same Liquid Scent
Got a hot date but you'd rather fish late than go home to shower? With Outdoor Canada's Allure fish attractant and cologne-perfume you don't have to cut your day on the water short—it helps you both catch fish and smell great!
Recent research has shown that the opposite sex and many popular Canadian gamefish are attracted to a similar family of pheromones. In 2019, Outdoor Canada's research and development team unlocked the secret to harnessing these pheromones to lure in both humans and fish.
It's called Attracterol©, the key ingredient of Allure, and now it's heading back to a tackle shop near you after 2019's first batch of 10,000 bottles quickly sold out. Here's how it works. In the water, Allure releases microparticles of synthesized shad milt and ethically harvested, frightened-baitfish adrenaline—a combination that causes gamefish to strike impregnated baits with wild abandon!
On the human body, Allure reacts with the wearer's signature internal chemistry and temperature to create a completely unique aroma that's utterly irresistible to the opposite sex.
Try it once, and you'll be hooked. And so will your date or significant other!
Available in all major tackle stores, Canadian Tire and at the men's cologne counter at Sak's, The Bay, Steadman's and Cy's Big and Tall starting today.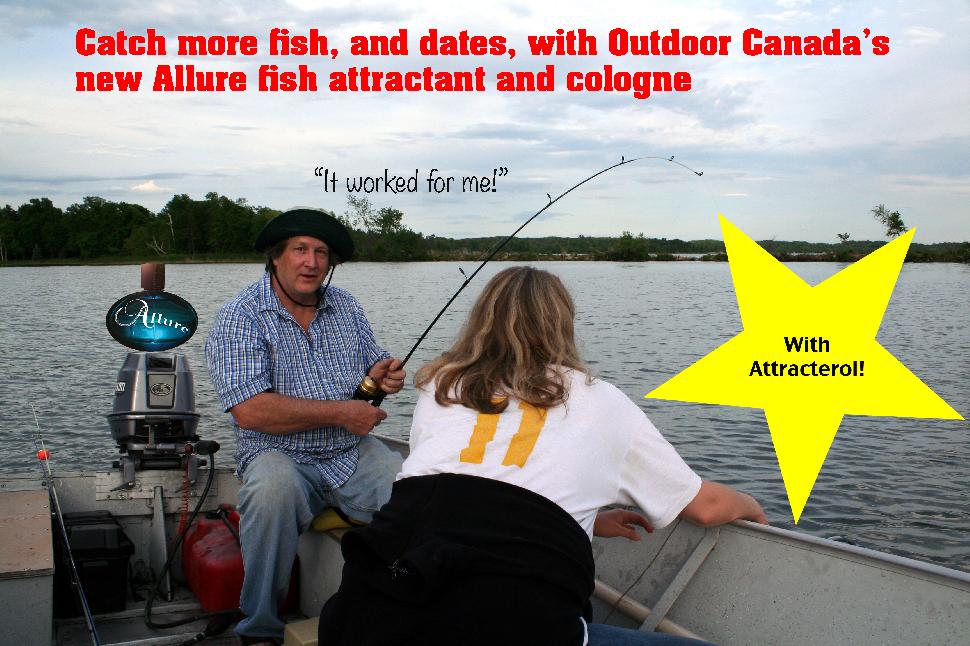 April Fool's! LOL!
Nope, this product doesn't exist, yet! But good luck out there guys and gals.
Did we get you? Send us a letter at editorial@outdoorcanada.ca