LET'S TALK MUSKIES!
Readers ask about using small muskie baits and fishing in the summer heat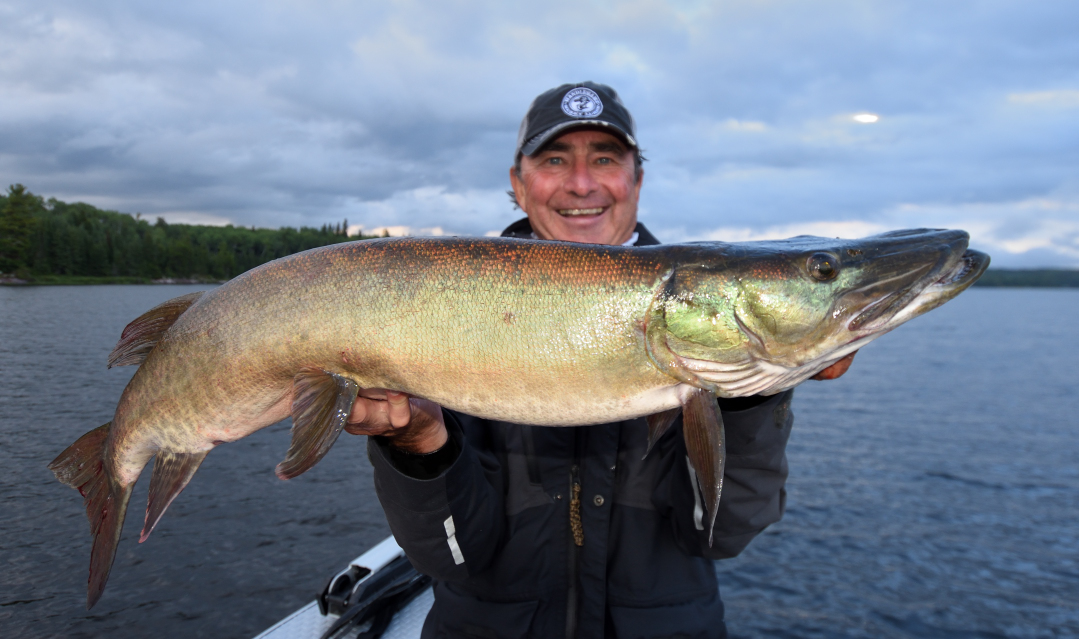 One of the highlights for me every year is attending Toronto's Spring Fishing & Boat Show, and presenting seminars on behalf of Outdoor Canada magazine. I especially enjoy "Muskie Sunday," which is an annual event co-sponsored by Muskies Canada.  
With gatherings still not permitted, the Pallotta family—Andy, Vita and Victoria—did an outstanding job this year hosting the show virtually. And while that meant we couldn't have the face-to-face discussions that we normally look forward to, there was a benefit: Guests wrote down their questions while we were doing our presentations online, and we answered as many as possible. It also meant, however, that if we ran out of time—as we always seem to do—we would be left with a stack of questions that we could later answer.  
So, let's  do that now…
Ken from Chicago asked: "I fish Lac Seul a lot when I go to Canada. Why is it some years muskies bite on small baits (#4 or #5 Mepps) versus the big double-10s."
It is a great question, because early in the season, I rarely leave the dock without a white Mepps Muskie Killer tied on at least one rod. As a matter of fact, it is has long been one of my go-to Opening Day muskie baits. The reason I rely upon it, is because the Muskie Killer has a smaller single blade, which I can retrieve much more quickly than the bigger double-10s.  
A super-reliable early-season muskie pattern is fishing trees that have toppled into the water along shore, near likely spawning areas. After laying their eggs, the big girls will hide in ambush among the flooded trunks and branches, and pounce on passing baitfish. Often, though, if you throw a big #10 double bladed spinner it grabs so much water that you can't retrieve it quickly enough to super-excite the fish. Pitch a Mepps Muskie Killer amongst the branches, though, and you can bulge it just under the surface.  So it is all about speed.
There are also times in the summer when you raise a nice fish, and get it to lazily follow a big double-bladed bait, but then it shows no interest when you sweep that bait into a figure-eight.  I've found the fish are usually telling you they want you to pick up the pace, and the best way to do it is throwing a smaller single-bladed in-line spinner, and cranking it like nobody's business.
I'll never forget the time buddy Bob Izumi came up and filmed one of his Real Fishing Show episodes with me in mid-August. The fish wanted a single-bladed bucktail retrieved as fast as you could turn the reel handle. So I fired out a yellow Mepps Muskie Killer, and started bulging it back to the boat. That's when I spotted an even bigger bulge, the size of an alligator pull in behind my lure. It looked like Moby Dick. Then half-way way to the boat there was a violent eruption, I set the hook, and one if the biggest muskies I have ever seen leaped out of the water and into the air twisting and turning like a tarpon. That is when my spinner came flying back at me like a boomerang, with the line wrapping completely around my legs—and we caught it all on camera.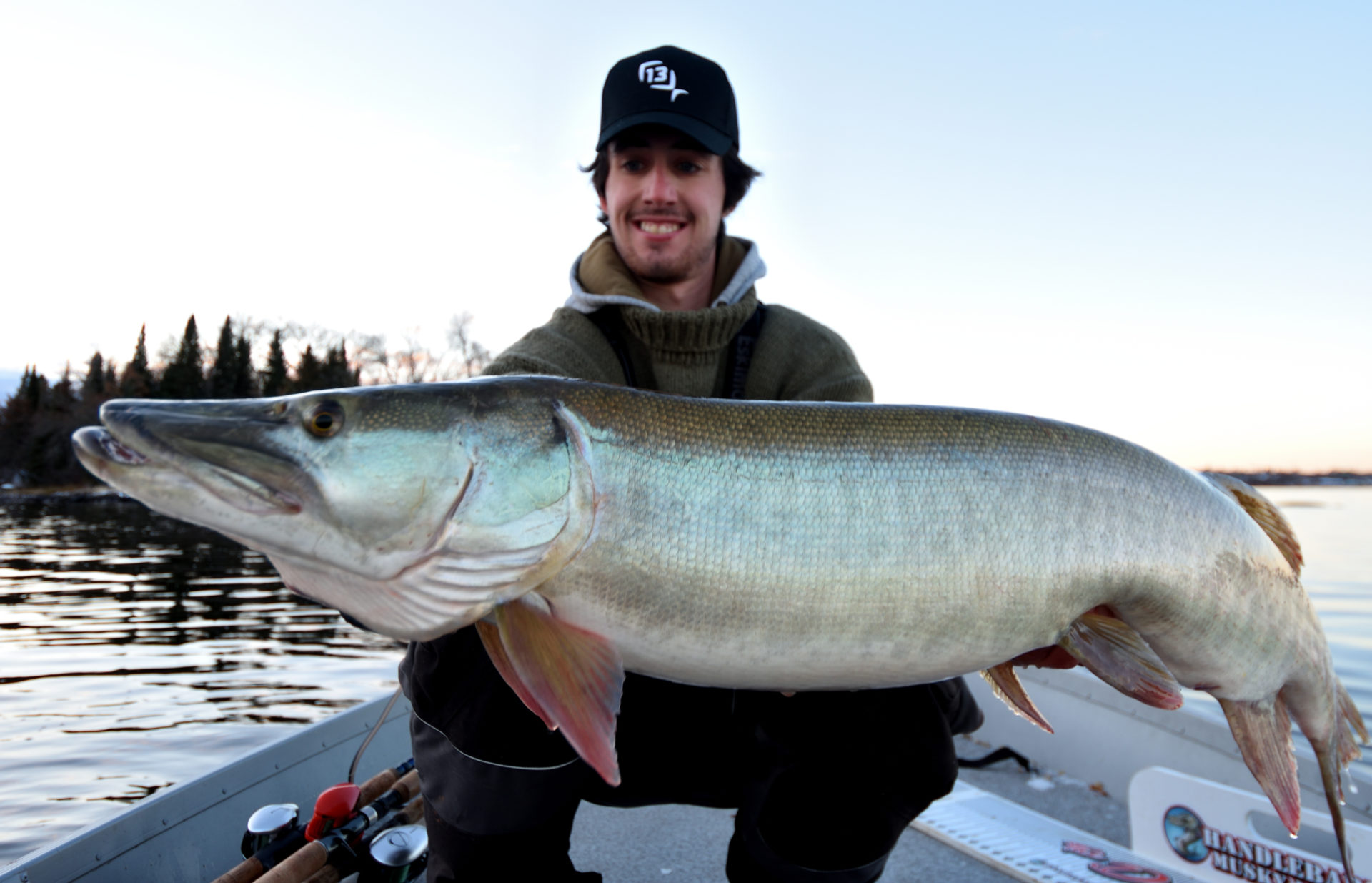 Guest Kevin, on the other hand, commented that he fishes on the Kawartha Lakes, where he has these concerns: "Boat traffic, pressured water and warmer water in the summer. What's your best advice for moving muskies based on water temps? I hang the rods up when it is over 77°F – 78° F, but I'd like to know where to fish on pressured waters?"
Wow, the best place to start with that one, Kevin, is to say that my absolute favourite muskie fishing conditions are blazing hot sun, blue skies, sauna-like humidity and no wind. Honest truth, I love it when the sweat is dripping off the end of my nose. It may not be pleasant for the angler, but I've caught so many big fish under those conditions. 
Now, you have to be careful about handling big muskies when the water temperatures get into the mid-70s and higher range, to ensure their survival after release. But I've found that many times when the surface temperatures are warm, the water five, six or seven feet below the surface is quite pleasant. If you don't believe me, hop off the boat and go for a swim. Your toes will confirm what I am saying.
This is the reason I search out structures and cover: underwater points, saddles and deep weediness that border deep water. It gives the fish the option to find the optimal water temperature that pleases them best. So given two identical deep weedlines—one at the back of a shallow bay, and other out near the main lake basin—I'll take the latter every time.
The other thing I'll do is the fish the best structure and cover at the most favourable times: early morning, late evening, moon rise, moon set and when the biometrics suggest it is a peak period. In other words, I try to be on my best spots at the best possible times.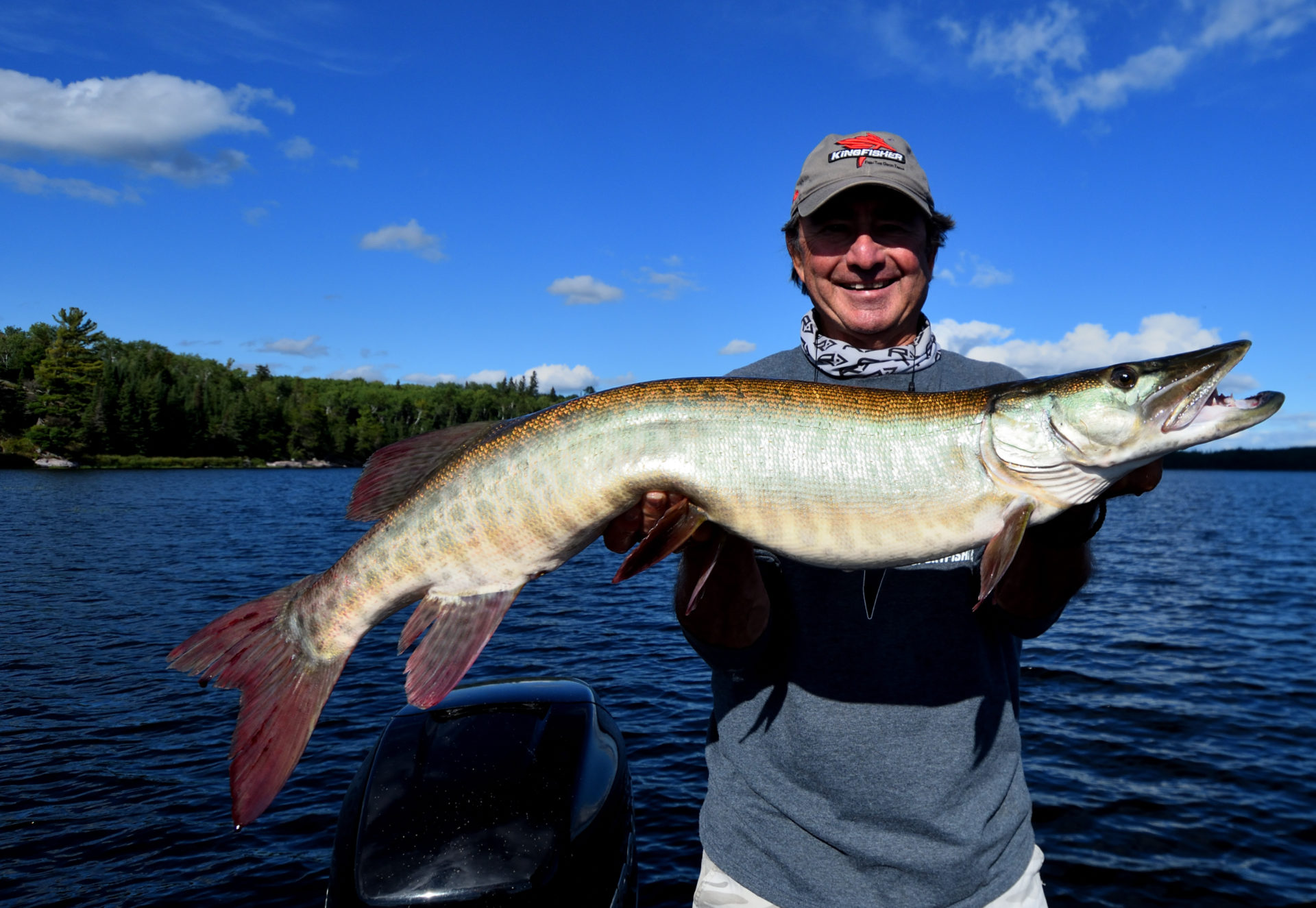 Okay, the last question goes to Shawn who wants to know: "Have you ever caught a muskie ice fishing?" 
And the answer is that I've caught two, and they were both by accident when I was jigging for walleye. Another time, buddy Doug Stange, host of In-Fisherman Television, and I were filming a lake trout segment and Doug hooked into an absolute giant muskie. We never did land the fish, but I remember looking down the hole and thinking, Oh, my, lord, we're never going to get that thing up through a 10-inch hole!  
As a general rule, where the lakes freeze, muskies go into a state of torpor in the winter and while they don't feed per se, they will definitely hit a bait if you drop it on their nose. It's worth mentioning, too, that some fisheries folks who specialize in managing muskies caution against targeting the fish under the ice, suggesting there is evidence to suggest that the big fish (always mature females) may abort their eggs after the struggle so close to the spawn.
Thanks for sending your questions, and good luck in muskie season.