Review: Pelican's Argo 100 Angler Kayak
Canadian Made and Under $500, It's Ideal for Your First Cast Into Kayak Fishing
I'm a serious kayak angler. I have a good boat (a 12-foot Native Ultimate hybrid), with sonar, rod holders, camera mount and other accessories. And I try to get out at least once a week during the open-water season. But I have a long-standing problem: Since I only have one kayak, I've rarely been able to take friends on these excursions. That's why I was so excited to spend the summer testing a new fishing kayak from Quebec's Pelican International. And boy, was I impressed. With a list price of $446.99 (including paddle), the Argo 100 Angler is an outstanding value, and met or exceeded most of my expectations.
Of course, as a seasoned kayaker, I had very realistic expectations of what I was getting in an under-$500 boat. Also, I was specifically looking for a boat that was: 1) easy for less experienced kayakers to paddle and manoeuvre on smaller lakes and slower rivers; 2) stable and convenient to fish from and 3) easy to store and transport. And the Argo met all those needs handily.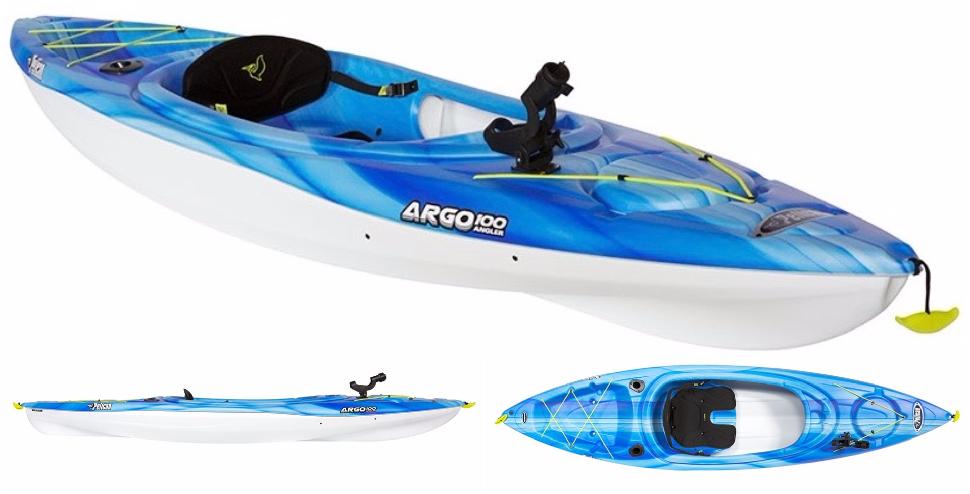 The Specs
The Argo 100 Angler (above) is a 10-foot-long, sit-in (aka traditional-style) kayak. It's built on a twin-arched multi chine hull platform (below), which is very stable and helps the boat track—that is, travel straight, in kayak lingo.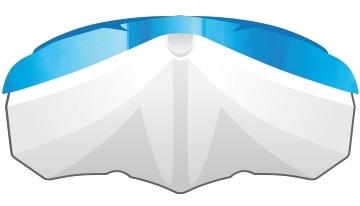 While most of today's serious fishing kayaks are sit-on-top style (like a moulded surfboard), I still think sit-ins have a place, largely because they keep you drier than sit-on-tops, which is preferable for novices and in cooler weather. I know a few kayak-fishing newbies who were distressed to discover that they hs to wear waders or a dry suit on all but the warmest days. (Though if you favour a sit-on-top, Pelican's Sentry 100X Angler has the same set-up as the Argo.)
The Argo weighs only 37 pounds, which is unusually light. For example, my 12-foot boat is 50 pounds, and that is usually light. The weight is due to Pelican's Twin Sheet Thermoforming production process, which produces a very light boat, compared to most kayaks which are rotomolded. Thermoformed boats have a rep for being less stiff than other boats, but I didn't experience any issues. One question mark is how durable the boat will be, but after just one season that's hard to say. It was, however, a breeze for me to throw this compact, lightweight boat on top of my car. I also regularly carried up my fire escape, where I stashed it on the balcony of my second-floor apartment.
Other standard features include adjustable footrests, an adjustable padded backrest with cushioned seat, a small bow-storage hatch with bungee and an aft tankwell with bungees. Fishing features include two flush-mounted rod holders behind the cockpit, and a swivel rod holder in front. And it's available in any colour you like, as long as that colour is royal blue (which is part of what keeps the price at $450.)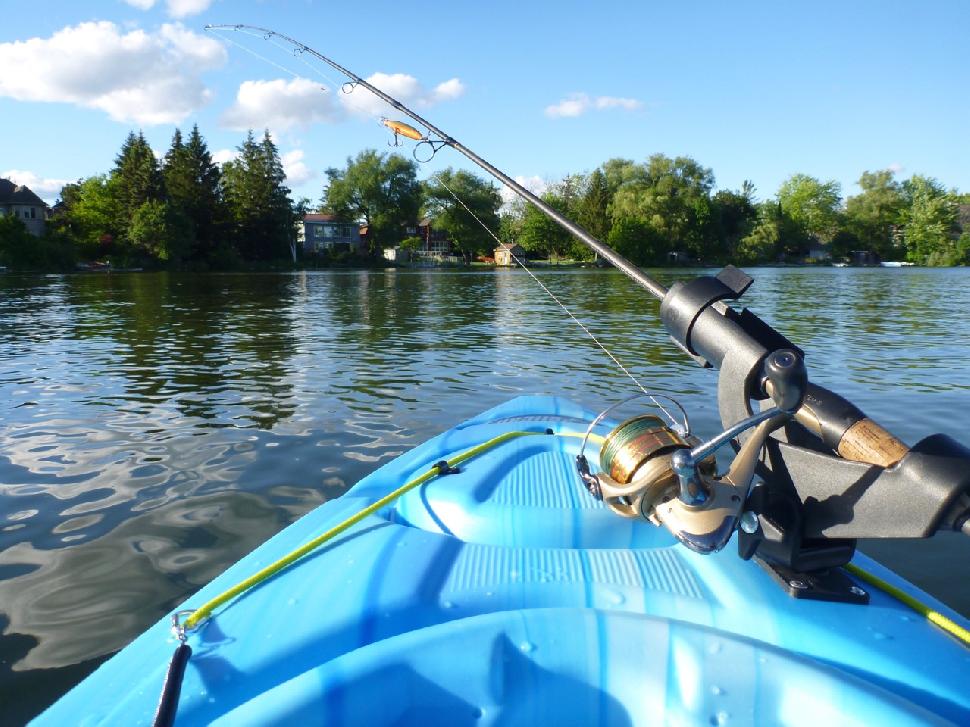 On the Water
Shorter, flatter-bottomed boats like the Argo tend to wobble left and right as you paddle, but I was pleasantly surprised at this boat's overall performance. The Argo is quick, nimble and tracks, frankly, much better than I expected. And the stability is as good as I've ever felt in a sit-in boat.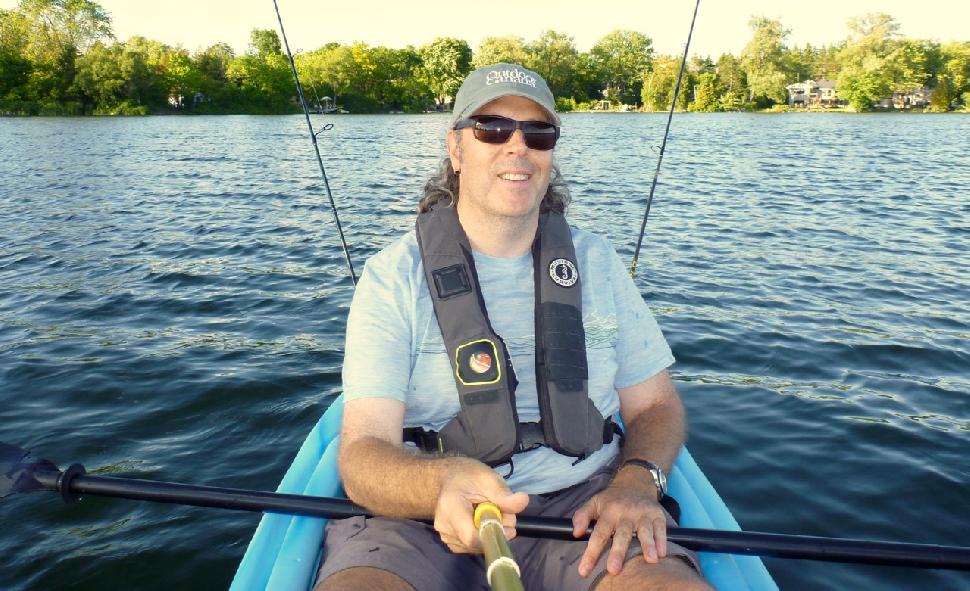 I'm a big guy (200 pounds, 6'1″), but I fit into the boat just fine (above), though I wouldn't recommend it if you're much bigger than me. That said, both my girlfriend and a teen fishing buddy found the fit positively roomy. The one feature that's merely adequate, however, was the seat. When you buy a $1,000- or $1500-kayak, a big part of what you get is a very comfy seat. So the bare-bones seat in the Argo is to be expected in a budget boat. Though fiddling with the straps, and using a throwable PFD cushion for extra back support, helped a lot. And the seat should be sufficient for a more youthful back (or an angler who doesn't have a herniated disc between his C5 ad C6 vertebrae). Regarding the handling, this may say it all: my girlfriend, who has almost no paddling experience, was comfortably zipping around in the Argo after about 10 minutes.
But what about the fishing characteristics? They're excellent. The aft rod holders are well placed for trolling or just rod storage, and the front holder was easy to reach, yet didn't interfere with paddling. The rear tankwell easily held my tackle bag, water and raincoat, and there was room for a tackle tray and stray accessories in the cockpit. There's more than enough storage for a full-day outing, provided you pack sensibly. Though if your nickname is "Tackle Store" or you like to stay out for 12 hours at a stretch, you probably need a bigger boat. And here's a quick pro tip: before you launch, remove the dangling carry handles. They just loop off, so it takes five seconds, and doing this will save you the irritation that results when you accidentally hook the string.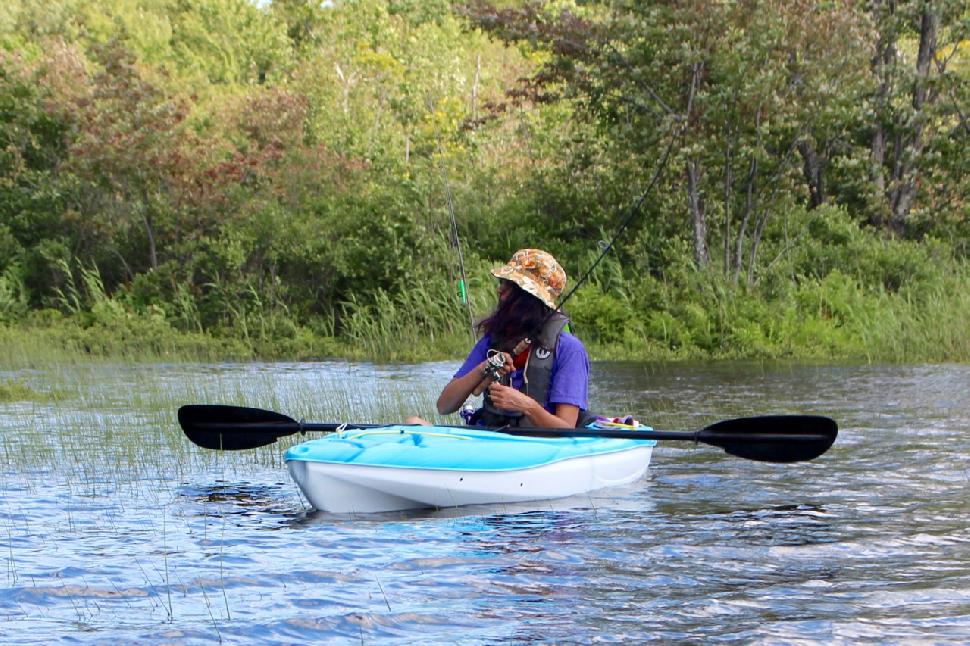 Pelican's Poseison paddle (visible above), which is included with the boat, also impressed. To my surprise, when paddling the Argo, I didn't miss the $200 carbon-fibre paddle I use in my big boat. With a two-piece anodized aluminum shaft, quick release button, and 0- to 65-degree angle adjustment, the Poseidon was more than up to the job.
Overall, the Argo's low profile and compact size meant I didn't get pushed around too much by the wind, and the boat's quickness and manoeuvrability were an asset for those tight, shallow spots where kayaks excel. Indeed, on the few occasions this summer where I portaged into remote lakes, I took the Pelican because it's so much lighter than my usual boat, yet still a very good fishing platform. In fact, I'm planning to install a sonar in the Argo for next season. And again, the true measure may be that the novice kayakers I put in the boat were totally comfortable paddling and fishing from it in literally minutes.
Bottom Line: It's a Keeper
Pelican's Argo 100 Angler is nimble, stable and well made, and offers an outstanding value for anglers just getting into kayak fishing, youth and casual kayak anglers. It gets bonus points for well-placed features and accessories, and being so lightweight, which makes it easy to transport and store. Budget boats just don't get much better than this.