WEIGHTY ADVICE
Bass-catching tactics from a tackle-making YouTube star
Growing up in Pickering, Ontario, broadcaster and tackle maker Chris Van Vliet says he first caught the fishing bug when he was just four years old—catching rock bass off the end of a cottage dock in the Kawartha Lakes. Since then, his passion for fishing has only grown. At age 14, he entered his first bass tournament, thus beginning a lifetime of competitive fishing. It was during a tournament in 2016, in fact, that the 37-year-old and his fishing partner, Aaron Anders, got the idea to start making tungsten weights and jigs, as well as related apparel and accessories. Enter the launch of Woo! Tungsten.
Aside from being more environmentally friendly, tungsten weights and jigs are better than their lead counterparts because they're more sensitive, Van Vliet says. "It's a denser metal, so you feel absolutely everything it comes into contact with," he says. Now based in Los Angeles, where he interviews pro wrestlers and celebrities for his popular YouTube channel (www.youtube.com/chrisvanvliet), Van Vliet offers the following tips on two of today's hottest bass techniques.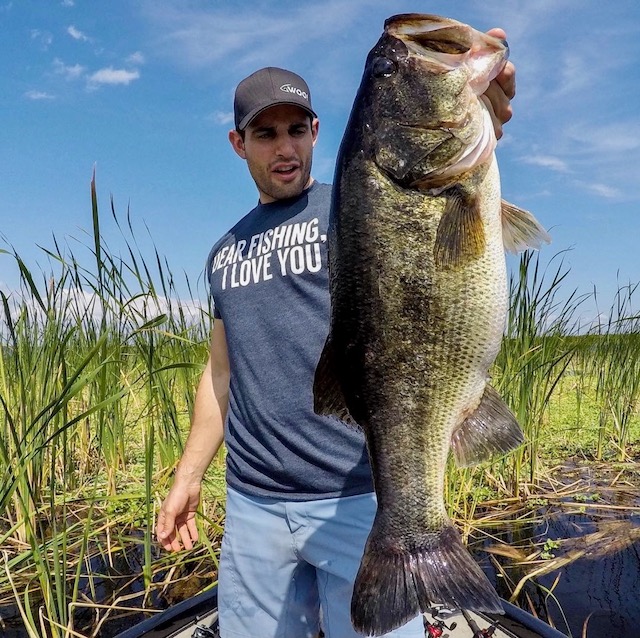 DROP SHOT
According to Van Vliet, the biggest thing anglers get wrong when drop-shotting is thinking the distance between the weight and the hook should always be the same. "You need to adjust that distance, not only from day to day, but throughout the day," he advises, saying the fish will tell you what the distance should be.
Another big mistake—especially in deep water—is placing the bait too far behind the boat, Van Vliet says. "A lot of people make a full cast, then drag the bait back to the boat rather than presenting it vertically, as it should be."
Finally, he says, you need to minimize your bait's movement. "A lot of the time, I'll just shake my rod tip to barely move the bait," he says. "If you do anything more than that, it creates movements that just aren't natural."
NED RIG
As with drop-shotting, Van Vliet says, if you think you're moving your Ned rig's jig and soft-plastic too much, you probably are. "It's supposed to be replicating a goby slowly working its way along the bottom." Creating natural movements, he adds, is something you must keep in mind no matter what bait you're using. Says Van Vliet: "You want to get into the head space of the bait, and think about how the thing actually moves."
Learn more about Woo! Tungsten at www.wootungsten.com.