Blue Fish Radio
Goby virus causing decline in St. Lawrence River muskie
Outdoor Canada is pleased to present Blue Fish Radio—podcasts about the future of fish and fishing in Canada. The program, produced and hosted by Lawrence Gunther, is dedicated to sharing first-hand angling knowledge, scientific discoveries and supporting local champions who protect and enhance their waters.
In the mid-2000s, St. Lawrence River muskies were hit hard by a virus that killed many of the large breeding fish, and now it may be happening again.
Dr John Farrell and PhD candidate Anna Conklyn from the Thousand Islands Biological Station are part of a research initiative exploring the link between a new virus carried by invasive round gobies, and its apparent impact on muskies in areas of the St. Lawrence River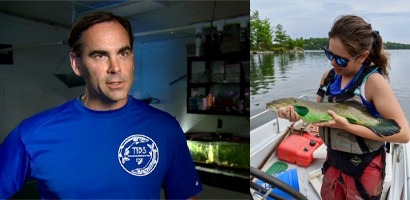 Listen below to hear Blue Fish Radio producer/host Lawrence Gunther in conversation with muskie researchers Farrell (above left) and Conklyn (above right), as they discuss the situation, and what can be done to protect the river's magnificent muskies.
Learn more about the latest river research from the Thousand Islands Biological Station at www.esf.edu/tibs.
 To listen now, press PLAY below. To download this podcast to your device, go to the Blue Fish Radio home page.