BLUE FISH RADIO
A conversation with Matt DeMille from the Ontario Federation of Anglers
Outdoor Canada is pleased to present Blue Fish Radio—podcasts about the future of fish and fishing in Canada. The program, produced and hosted by Lawrence Gunther, is dedicated to sharing first-hand angling knowledge, scientific discoveries and supporting local champions who protect and enhance their waters.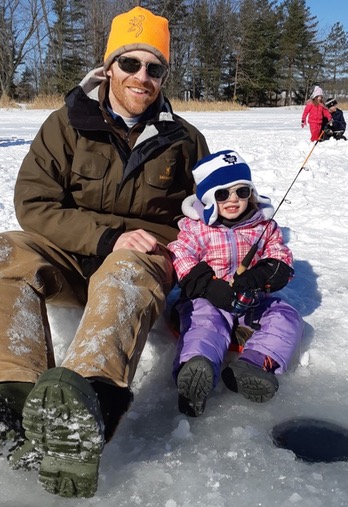 Canada has a new national voice speaking on behalf of over 375,000 outdoor enthusiasts across the country. In this episode, host/producer Lawrence Gunther speaks to Matt DeMille (above, with daughter Evelyn). DeMille is the manager of Fish and Wildlife Services with the Ontario Federation of Anglers and Hunters, and a spokesperson for the newly formed National Fishing and Hunting Collaborative. They discuss the shared properties that have brought 12 provincial and territorial conservation organizations together, as well as immediate and long-term objectives.
Learn more about the National Fishing and Hunting Collaborative at www.ofah.org/nfhc.
To listen now, press PLAY below. To download this podcast to your device, go to the Blue Fish Radio home page.