by Michaela Ludwig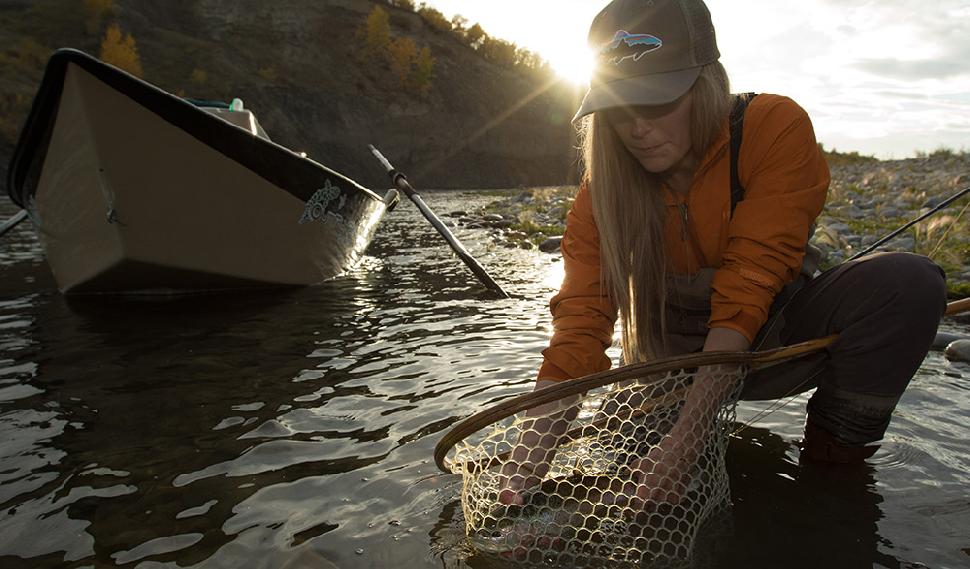 If you're looking for the ultimate fly fishing experience, look no further than Calgary's Bow River. Known as a world-class fishery for rainbow and brown trout, the Bow River attracts anglers from all over the world.
In any city of over a million people, the local waterways are often polluted and anglers are hard-pressed to even want to set foot in such waters. But in the Bow's crystal clear waters, fly fishing with skyscrapers as your backdrop is part of what makes this river iconic. You won't have to drive six hours into the middle of nowhere – the Bow consistently ranks as one of the greatest trout streams in the world, and it's right here in the bustling downtown core of Calgary.
Flowing 89.5 miles from its origins in Banff National Park to the city of Calgary, the Bow has plenty to offer. The sheer number of trout that call this majestic river home is enough to make any angler's heart sing – an estimated 2,500 trout per mile – and their size is nothing to sneeze at. It's not uncommon to land a fish in the 18- to 24-inch range, or larger. The trout in the Bow have one of the best growth rates to be found in any river system in the world.
"What's known as the Blue Ribbon section of the river is divided into three stretches from Calgary downstream to Carseland," explained Stephen Stewart, owner and primary guide at Foot & Chain Fly Fishing Exchange in Calgary. "Each reach is a day trip of over 20 kilometres, which will take eight to 10 hours to traverse depending on the flow, and up to 12 hours if more stops are desired."
The section of the river that runs through the city offers easy access to Calgary residents and visitors. And with its proximity to local shops and restaurants, anglers can easily retire to popular joints like the River Café before heading back out on the water. The River Café was built to celebrate fishing along the Bow, and they source the best ingredients from the immediate area to craft dishes like Haida Gwaii Halibut and a Fish & Game Board with smoked oysters, juniper smoked lox, bison pemmican and more.
Because the Bow is such a large river, you could fish here 365 days of the year and still not experience everything it has in store. This is where a professional guide comes in.
"Time is one of the most valuable commodities," said Josh Nugent, the owner of Out Fly Fishing Outfitters based in Calgary. "A guide can give you the best opportunity to catch fish from the moment you step in the water."
If you haven't fished the Bow before, it can be hard to know where to start.
"Experienced guides spend a lot of time on the water and have local knowledge," explained Nancy Storwick, with Fish Tales Fly Shop, also out of Calgary. "If you have limited time, or you want to optimize the time that you do have, a guided trip can help you do that."
These companies have a daily rate for a guide's undivided attention on the Bow. Out Fly Fishing Outfitters also offers half-day rates, float trips, overnight trips on the Bow, all-inclusive packages as well as trips to other nearby rivers and lakes.
It's a common misconception that you need to know how to fly fish well before going on a guided trip.
"People also go out with a guide to learn," said Nugent. "We're as much instructors as we are tour guides. You'll be with someone whose livelihood is this industry, and you have that person at your disposal to help you. About 35 per cent of our clients have never touched a fly rod, and that's a huge part of why they utilize a guide – to learn the proper way to fly fish, right from the start."
"They can help you with fly-fishing skills like casting, fly selection, bug identification and more," agreed Storwick. "You don't need any previous fly-fishing experience to enjoy a guided day on the Bow."
Experienced fishers understand that nuances such as the kind of bait you use or the spot on the river at which you fish can make a world of difference. Along the Bow, guides recommend using presentation tactics that mimic stoneflies, midges, mayflies and other aquatic invertebrates – all of which appeal to Bow River trout.
"A natural presentation is essential when soliciting a trout to take a fly," said Stewart. "I enjoy and appreciate the opportunity to run the river with persons of any skill level and show people that very thing."
Fishing opportunities around Calgary don't end with the Bow River. Within a two-hour drive of the city, you'll find opportunities in Crowsnest River, Oldman River, Highwood River, Red Deer River and so much more.
"There's lots to choose from," said Nugent. "We're fortunate that Calgary is a hub for fishing, no matter which direction you go."
Fly Fishing Tour Companies
Foot & Chain Fly Fishing Exchange began guiding the Bow in 2005. Owner and primary guide Stephen Stewart has spent decades in wildernesses, the love of which elicited a desire to spend time on the river.
Fish Tales Fly Shop is a full-service fly fishing store in south Calgary. They've been in business for 20 years and offer a wide range of fly fishing products for anglers of all experience levels. The shop hosts guided fly-fishing trips on local waters, in particular the world-famous Bow River.
Josh Nugent founded Out Fly Fishing Outfitters Ltd. in 2003, when he was just 21 years old. In addition to guided trips, Out Fly Fishing also offers a newly renovated and fully stocked fly shop.