Salmon Advocate Wilf Carter is Hall of Fame's Newest Inductee
Additional honours go to Yvonne Brown and the Brewer Park Pond Restoration Project 
Dr. Wilfred M. "Wilf" Carter of St. Andrews, New Brunswick, an internationally-recognized wild Atlantic salmon conservationist, and founding executive director of the Atlantic Salmon Federation has been posthumously inducted into the Canadian Angler Hall of Fame. Carter's extraordinary work was celebrated at an awards ceremony on February 12th, which also kicked off the Spring Fishing and Boat Show in Mississauga, Ontario.
Carter, who passed away in March 2009, dedicated more than 50 years of his life to conserving wild Atlantic salmon. He had an unfaltering commitment to the cause of conserving Atlantic salmon, developed through fishing as a boy on the rivers of Gaspé, Quebec. A forward-thinking conservationist, Carter believed that all living creatures and the forests, lakes and rivers that shelter them are part of the fabric that sustains and supports humankind.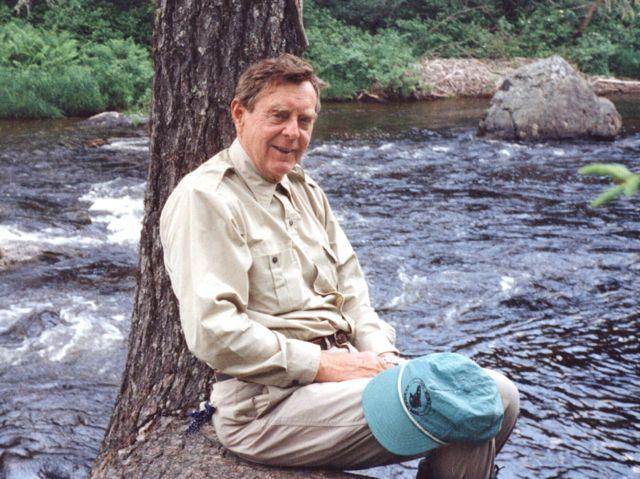 Outdoor Canada editor-in-chief Patrick Walsh accepted the award on behalf of Carter's family and the Atlantic Salmon Federation, and read a message from the ASF. In it, the ASF noted that among Carter's most notable achievements were the closure of commercial Atlantic salmon fisheries, and widespread acceptance of catch and release by anglers. Carter was also a founding member of the North Atlantic Salmon Conservation Organization (NASCO), established in 1984, to provide a forum for nations to consult and cooperate on threats to salmon stocks.
"Perhaps Wilf's greatest contribution was his ability to engage people in shared endeavours, regardless of their backgrounds, whether socialites, wealthy entrepreneurs, guides or down-to-earth, everyday people," the ASF said. "He made salmon conservation a cause anyone could support, a legacy that greatly strengthens ASF's fight on behalf of wild Atlantic salmon and their environment."
The Rick Amsbury Award
Named for one of Canada's most lauded conservationists, the Rick Amsbury Award of Excellence was presented to Yvonne Brown, founder of the Ontario Women Anglers (OWA).
As a child, Brown's father taught her how to fish, but she left the sport behind as she grew up. In 2009 Brown returned to fishing, quickly becoming involved in a variety of clubs and organizations. She has since helped to organize kids' derbies, charitable fishing events, tournaments and seminars.
During these activities she realized that within the male-dominated world of angling, there was a niche for an organization designed to unite women in their love of angling, to spread knowledge about fishing and to create opportunities for women to engage in recreational fishing. And so the OWA was formed.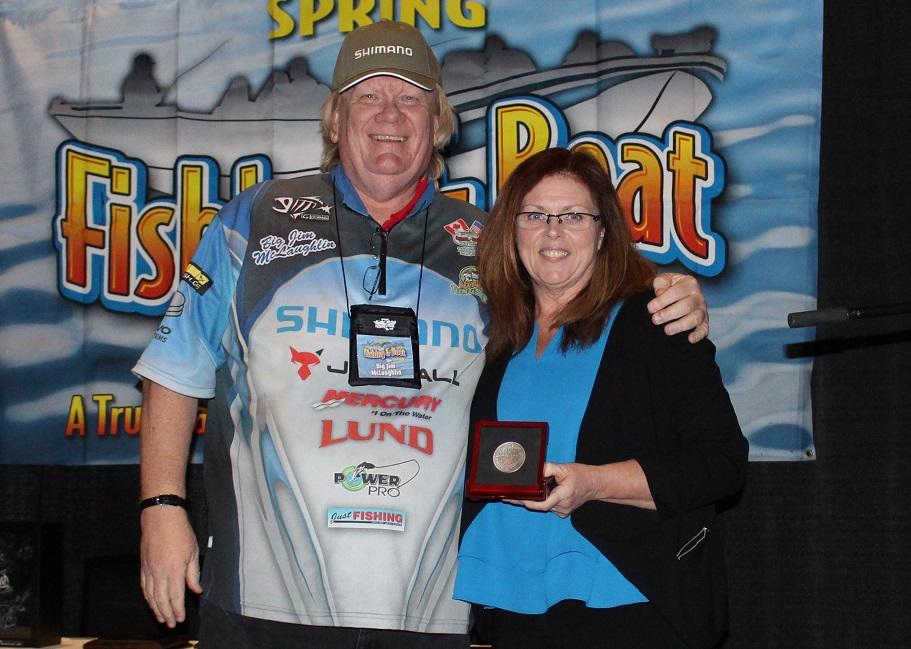 Presenting the award, Angler Hall of Fame member "Big Jim" McLaughlin praised Brown's dedication, thoughtfulness and extremely capable leadership of the OWA. "She's done everything right," he said.
Accepting the award, Brown said that in just a few years the OWA's Fishing 101 for Women program has grown exponentially from its early days of holding just five events per year. Brown also noted that OWA is a non-profit, grassroots organization, and praised the efforts of its numerous volunteers and the generous support of individuals and businesses in the fishing industry.
The Conservation Project of the Year
In addition, the Brewer Park Pond Restoration Project has been named Conservation Project of the Year. Located in the City of Ottawa, Brewer Pond was an artificial swimming hole, adjacent to the Rideau River. Choked with algae and unused for decades, each spring Brewer Pond would be flooded by the Rideau, but as water levels dropped, trapped fish died in the landlocked, oxygen-starved pond.
This ambitious project has reconnected the pond to the main channel of the river, and created a vibrant new wetland and pond with shoreline plantings, breeding bird habitat, amphibian habitat, turtle nesting beds and basking logs. The pond will also provide improved spawning, nursery, rearing and feeding habitat for northern pike, muskies, and the almost 40 other fish species that inhabit the Rideau.

In accepting the award, biologist Jennifer Lamoureux of the Rideau Valley Conservation Authority said that this restoration was a large and expensive undertaking, but it has shown the fastest results of any project she's ever worked on. In fact, Lamoureux said, just six months after reconnecting Brewer Pond to the Rideau, aquatic plants had taken root, and amphibians and reptiles were inhabiting the wetland.
Along with the the Rideau Valley Conservation Authority, partners in the project included contractors Richcraft Homes and Minto Group, plus Muskies Canada, the City of Ottawa, the Ontario Ministry of Natural Resources and Forests, the Institute of Environmental Science at Carleton University, and Fisheries and Oceans Canada.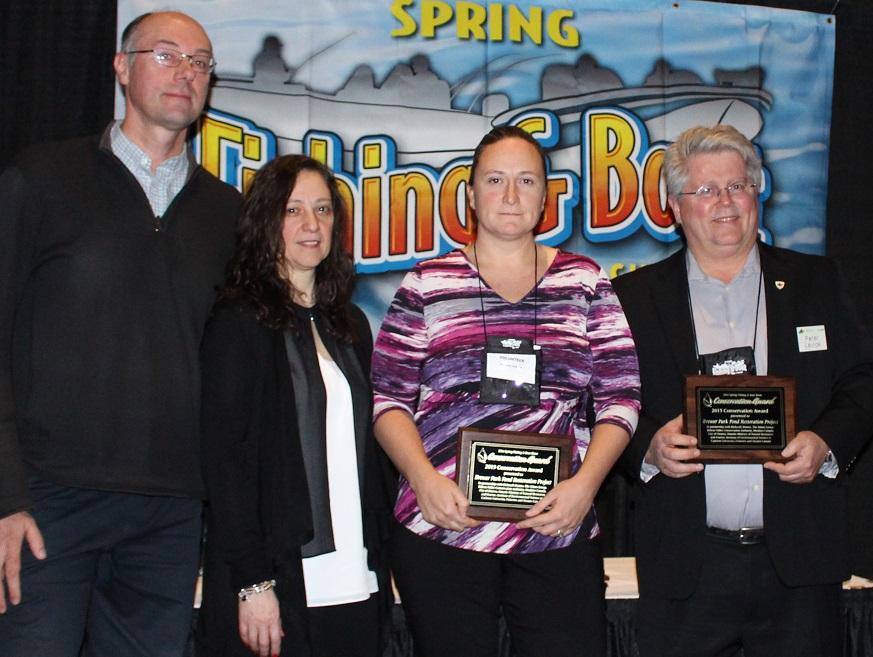 The Spring Fishing and Boat Show continues at the International Centre until Feburary 15. Along with exhibitors and family attractions, the show features seminars by a who's who of Canadian and international angling stars, including Mike Iaconelli, Bob Izumi and Dave Mercer.