3rd Annual Canadian Ice Fishing Expo
Expo offers seminars, fishing tackle and ice-angling adventures under one roof
Mike Magill's baby was born three years ago and she is growing up beautifully. Magill is the father, if you will, of the Canadian Ice Fishing Expo, the third annual version of which takes place this coming weekend (December 14-15) at Georgian College in Barrie, Ontario. And it has been a big hit with anglers ever since it opened its doors.
"The Expo grew from my love of ice fishing," says Magill, who confesses to a passion for anything to do with hardwater angling—the fastest growing segment in all of sportfishing. "I used to look forward to reading the various Ice Guides that were published every year, and I saved them. I was always looking for new places for my friends and me to visit on our annual ice fishing trip."
As he scoured the magazines, however, Magill says he often noticed references to the St. Paul Ice Fishing Show in Minnesota, and thought, Why isn't there a similar expo in Canada?
"I knew Lake Simcoe was a huge ice-fishing destination," he says, "but I didn't realize that from January until March, it is the most intensely fished lake in the province. That made our location in Barrie, just north of Toronto on the shores of Lake Simcoe, the logical spot to host the show. Not to mention, I live only a block away and can drive my snowmachine and hut out of the garage and onto the lake in a moment's notice."
Still, lots of folks have great ideas, but getting them to work is another matter. Like they say: the proof of the pudding is always in the tasting. That's when Magill hit upon a simple but brilliant idea: Make the Expo a one-stop shopping adventure for the everyday ice angler.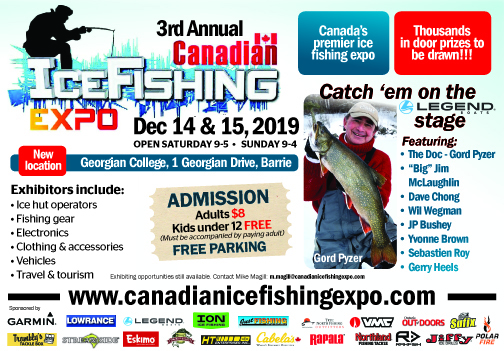 "Once you enter the Expo you follow a very simple plan," says Magill. "There is a non-stop slate of ice-fishing pros giving seminars, teaching you about the latest and greatest ice fishing tactics, tips, tricks and techniques. Then, you can visit the manufacturers' booths, talk to them about the new gear and get a hands-on look at the products. Finally, you can buy them from the various retailers at the show. You can even book your next ice fishing adventure. So, by the time you walk out the door at the end of your visit, you can go through the entire ice-fishing experience."
To make it even more enticing, Magill made it a point to keep entry costs down, especially for young families. There is no charge for parking and tickets are only $8, with kids under 12 getting in for free. And everyone has a chance to win over $7,000 in prizes including modern ice augers, high-tech sonar units and portable ice-fishing shelters. There is even a special $1,000 ice fishing package donated by Cabela's, that a 12-year-old girl won last year. Now, how fitting is that?
"Watching that young girl accept her prize was amazing," says Canadian Angler Hall of Fame ice-fishing pro Wil Wegman, who is better known in these parts as "Mr. Simcoe." Wegman has helped Magill organize the technical parts of the show, especially the rotating state-of-the-art seminars, since its inception.
"We've chosen the speakers for their broad range of expertise," says Wegman. "Sebastien Roy reaches a younger demographic that is learning and applying so much of what they see on YouTube. JP Bushy's knowledge of Georgian Bay, on the other hand, is hard to match. He offers a unique insight into catching big fish from those waters that you can apply anywhere. Gerry Heels knows sonar and electronics inside and out, while Dave Chong has learned to apply the same high energy he uses so successfully in bass tournaments to his ice fishing excursions on Lake Simcoe. What guests will learn from Dave in 30 minutes, about catching jumbo perch on Simcoe can be the start of a great season on the ice. Yvonne Brown is truly one of the country's top female angling personalities, and she is going to cover the basics of ice fishing for folks who are new to the sport and want to go ice fishing for the first time this winter. Of course, we are also thrilled to have you coming down this year, Gord, to share your lifetime of hardwater knowledge with the folks who visit the show. And keeping us all on track will be our master of ceremonies, and one of the country's top fishing personalities, Big Jim McLaughlin."
As Wegman mentioned, I am really looking forward to being one of the seminar presenters this year, as well as participating in the hugely popular Open Mic panel session held each day at 2 p.m. And if you really want the full experience, be sure to come on Sunday morning and take in the VIP Breakfast with the Pros.  Not only do you get a hot breakfast and chance to rub shoulders and talk with the seminar leaders, you can win a portable ice shelter. But Sunday's VIP Breakfast is capped at 50 people and there are only a few tickets left, so if you plan to join us, you better get your tickets quickly online.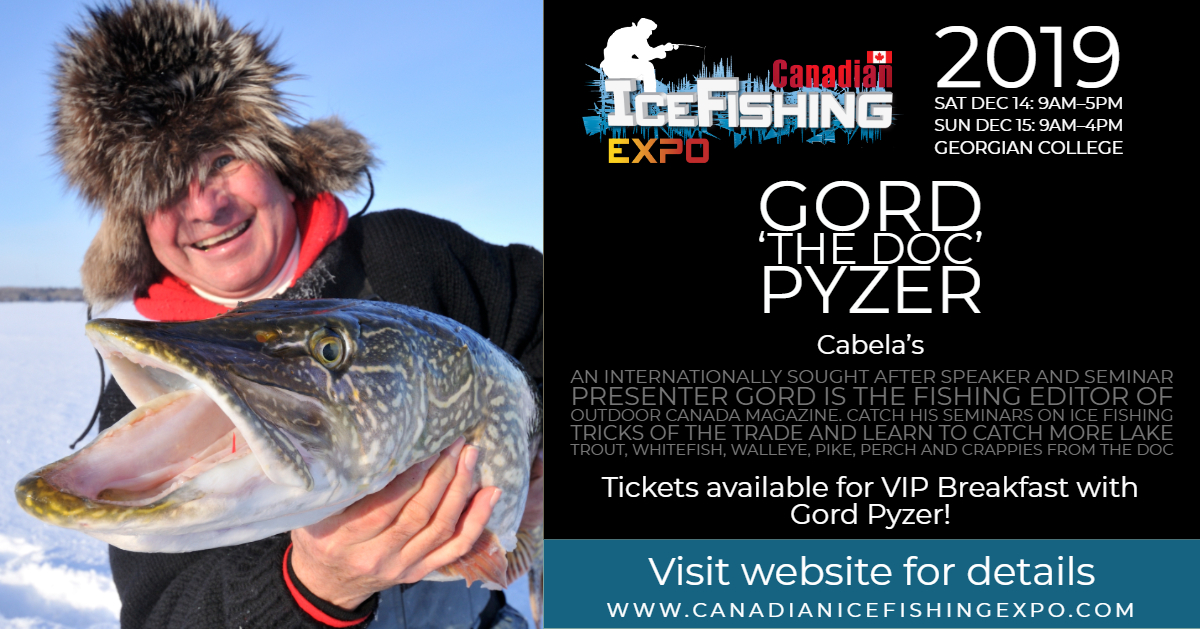 Gotta' confess, too, Lake Simcoe was my home lake when I was growing up—I used to park my ice hut off Jackson's Point—and I was the MNR Resource Manager of the South Lake Simcoe Conservation Authority.  So, I'm really looking forward to Nari Hwang's special presentation on the health of the lake.  Nari is a Grade 7 student from nearby Shanty Bay Public School (how cool is it to attend a school with a name like that!) who has spent the past two years studying the real life environmental issues that face us all these days.  She was recently awarded the prestigious Ernie Crossland Young Conservationist Award by the Lake Simcoe Region Conservation Authority.
The 3rd Annual Canadian Ice Fishing Expo promises to be the highlight of the ice fishing season. You can get more details about it—and purchase your tickets—by simply clicking HERE.
See you in Barrie this coming weekend!
Learn more about the Canadian Ice Fishing Expo at www.canadianicefishingexpo.com and find it on Facebook at www.facebook.com/Canadianicefishingexpo.