Coconut Catfish
Cool for cats? Heat up the hardwater with this fantastic fish fry
Everyone appreciates good food any time, anywhere, and that includes anglers out on the ice. And just a little preparation can turn any boring meal into a delectable experience. To prepare this ice-fishing feast, simply do your prep before you leave home, then once you're out on the ice cook up your fresh catch with your at-the-ready ingredients. Just a word of warning: This recipe only feeds four anglers, but the aroma is sure to tantalize many others from afar!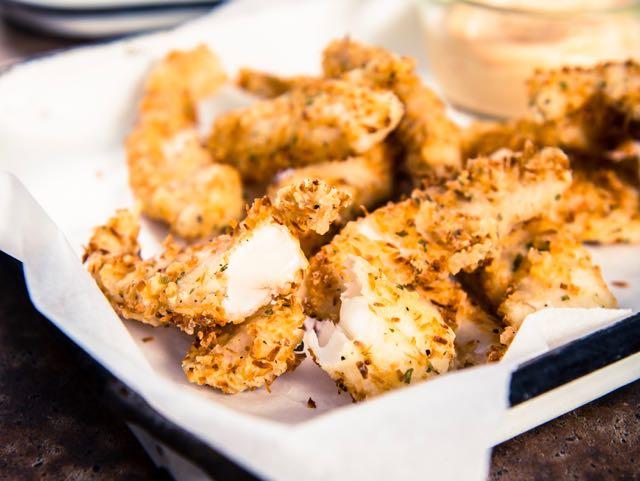 At Home Ingredients
3 eggs, beaten
1 cup cold water
½ cup flour
1 cup unsweetened shredded coconut
Pinch each salt and pepper
2 tsp Sriracha sauce
1 cup mayonnaise
On the Ice Ingredients
2 lb catfish fillets
2 L canola oil
Salt and pepper, to taste
1 lemon, cut into wedges
At Home Steps
Mix together eggs and water for egg wash and place in a travel container.
Combine dry ingredients and place in a large sealable bag.
Mix together Sriracha and mayonnaise for dipping sauce and place in a travel container.
On the Ice Steps
Cut fish into 3-inch strips, dip in egg wash and place in bag of dry ingredients. Shake well to completely coat fish, then remove and shake off excess coating.
Heat oil to 365°F and fry fish until light golden brown (approximately 2 to 3 minutes). Remove from oil and season with salt and pepper.
Serve with dipping sauce and lemon wedges.
This winter, Winnipeg hunter/angler/chef Cameron Tait is sharing four fantastic recipes with Outdoor Canada readers: Whitefish Stew, Caribbean Trout, Pike Chowder and Coconut Catfish. And even cooler, all these delectable fish dishes can be prepared right on the ice. See them all at www.outdoorcanada.ca/2017IceCooking.