BEST. DAY. EVER.
There are pike. There are trophy pike. Then there are the monsters swimming in northern Saskatchewan's Cree River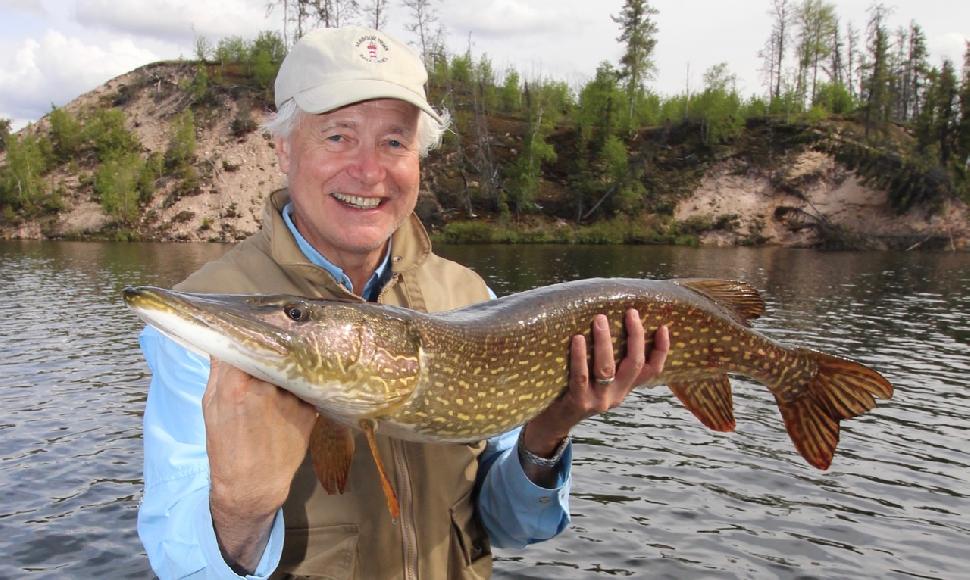 4:40 P.M.
The gang has now noticed with some amusement that I'm the only one without a big fish today. Like everyone else, I've landed many fish in the mid-30-inch range, so it's hardly a skunk. But it would be nice to join today's lunker club. Upstream of the Confluence, we come to a slowly swirling, pond-sized back eddy ringed with steep, unstable-looking sand hills and scrubby vegetation growing around more charred pines. It's called the Crater, and it does resemble the blasted-out aftermath of a meteor strike.
Pat is pretty confident there's a good fish here, so I am too. I'm on the bow deck, waiting for my chance, when Lynn, casting his trusty spinner off the stern, stings another big one (above). It measures 40 inches, his third trophy in less than three hours. A long-time sportswriter for the Detroit News, Lynn is one of the most interesting guys I know, and a charming conversationalist. I decide that back at the lodge we're going to have a conversation about him catching my fish.
4:51 P.M.
With our sixth giant pike safely released, we move farther into the Crater. We're limited by the very shallow water, but Pat points out a stretch of collapsed hillside where the mild current bends around a fallen tree. "Think you can you put it in there?" he says. It's 60 feet away, but thanks to weeks of fly-casting practice on the lawn, I drop my all-time fave pike fly—a 2/0 white-and-chartreuse Lefty's Deceiver—practically among the tree's submerged branches.
After just three seductive strips of the fly, the line goes tight. The water is only 18 inches deep, so as the fish accelerates across the pool, we can see the wake from its thick body. As I put the brakes on it, the huge pike has no room to manoeuvre and actually goes airborne with a heart-stopping lunge and an ungainly splash. After a thrilling fight, I hoist it for a photo (below) and quickly let it go. In all the commotion, I never get a good look at the measuring board, but Dan and Jake claim, with exaggerated mock sympathy, that it stretched a mere 39 7/8th inches. Deciding with Solomon-like wisdom that numbers don't really matter, I unilaterally declare it a trophy fish.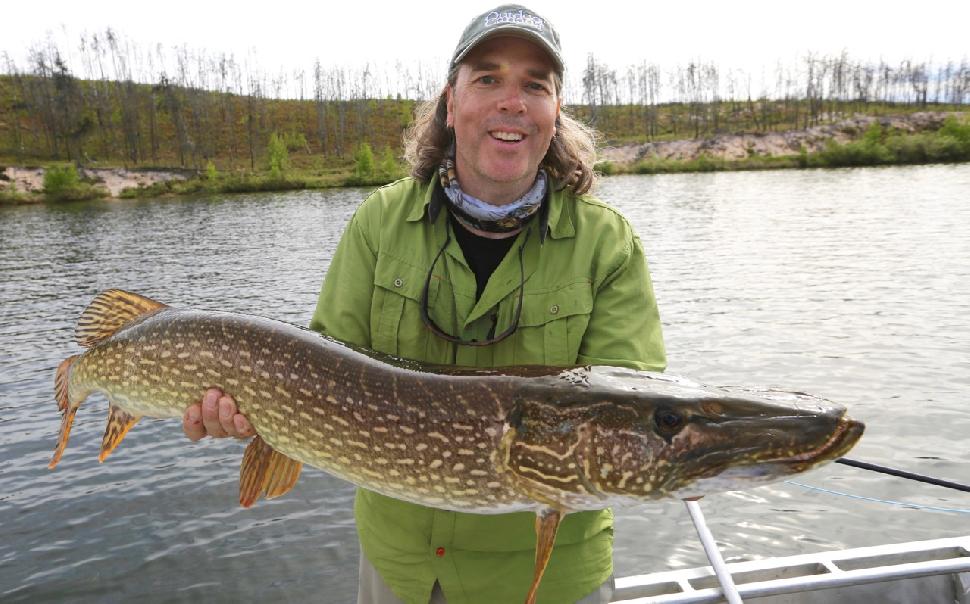 And, of course, numbers aren't that important, especially when you have the privilege of fishing in such a spectacular part of Canada, with great people of good cheer. But numbers do help tell the story. So in case you've lost count, the day saw four anglers in a single boat land some four or five dozen respectable pike. We all had fish over 40 inches—seven, in total. And three members of the group set personal records, with Lynn setting, then 90 minutes later breaking, his record with that jaw-dropping 48-incher.
9:30 P.M.
We're sitting in the lodge's log-walled lounge, weary, sun-reddened and radiating that special kind of contentment unique to successful anglers on a fishing trip. We can't stop going over and over the day's extraordinary events. Plying Pat with celebratory drinks, we unanimously declare it the greatest single day of fishing any of us has ever experienced.
And Pat? He just shrugs, offers a quiet, seen-it-all-before smile and says, "Well, that's what it's like when you go up the river."
Scott Gardner is Outdoor Canada's associate editor and fly-fishing columnist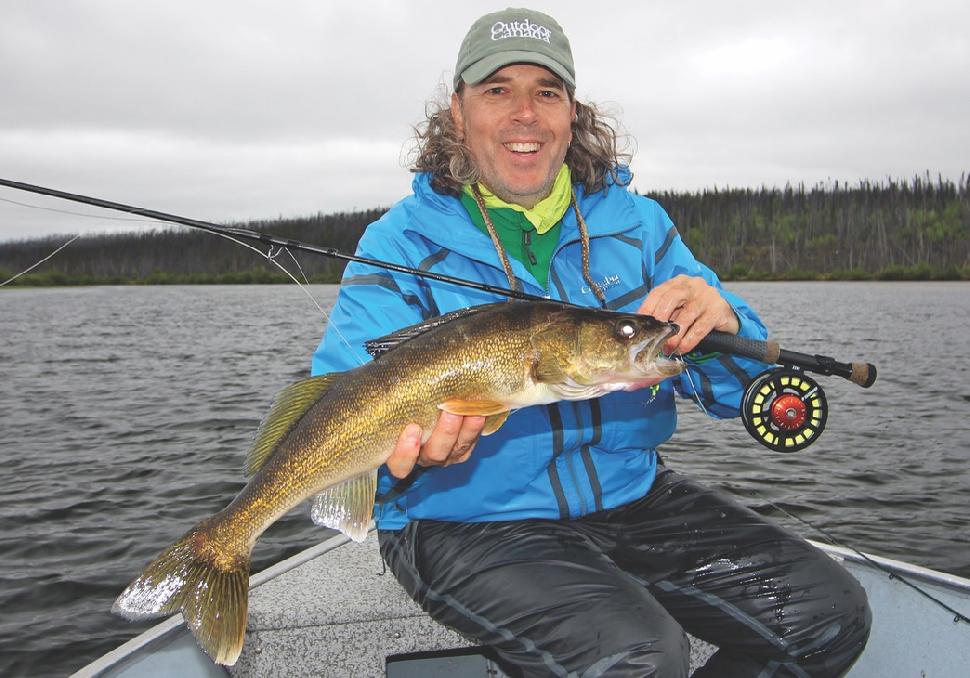 Visiting Cree River Lodge
Along with trophy northern pike, Cree River Lodge also offers fishing for walleye and Arctic grayling, with exclusive access to Wapata Lake and a long stretch of the Cree River. Open from June 1 to September 15, the lodge features modern cabins with electric heating, hot-running water and impressive grub and hospitality. With a hardy vehicle, it's possible to drive to the lodge from points south, but most anglers fly from Saskatoon to Stony Rapids, where they're met by lodge staff for the one-hour truck-and-boat trip to the Cree River.